Southwest Florida has been hit by the second highest number of hurricanes in Florida since 1851, according to Universal Property. An insane number, 79 tropical or subtropical storms, have affected Florida in just the last 20 years. As a result, if you live in Southwest Florida you know the need to protect your home or business against storms is a must. Protecting your property and family are priority #1. So have you installed hurricane shutters on your home? If not, then this article should be helpful. We'll try to help you choose the best hurricane shutters for your Southwest Florida home, mobile home, or business.
You may also like: What's Better? Impact Windows vs. Hurricane Shutters?
Table of Contents
Hurricane Shutters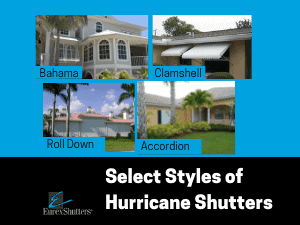 Hurricane shutters are exterior shutters that serve to protect your windows, doors, lanais and patios from hurricane wind, extreme pressures, and flying objects. They can be decorative hurricane shutters, such as Bahama or Colonial shutters. Or they can be purely, functional in nature, such as storm panels.
Some storm shutters are permanent shutters. Others are not permanent and need to be installed and uninstalled before and after each storm.
There are many choices of hurricane shutters. And often it is overwhelming. This article is aimed to help you determine the best type for your specific needs, preferences and budget.
First, we share a set of criteria to use when trying to decide on a style of storm shutter. Second, we discuss each type of shutter and their pros and cons. Third, we'll talk about how some of the different styles compare. Last, we provide some recommendations for different situations, such as for those on a budget or those looking to achieve certain goals.
Read more: What are hurricane shutters?
Criteria When Choosing the Best Hurricane Shutters
The best storm shutters for your windows and doors comes down to your preferences. In others words, the right option is dependent on your specific needs, what you are looking for, what you like,, and your budget. Here's some things to consider.
1. Aesthetics (How they look)
The curb appeal and style of your home or business is critical, even if its just so you are happy with the way your property looks. You surely want to be proud of your home and its appearance. So you should consider aesthetics when it comes to picking hurricane shutters. By aesthetics, how each type of hurricane shutter will make your home look when deciding the best hurricane shutters for you.
For example, are you looking for a shutter that is permanently installed and provides a certain style or look for your home? If so, then curb appeal boosting options like bahama shutters or colonial shutters are a good option. You can see an example of a Bahama shutter in the image below.
On the other side, maybe you just want to limit the noticeability of the shutters on your home. In that case, an option with a minimal appearance, such as rolling shutters could be a good fit.
2. Functionality and features
What do you want from your shutters in terms of functionality? Think about how often you plan on using your shutters. Also think about what you want to use the shutters for. Yes, it is true that main purpose of hurricane shutters is for hurricane window protection. But some hurricane shutters also offer other benefits, such as shade, insulation, and even home security. For example, rolling shutters are very effective as security shutters.
So if you would benefit from shade then you can select an option like Bahama shutters. Or if you want to add security protection to your home you can select an option like Rolling shutters.
Hurricane protection is an investment. So if you are going to spend the money why not get some other benefits from them?
3. Budget (how much you want to pay)
The cost of the hurricane shutters may be a major determining factor when picking the best hurricane shutters for you.
Different types of shutters have different price tags. Because of this you should determine what your budget is. This will help you narrow down your list.
And if budget is the most important factor to you then the best storm shutter choice will be the least expensive. In this case, an option like storm panels would be a good fit.
You can find out how much each type of shutter costs in our Hurricane Shutters Cost: 2022 Pricing Guide.
Styles of shutters
Below are the most common styles of hurricane shutters. We provide an overview of each style, and then give pros and cons of each one. This will introduce you to each type and help you determine which one(s) is a good fit.
ROLL DOWN HURRICANE SHUTTERS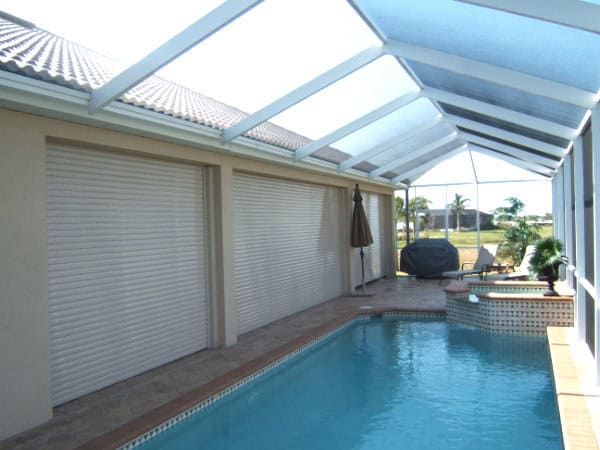 Roll down hurricane shutters are sometimes also called rolling shutters, security shutters, etc. They are permanently attached to your home. You can use them to protect your windows and doors as well as enclose wide openings, such as your patios.
Roll downs open and close vertically. When they are not in use the shutter slats are housed cleanly in a housing above yourwindow or door.
These are generally considered the ultimate hurricane shutter system. You can get them in automatic operation versions, which are controlled by electric motors. This allows you to close all of your roll down shutters with a switch inside your home. And while the manual versions require you to manually close each shutter it is still quick to do so. In turn, roll downs are very convenient.
Rolling shutters are permanently installed, but they do have a clean look. Their design minimizes their appearance on your home. In some instances you can even do a hidden installation, where the box is completely hidden and invisible when they are open.
PROS OF ROLL DOWN HURRICANE SHUTTERS
Super easy to open and close from within your home
Very effective for hurricane as well as security shutters
Clean, minimalist design
Related: Rolling Hurricane Shutters: Are They Worth It in Southwest Florida?
CONS OF ROLLING SHUTTERS
Require maintenance and potential repairs due to the moving parts and electrical parts (for automatic versions)
This style of hurricane shutters cost more than some of the other styles
Learn more about roll down shutters.
ACCORDION SHUTTERS
Accordion shutters are permanently attached on your home year round. They slide open and closed horizontally along a track (from left to right, and vice versa). When they aren't in use they fold up cleanly on the side of your window (or door). The panels fold up and expand, similar to the fins of an accordion, which is how they got their name.
They are only offered in manual versions, not electric (or automatic). Regardless, they are fairly easy and quick to close when a storm is approaching. You can also close them to turn an outside space, such as a lanai or patio, into an enclosed space.
Accordion hurricane shutters are a popular choice in South Florida due to the convenience they offer and their relatively affordable price.
PROS OF ACCORDION HURRICANE SHUTTERS
Easy and quick to open and close by a single person
Can be used for windows, doors, and wide openings, such as patios
Tuck away cleanly when not in use
Related: Are Accordion Shutters Worth It in SW Florida?
CONS OF ACCORDION HURRICANE SHUTTERS
Require maintenance, including cleaning and lubrication to keep them working properly
Can become difficult to open and close if not cared for properly
A bit more noticeable than other shutter styles like roll down shutters
Get more information of Accordion Hurricane Shutters.
BAHAMA STYLE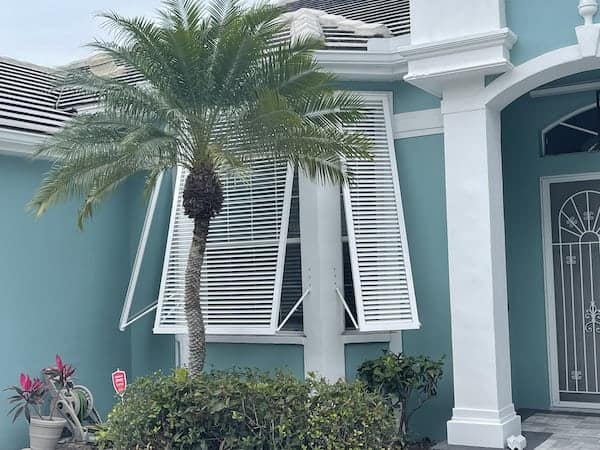 Bahama hurricane shutters are made for those who want to enhance the style of their home and protect it at the same time. This shutter style is common in the Bahamas and other Caribbean islands. So it is a perfect fit for the tropical look and feel of homes in Florida.
Bahama style shutters are permanent shutters. They sit in a semi-open position on your windows. This provides UV control and shade to your home, which helps keep it cooler. Unfortunately, they are not suitable for doors.
When a storm approaches all you have to do is close and lock them. They are quick and simple to close.
PROS OF BAHAMA HURRICANE SHUTTERS
Beautiful and help provide Caribbean style to your home
Provide UV control and shade for your home, keeping it cooler
Easy to open and close
Related: Are Bahama Shutters Worth It in SW Florida?
CONS OF BAHAMA HURRICANE SHUTTERS
This premium shutter is more expensive then most other styles
Reduces natural light inside the home (if you want light)
Don't work for doors so they require the use of impact doors or you need to combine with other hurricane shutters
COLONIAL STYLE SHUTTERS
Colonial shutters are another premium hurricane shutter made to protect your home and also enhance it's style. They are perfect if you want to create some Southern or old Colonial charm for your home. Colonial shutters are made with strong, impact resistant aluminum. When a storm approaches they swing inward and lock in place, fully covering and protecting your windows.
Like Bahama shutters, they are permanently installed, helpful in enhancing the look of your home, and easy to open and close quickly. Unlike Bahama shutters Colonial shutters sit stationary on the sides of each window (similar to board & batten shutters). And instead of closing downward, they close inward from the sides.
PROS OF COLONIAL SHUTTERS
Beautiful and help provide Southern or old Colonial style to your home
Easy to open and close

by a single person when a storm approaches
CONS OF COLONIAL SHUTTERS
More expensive then most other styles
Don't work for doors so they require the use of impact doors or you need to combine with other hurricane shutters
STORM PANELS
Storm panels are the most economical form of hurricane shutter protection. They are corrugated panels made from steel or aluminum. You can also get them as clear, polycarbonate hurricane panels. They can be installed horizontally or vertically over your windows and doors. They are attached to your home with storm panel fasteners that are screwed into your property's structure. Some systems use a rail to help make the installation easier.
Panels are not permanently attached. So you do have to install them and uninstall them before and after each storm. You will also need a place to store them when they aren't in use.
They may not be the most convenient hurricane shutter for everyone. But they are a good fit for some homeowners. If you don't mind the installation process and want to keep your budget low these may be your best option.
PROS OF STORM PANELS
Lower cost vs other shutter types
Strong protection
Can be removed to preserve the look of your home
CONS OF STORM PANELS
Requires labor intensive installation before and after each storm
Require adequate space to store them
Long time to install/uninstall
Find out more about Storm Panels.
CLAMSHELL SHUTTERS
Clamshell shutters look similar to traditional window awnings, but they are made from aluminum. This makes them more impact resistant vs traditional cloth awnings. They are permanently attached to your home, and are positioned in the open position. When a storm approaches you close them, like a clamshell, and lock them in place. They fully cover and protect your windows from wind and flying objects.
You should keep in mind this type of shutter offers storm protection, but they are non-hurricane rated. They do, however offer a higher level of convenience vs storm panels. They also offer the added benefit of extra shade because of how they are positioned on your windows. But some homeowners prefer the way other permanent shutters look.
PROS OF CLAMSHELL
Easy to close when a storm approaches
Help provide shade because of their positioning on your window

Permanently attached

More storm protection vs traditional awnings
Good fit for manufactured homes
CONS OF CLAMSHELL
Non-hurricane rated
For use with windows (not so much doors)
Always visible on your home (if you aren't crazy about the look)
Will reduce natural sunlight (if you want as much as you can get)
Learn more about Clamshell Shutters.
How do different hurricane shutters compare?
It's easy to get overwhelmed by the different choices available. Here is how some of the most popular types of protective shutters compare.
Roll down shutters vs storm panels
Roll down shutters are highly functional and very easy to use. They have a sleek, minimalist design that goes well with most homes. Given all their features and convenience they have a higher than average price tag.
Storm panels are on the other end of the spectrum. They are the most economical form of storm protection. But they are the most labor intensive and typically least visually appealing option of shutters.
Accordion shutters vs storm panels
As mentioned above, storm panels are an economical version of storm protection. Accordion shutters aren't as featured packed as roll downs, but they are popular for a reason. They are quick to deploy, have some added functionality (including closing off an exterior space), and are more aesthetically pleasing.
Learn more about how these two compare with our guide on Accordion Hurricane Shutters vs Storm Panels.
ROLL DOWN SHUTTERS VS ACCORDION SHUTTERS
These are two popular styles of hurricane shutters. They are both convenient. Both have functionality outside of just storm protection. And both are more visually appealing than storm panels. Roll down shutters have a higher price tag, but they do have some benefits over accordions.
To learn more about how they compare read our guide on Roll Down vs Accordion Hurricane Shutters.
Automatic vs Manual Shutters
If you decide on roll down shutters you will have the option between manually operated and automatic shutters.
Automatic shutters are the cream of the crop in terms of convenience. You can close them inside your home with a switch. Depending on who you buy them from you can even control them with a mobile app. For instance, we offer our PTX Roll Down Shutters with the TaHomA System APP.
Manual roll down shutters are operated with a belt driven or crank driven system. They are not as easy as automatic shutters, but they are still very easy and quick to use. The manual operated rolling shutters have a lower cost and they do not require electrical wiring or motors.
You can get more information in our guide on Motorized vs Non-Motorized Hurricane Shutters: Which Is Better?
What are the best type of hurricane shutters?
Video: Best hurricane shutters for Florida homeowners
It is difficult to pick the best type of shutters overall. This is because every person has different needs and criteria. In turn, picking one shutter style for everyone is not very helpful. Instead, it is better to pick the best hurricane shutters for your needs, budget, and preferences. So instead of picking the "best shutters" for everyone we want to help you determine the best shutters for your specific criteria.
Below we give our recommendation for the best shutters based on different situations, such as value, ease-of-use, etc.
Best value hurricane shutters: Accordion shutters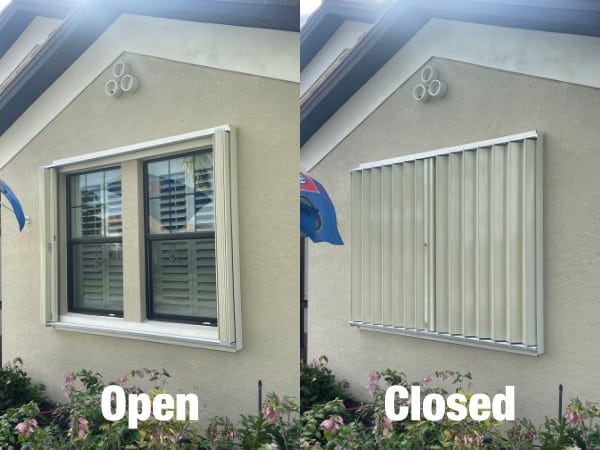 Accordion shutters: Accordion shutters are great if you are looking for hurricane protection with high functionality and a reasonable price. Accordion hurricane shutters perform highly in all the categories above. Specifically:
Aesthetics: accordions look clean and can be matched to the exterior color scheme of your home
Functionality: while not as feature packed as roll downs they offer functionality outside of just storm protection
Budget: an affordable option that provides a lot of value
Why Accordion Shutters Are Among the Best
Below are some of the key benefits of accordion shutters:
Fast & easy to use – an entire, average sized, single-family home can be prepared in as little as 15 minutes
Great value – as mentioned above, accordions offer amazing ease of use and functionality for an affordable price
Added security protection – optional locks help protect your home when unattended, such as during a hurricane evacuation and after a storm hits
The best storm shutters for ease-of-use / convenience
If you are looking for ease of use then the best option is automatic, roll-downs with an electric motor. These can be closed with the push of a button quick and easy. This is the only choice if you aren't able to close your shutters manually. It's also the best choice if you just don't want to deal with closing shutters manually.
The best storm shutters for security and protection
Rolling security shutters offer a high level of protection against both storms and intruders. This is due to the fact that they are built to be impermeable when closed. They are made from indestructible materials, block access to your doors and windows, and lock securely.
Why Roll Down Shutters Are Among the Best Options for Hurricane Shutters
Below are some of the key reasons why roll down shutters are considered one of the best shutters:
Easiest hurricane shutters to use – regardless if you install manual or automatic roll downs they are extremely fast and easy to deploy and prepare your home
Tons of functionality – from storm protection to security protection to insulation, shade and privacy roll down shutters offer a lot of functionality for your home
Storm and security protection – roll downs are highly effective for both storm and security protection for your home
Sleek design and styling – European rolling shutters are known for their sleek, stealth design, which helps to reduce their appearance on your home
Best storm protection option for 24/7 protection
If you are looking for 24/7 protection without any preparation before a storm then impact windows and doors are the way to go. Impact glass requires zero hurricane shutter installation once they are installed. Yes. We understand that these are not shutters, but they are the best option for this specific requirement.
Curious how impact glass compares to storm shutters? Read our guide to find out What is Better Impact Windows or Hurricane Shutters.
Best hurricane shutters for those on a tight budget
If you need the lowest cost hurricane shutter option, then storm panels (hurricane panels) are your best bet. They offer strong protection for the most affordable price. However, they are the most difficult to install and use. If you are okay with the installation and non-appealing looks this is the best option.
Get a sense of the process and timing for installing panels here.
Best storm shutters for difficult installations
Hurricane Fabric shutters, such as ArmorPanel hurricane fabric are a good choice when you have tough installs. They are a more flexible and easier to use version of storm panels.
The Best Hurricane Shutters for natural light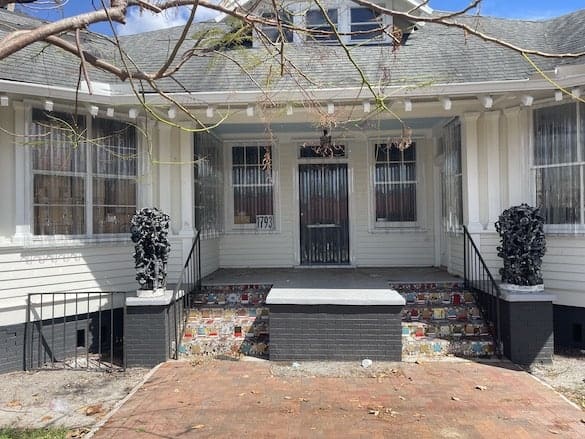 Go clear. If you are looking to let natural light in your home while the shutters are closed then you should seriously consider clear hurricane shutters. These allow natural light into your home instead of blackening out your interior like storm panels, etc. Even better, you can get clear shutters in several types of styles of shutters, such as storm panels, accordion shutters, etc.
Clear Storm Panels are a clear, affordable option
Below are some of the highlights of clear storm panels:
Let natural light in your home while installed so your home will not be pitch black when your storm panels are installed
You can see out of your home even when they are installed
Affordable price point is great if your budget is lower
The Best Hurricane Shutters for wide spaces and outdoor spaces
Not all hurricane shutters can be used for wide openings, such as those found on your patio, or outdoor spaces. If you are looking to add hurricane protection to openings up to 30 ft wide then there is only one real option, which makes it the best option. That is kevlar hurricane screens. But they have many benefits in addition to their use for wide openings, which include:
Fast and easy to use – hurricane screens come in both manual and automatic (electric motor driven) options, but both are quick and easy to open and close
Great for wide openings – can be used to protect openings up to 30 ft in width
Provide shade and privacy, which enhances the enjoyment and usability of your outdoor spaces
Hurricane rated – our Kevlar screens are Florida Product Approved, hurricane rated, and meet the current Florida building code
Luxurious looks – our hurricane screens look just like luxurious shade screens so they will actually enhance the look of your outdoor space vs cheapen it
The Best Hurricane Shutters for You
Hurricane shutters help protect your home and family from hurricane winds and flying objects. There are many different styles to choose from, from economical storm panels to premium Bahama Shutters. The best storm shutters for you are the ones that are aesthetically pleasing and best match your budget and needs. Picking a style of hurricane shutters can be overwhelming. But it becomes more manageable if you pick a budget and then pick the features and styles that meet your needs. Regardless, it is important to have some form of hurricane protection in place to protect your home and family.
Still unsure? We would love to help. Our complimentary in-home or over the phone consultations are a great way to better learn your options, learn the cost of different hurricane shutters and get your questions answered. We have been installing impact windows and hurricane shutters in Fort Myers, Cape Coral, Naples/Marco Island and the rest of Southwest Florida for 35+ years, and we would love to work with you.