Roll down hurricane shutters are one of the most popular choices for storm protection in the Fort Myers/Cape Coral area and throughout Southwest Florida. There is a good reason why. They are really strong and offer a high level of protection from hurricanes and other severe weather. And they offer many other useful functions as well. These include security protection, insulation, and shade control. They also have the ability to cover large areas. This make them a popular choice to cover windows, doors, patios, pool areas and lanais.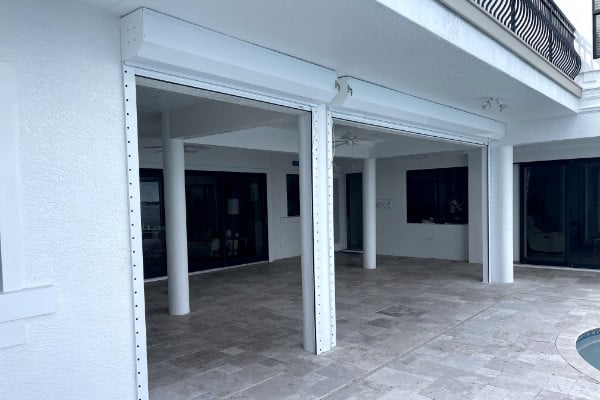 These hurricane shutters come in both non-motorized and motorized versions. Manual shutters can be opened and closed with a hand crank or strap system from inside your house. Motorized hurricane shutters, on the other hand are operated using an electric motor. You can control the motorized roll downs using either a switch or even an app on your mobile phone.
Installing roll down storm shutters is an easy choice for many Florida homeowners. But deciding between motorized and non-motorized hurricane shutters can be confusing. So what's the better option?
We'll look at the advantages of both options to help you determine which is the better choice for protecting your family and home.
If you are unfamiliar with roll downs then make sure you read our guide to learn more about the pros & cons of roll down shutters.
Should You Choose Non-Motorized Roll Down Hurricane Shutters?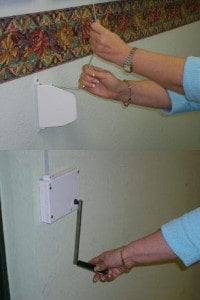 What are manual roll down shutters?
Manual roll down hurricane shutters roll up and down (open and close) manually. You operate them either with a hand crank system or a strap which you pull on.
They are commonly used for both storm protection and security protection (they serve as security shutters) as well as shade control and privacy. These are popular with both by homeowners and businesses in Fort Myers, Cape Coral, etc.
Do manual shutters offer the same protection as motorized ones?
Yes. They serve the same function as the motorized version. In terms of protection there is no difference. They do just as good of a job protecting your home and family from severe weather, flying debris and wind gusts. The only difference between the two is the convenience of the motorized hurricane shutters.
Why choose non-motorized roll down hurricane shutters
Here are some reasons why you might choose non-motorized hurricane shutters over motorized ones:
They are cheaper than motorized versions. You get the same protection and features at a lower cost vs. motorized ones.
They will be used to cover a number of large spaces, such as patios, lanais, pool areas, etc. Choosing non-motorized option to cover the large square footage would be cheaper.
You are capable and willing to manually open and close them.
You have a relatively smaller home or a limited number of openings to cover
Should You Choose Motorized Roll Down Hurricane Shutters?
What are motorized storm shutters?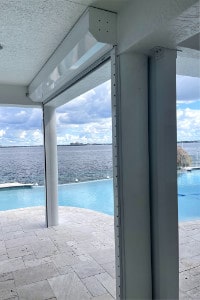 These are motorized exterior rolling shutters. Electric motors are used to automatically open and close them vs a manual crank or belt system.
How do you open and close electric hurricane shutters?
You will have different options when it comes to controlling your motorized hurricane shutters. They can be operated with an electrical switch or even by using a mobile phone app, such as the Tahoma System App.
Why are automatic storm shutters so desired?
Motorized rolling shutters are the best of the best. They are commonly considered the most convenient storm and security shutters available today.
Advantages of motorized roll down hurricane shutters:
Ultimate convenience and speed: you can protect your home and family instantly with the touch of a button, literally.
No hard work, stress or heavy lifting necessary
You do not have to close each shutter manually, which greatly reduces the time it takes to prepare your home for a storm.
They can be used and adjusted frequently for shade control and insulation of your home due to their effortless operation (vs. cranking each one).
You can quickly deploy them for security protection at night or anytime you leave your home unattended.
Backup systems are available, such as a backup power supply or manual override in case the power goes out.
What happens if the power goes out?
Wind gusts during hurricanes, tropical storms and other severe weather can cause power outages. So what happens to power shutters when the electricity goes out?
So, can electric hurricane shutters be opened and closed manually?
The answer is yes. Motorized roll down shutter systems are manufactured to work (open and close) even if the power goes out. They can equipped with a manual override, which gives you the ability to operate them manually when necessary. With the manual override you have the ability to open and close them with a hand crank, etc.
If you don't want to deal with the manual operation that you can also opt to install a backup power supply or use a generator. These back-up systems are convenient. But you should be aware that they will tack on additional costs.
How do motorized vs non-motorized hurricane shutters compare with repairs & maintenance?
Both motorized and non-motorized hurricane shutters should be used according to their recommended use & care guidelines. Similar to other storm shutters, and anything with moving parts, they do require you to take some simple, routine steps to keep them maintained. For instance, you should use them periodically (even if they are not needed), inspect them, clean them, and follow other maintenance best practices. But when they are properly used and maintained both your motorized and non-motorized shutters will last you a very long time.
What about repairs? Repairs for both types of shutter may be required. But this isn't unique to just roll down shutters. Repairs may be needed for any type of hurricane shutter. For instance, they may suffer damage during a hurricane. Or, over time different components of your shutters may need to be adjusted, repaired or replaced.
There is one difference in terms of repairs when it comes to electric vs manual shutters. Electric hurricane shutters do have additional parts, such as the electrical motors and electrical components, which non-motorized ones do not have. So you may need to replace or repair these components over time.
Conclusion: Motorized vs Non-Motorized Hurricane Shutters?
Roll down hurricane shutters are a great option for protecting your family and property in Cape Coral, Fort Myers and elsewhere. You can choose to install them either as motorized or non-motorized. Manual roll downs offer the same protection at a lower cost, but they require manual operation. Electric storm shutters offer the highest level of convenience and functionality. But they come at a premium cost. The right option for you will depend on your preferences and your budget.
If you need deciding on which option is right for you please give us a call at (239) 369-8600 or fill out the quick form below. We install both motorized and non-motorized hurricane shutters. We also can upgrade your old shutters, and repair and maintain your existing shutters.
Or call (239) 369-8600 for immediate service.