Sleek. Clean. Super convenient. These are just some of the words that come to mind when you think of European roller shutters. These exterior roller shutters offer the ultimate in convenience and protection. They also have sleek European styling that minimizes their look on your home or business. In this product spotlight we'll discuss everything you need to know about this popular style of shutter.
Table of Contents
Roller Shutter European Style: Overview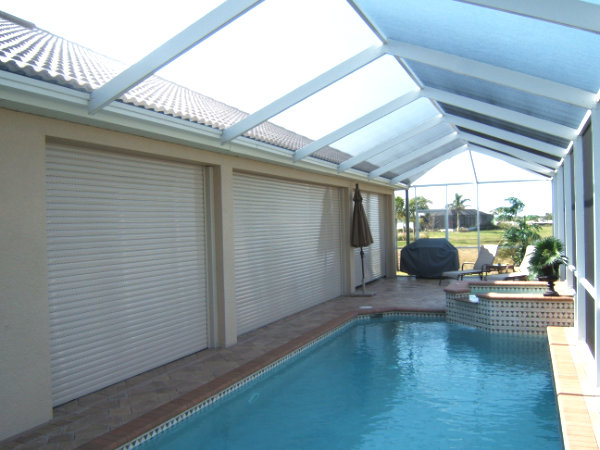 Lots of folks aren't sure exactly what European rolling shutters are. So we wanted to give an overview of them. Below you will find a wealth of information about them.
Also, just to note, while there are many different versions of roller shutters, we cover exterior Euro roller shutters specifically in this article.
What are European roller shutters?
They are a style of exterior shutters that are permanently installed on your home, business, etc. You will commonly see this roller shutter style installed on the windows and doors of homes, commercial buildings, storefronts, and restaurants.
In addition they are extremely versatile and suitable for wide openings. So you can also use them for patios, lanais, gazebos, and more.
Engineered system vs just a shutter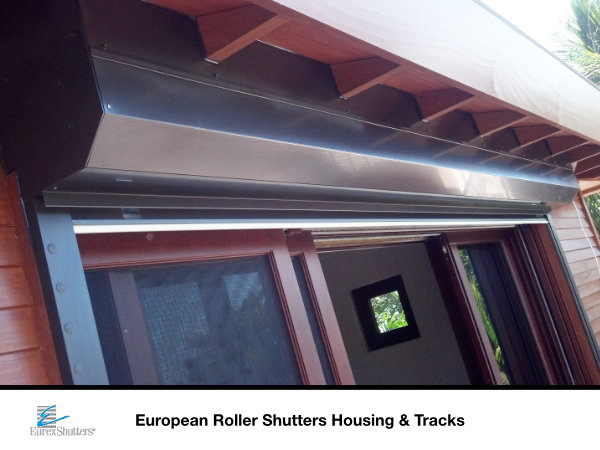 European roll shutters are more than just a shutter. Unlike decorative shutters these are an engineered system. Each shutter consists of several components. These include a housing box, tracks, and the actual shutter, made up of individual slats. Electric shutter versions also include an electric motor and wiring.
They are custom made to fit your exact opening and specifications.
This may sound complex, and it is. But don't worry. Your local shutter company will handle the measuring, design, and installation for you.
How do European Rolling Shutters work?
This style of shutter opens and closes by rolling up and down.
When they are open (not in use) the shutter rolls up cleanly into a housing box that sits stationary on top of your window, door, etc.
You close them by rolling them down. And when they are closed they cover your window, door, or other opening.
How do you operate them?
Rolling European shutters can be operated one of two ways:
Automatic versions are operated by an electric motor and controlled by a switch inside your home or through a mobile App, such as the TaHomA System APP
Manual versions are operated by a hand crank or belt strap system manually
The automatic versions typically have a backup power source, such as a generator, or a manual override. This allows you to operate them if and when your power goes out. This is especially critical if you are in an area that has severe weather, such as Southwest Florida.
What are they used for?
European roller shutters are functional shutters that not only look good but also serve a function. Below we talk about the functions of this type of shutter.
Storm protection – they are made from strong, impact resistant materials that can withstand category 5 hurricane wind gusts as well as flying debris
Security – they lock in place and are near unbreakable, which creates a barrier that makes it very hard for intruders to break in
Shade and privacy – European roll shutters provide shade and privacy while allowing air to flow through
Pros and Cons
The pros and cons of this type of shutter are below.
Pros
Below are some of the many benefits of this type of shutter.
1. Very convenient and easy to use
European rolling shutters are the ultimate in terms of convenience and ease of use. This is especially true if you opt for the automatic versions where you can close them with the click of a button.
2. Strong protection and lots of functionality
They are also strong. If you are looking for protection from storms or intruders these are as amazing at both functions.
3. Clean, minimalistic look doesn't detract from your home
These do not sacrifice looks for functionality unlike some other functional shutters. They are minimalistic in nature. Many times the housing boxes can be hidden so you can't even see them. Even if they are visible they have a clean and sleek look. They also are available in many colors. So they can be made to match your home's color scheme and look.
Cons
Below are some things to consider before selecting this type of shutter.
1. Requires some maintenance
As we mentioned earlier roller European style shutters are fairly complex systems. They have moving parts as well as tracks and sometimes motors. It is recommended that you maintain them to ensure they operate smoothly when you need them. You may also have to make a repair once in a while. While this may be a con for some, it is pretty standard for anything that has moving parts.
As long as they are maintained and cared for they will be reliable and last for a really long time.
2. Cost
Like with most things you typically pay more for convenience and features. And European roller shutters are packed with convenience, features and functionality. This is especially true for automatic versions with electric motors and electrical wiring required.
So, while they are not the most expensive type of exterior shutter they do have a higher price tag then some other styles.
How much do European Roller Shutters cost?
The price will most likely vary due to many factors. These include your location, the price of raw materials, the level of customization, the specifications of your project, and more. Another thing that will affect the price is if you go with manual or electric operation.
With all that being said, you should probably expect to pay $30-$35 per square foot. For more detailed information see our Hurricane Shutters Cost: 2022 Pricing Guide. In our guide you will be able to see how they compare to most other types.
Disclaimer:
With certain products, such as roll down shutters and screens, additional costs for motors and electrical work will apply.
It should also be noted that due to the current situation in the market and price inflation of raw materials our prices can fluctuate quite a bit over time due to many external factors, such as hikes in raw material costs (ie. metal), labor costs, etc.
So please take the costs given below as a rough, general pricing guidance. For an actual estimate contact us for a free in-home estimate.
Are they worth it?
Are European roller shutters worth it?
Yes. We feel they are worth the cost, even though they are not the cheapest type of exterior shutter. Why? Because you will not find as much functionality, as many features or as much convenience in any other type of protective shutter. Other, more expensive shutters don't compare to the functionality and usability of European rolling shutters. So even though they are pricey, they pack a lot of value for what you get.
Where can I buy European Rolling Shutters?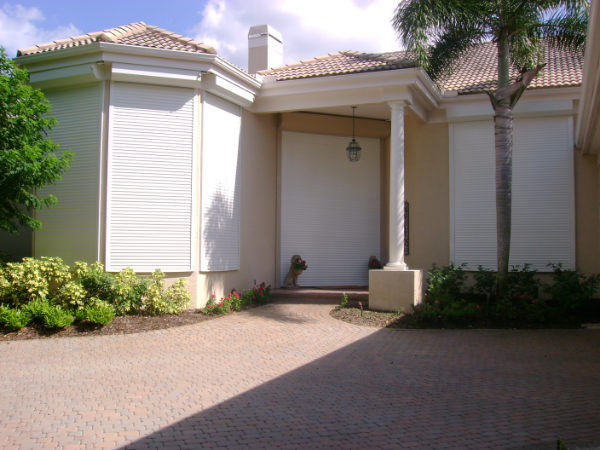 You may be able to find some of these at the big box stores or online, but we would caution against it. Instead, we recommend working with a local hurricane shutter company. Why? Here's just a few things to think about:
These are highly customized systems that require accurate measuring, a lot of customization, and expert installation.
If you order online or buy in a big box store you will probably need to find your own installer. But most hurricane shutter installers will only work with their own products. Others may install them, but the warranty may be an issue.
In most counties, at least in Florida, you need to get a permit, which will require you to be a licensed contractor in order to install them. This makes it hard to do a DIY installation.
If you are looking for European roll shutters anywhere in Southwest Florida we would love to help you. Get a free in-home estimate to get an actual price and learn about your options.