Exterior shutters are a great way to add architectural style to your home. They have the ability to completely change the look of your home for the better. Some types of exterior shutters can also serve valuable, functional purposes, such as security and storm protection. But the number of options may make you feel a bit overwhelmed. That's why we made this guide. Find out how to choose the perfect shutters for the exterior your home. We'll cover the different types of shutters, materials to choose from, custom vs. standard shutters and more. Plus we'll provide helpful things to consider when choosing your exterior house shutters.
Table of contents
What are Exterior shutters
Overview
Exterior windows shutters are made to be installed on the outside of your home. You will frequently see them put next to exterior windows. Some types can also be installed around your exterior doors, patios, and lanais.
What is the purpose of exterior shutters?
They serve many purposes depending on the type. The only purpose some shutters serve is a purely decorative one. But they can do more than make your home look great. Some also serve a functional purpose. For example, some shutters provide shade/light control or privacy when closed. Others, such as hurricane exterior shutters offer protection from severe storms. Other types, such as security shutters, provide added security. So it really depends on what type you choose.
We discuss the different types below.
Types of Exterior shutters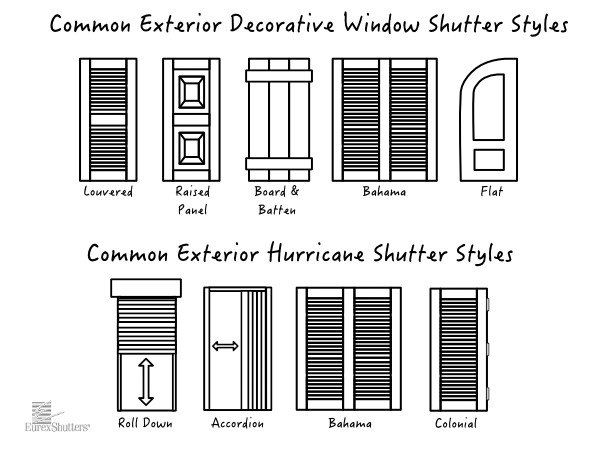 There are three main categories of house shutters for the exterior of your house. These include decorative shutters, hurricane shutters, and security shutters. We detail each of them below.
Decorative architectural shutters
Decorative architectural shutters serve an aesthetic purpose. They can add depth and style to the exterior of your home. They are popular in many parts of the United States and abroad. But they are not as popular in Florida as hurricane shutters. This is because they are usually stationary (they can't be closed to cover your glass windows). They are also made of lower strength materials like vinyl and composite. These materials are not impact resistant. So they don't offer much protection.
If you are looking for purely decorative house shutters than these are a good choice. If you are looking for more functionality you should consider one of the other shutter types.
Styles of decorative shutters
Decorative shutters can be grouped into the following styles:
Louvered
Raised panel
Board & batten
Flat Panel
Hurricane exterior shutters
Hurricane exterior shutters are popular in Florida and other areas prone to hurricanes and severe weather. Storm shutters are impact resistant. So they can protect your home from hurricane force winds and flying objects.
Choose hurricane shutters if you need serious hurricane window protection for your home. Several types can also be used to protect your doors, sliding doors, garage doors, lanai, and more.
And thankfully, there are many styles of these shutters available so you can pick one that also makes your home look great. Some of these styles are below.
Styles of hurricane exterior shutters
Hurricane shutters are considered functional exterior shutters. But they come in many styles. You can certainly find a style that you like and that adds to your home's appearance.
Learn more about exterior hurricane shutters.
There are many variations of storm shutters but they generally are grouped into the following buckets:
Exterior security shutters
Exterior security shutters are functional shutters used on both commercial buildings and residential homes. They add security to your home by protecting your exterior windows and doors.
Learn more about security shutters for patio doors.
Security exterior shutters have one main purpose, which is to protect your property from unwanted intruders and vandals. They are generally impact resistant, roll down shutters that lock in place and create a nearly unbreakable barrier to your windows and doors.
These are not for everyone. But if you are looking to add security protection to your home they may be worth considering.
Materials
Shutter materials will vary based on the type of shutter. For example, decorative shutters are usually constructed with cheaper, lower strength materials than shutters meant for hurricane or security protection. You can see the different material types for each classification of shutter below.
Decorative shutter materials
Decorative shutters are generally offered in the following materials:
Vinyl (PVC) is a low-cost material used to produce lower-cost, decorative shutters. Vinyl shutters are made from molded PVC. On the plus side they are cheap, and don't need to be painted. On the down side they may not look as authentic as real wood shutters. They are a bit of a clash with stucco finish common in Florida and other areas of the USA.
Composite shutters are made to replicate wood shutters, even though they are not real wood. These provide the look of real wood with the easier maintenance of vinyl house shutters.
Wood shutters are made out of wood. Wood typically has a higher end look and price than both vinyl and composite shutters. You need to paint or seal them in order to protect them from the elements. You will need to properly maintain them or they may rot, warp or become damaged from the elements. They are not indented to provide any kind of protection, even though they are wood They are strictly decorative shutters by nature.
Hurricane and security shutter materials
Both hurricane and security shutters provide strength and impact resistance and meet the Florida Building Code requirements. In turn, they need to be made from materials that can withstand the toughest environments. Hurricane and security shutters are generally offered in the following materials:
Metal shutters are tough. But they are on the heavy side and will corrode if not properly protected.
Aluminum shutters are just as tough. They are lighter than steel and will not corrode.
Clear hurricane shutters are made from polycarbonate is a tough, clear polymer material. It is lightweight as well. Perhaps the biggest benefit of clear polycarbonate is that you can see through it.
Custom vs. standard shutters
Standard shutters come in standard sizes and styles. They are usually found at big box stores or larger suppliers who sell them off the shelf or out of their warehouse.
However, you may have non-standard window sizes. Or, like many folks you may not be happy with the styles, materials or colors of standard, big-box shutters. So if your windows are not standard sizes or you want something a bit unique you can opt for custom shutters.
Things to consider when choosing exterior shutters
When choosing your shutters you should consider the following:
Purpose you need them to serve: determine what purpose you want the shutters to serve. For example, if you need storm protection then choosing hurricane shutters is your best bet. On the other side, if you just want them to serve a decorative purpose then decorative shutters are a good choice.
Style: pick a style you love and that goes well with your home. Both decorative and hurricane shutters have a wide variety of styles to pick from. So you should be able to find a style you love.
Budget: different types of exterior shutters have different prices. Pick a shutter that meets your budget.
Conclusion
Exterior shutters can help add style to your home. They can make your home look better and they can also add function, such as hurricane protection, security, shade and more. There are many types, styles and materials to pick from when you select your exterior shutters. Determine what purpose you want the shutters to serve. Then pick a style that meets your budget. If you are in an area that is prone to severe weather, such as Florida, you should consider hurricane shutters.
If you need help choosing custom hurricane shutters in Florida we can certainly help. We have been designing, installing, maintaining and repairing hurricane shutters in Southwest Florida since 1986.