Windows are one of the most vulnerable parts of your home during a hurricane, tropical storm, or other bad storm. Traditional glass surfaces are prone to being broken by wind-borne objects. And after the 2022 hurricane season protecting your home and family is more important than ever. So the question becomes, how do you protect windows during a hurricane? In this article we give four of the top hurricane window protection options for your home in 2023.
If you are deciding between impact glass and shutters then make sure to check out our guide on hurricane windows vs. storm shutters.
Table of Contents
Options: for Hurricane Window Protection
At it's core, protecting your windows for a hurricane means putting a strong layer of protection in between your glass and objects that might break it. This could mean covering your windows with anything from plywood to hurricane shutters before a storm. Protecting your family and home are critically important. This is especially true when you are facing severe storms, such as hurricanes.
In this article we first cover boarding up your windows with plywood. Plywood is a popular choice so its good to discuss it as an option. But there are some important things to know about using plywood as your window protection for hurricanes. So we'll give some key considerations before choosing plywood as your home's primary protection.
Then we discuss four hurricane window protection options that are designed specifically to protect your home's glass during a hurricane. These include a mix of hurricane windows and hurricane shutters.
Window protection for hurricanes: Plywood Board Ups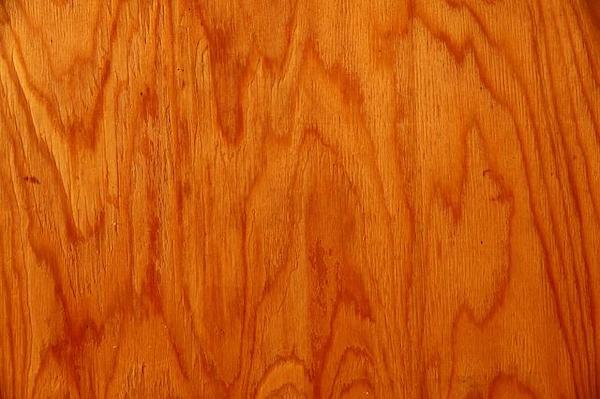 Plywood can be used if in a pinch, but it is not advisable as your long-term window protection for hurricanes.
Say a storm is approaching fast and you have no other choice except covering your windows with plywood. If you find yourself in this situation then plywood may be your only option. Using good quality plywood boards that are fastened adequately to your home can offer protection for your windows. At the very least, it is better than leaving your windows completely unprotected.
But plywood as a long-term solution may not be ideal. Let's look at some things to consider before using plywood as a long-term solution.
Key considerations when boarding your house up with Plywood
Can you get the materials? Boarding up your windows with plywood requires you to have or can buy all the materials. If you don't have the plywood available you will need to buy it, which can require a lot of wood. There may be an availability issue as supplies are generally low before an oncoming storm. Also you need to consider cost. Lately, with the cost of wood, like most supplies have increased. So this could also be a noteworthy expense.
Are you equipped to create the plywood window covers? It can be a fairly big and time consuming job to make and install the plywood. Once you have the materials you will need to measure all of your windows and cut the larger boards to fit each window. This requires a lot of measuring, cutting, and organizing. Make sure you have the appropriate saws to cut the wood safely). You also have to make sure you optimize your cuts in order to ensure you have enough materials.
Do you have the time to finish the job? This process will take quite a bit of time make sure you have enough time to complete it. Consider if you have the time to buy the wood, measure all your windows, and cut and install the plywood before the storm hits. If this is your only option make sure you act quickly vs waiting until the last moment.
Do you have adequate help? You will most likely need help to get the job done before the storm hits. Outside of preparing the sheets you need help installing them. Plywood sheets weigh a lot. You will need a few, able-bodied individuals to help you. Ideally, you want to have a few helpers to hold the plywood boards and one person to fasten them.
Are you confident the plywood is fastened adequately? There is no question that wood in good condition can offer strong protection. But with everything the system is only as good as the weakest link. You need to make sure that you are using fasteners that will hold the plywood to your home. Some fasteners may not be able to hold the plywood when the wind picks up and if any objects hit them or the boards.
Hurricane Window Protection Options Not Plywood
The four window protection options we talk about in more detail are:
Impact windows
Hurricane shutters
Hurricane fabric
Storm panels
These are popular storm window protection options in the Fort Myers area and in Florida.
1. Impact (Hurricane) Windows
Hurricane (impact) windows are by far the easiest hurricane window protection option on our list.
The reasons why we think they are one of if not the best option to protect your windows?
First, they replace your traditional glass windows with an impact resistant window. In other words, its just like having regular windows. This means you can, for the most part protect your windows from wind-born objects 24/7 without the hassle of installing additional protection before a storm.
Second, you can't really tell they are there. They look like regular windows (maybe even better than you old ones). So your house looks exactly the same as it did before you installed the impact resistant windows.
In turn, the convenience and ease of use of hurricane windows make them our top choice. The fact that you don't have to worry about degrading the style or look of your home is a big bonus.
2. Hurricane Shutters
Hurricane shutters is a broad term. We use it to describe a range of impact resistant window shutters that are able to protect your glass windows during a hurricane, tropical storm, or other severe storm.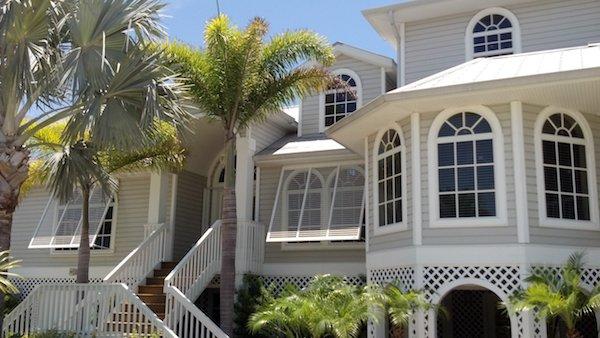 There are several types of hurricane shutters, including accordion shutters, Bahama shutters, colonial shutters, and roll down hurricane shutters. They all have one main function, to protect the vulnerable spaces of your home, such as windows and doors, from flying debris and sustained hurricane wind gusts.
Why do we like hurricane shutters enough to rank them as one of the best options? Because they are proven to protect your windows from the strongest storms. Plus, there are so many different styles of hurricane shutters. There is surely a style to match your needs, budget, and style of your home.
Hurricane shutters are typically more affordable than impact windows, especially economical options such as storm panels.
Going with permanent hurricane shutters will greatly reduce the time and process of preparing your home vs non-permanent hurricane shutters options, like storm panels. Storm panels cost less, but at the same time, they do require you to deploy them before a storm.
We discuss each of the different types of hurricane shutters below in more detail.
Roll Shutters (roll down shutters)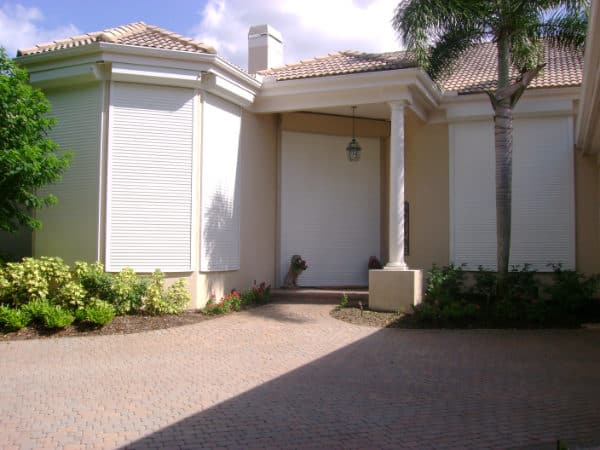 Roll down shutters are arguably the most convenient type of shutter you can buy. They come in both manual and automatic (electric) versions. Either way, they are very quick and easy to use as they can be opened and closed with the touch of a button or a crank handle.
Accordion Shutters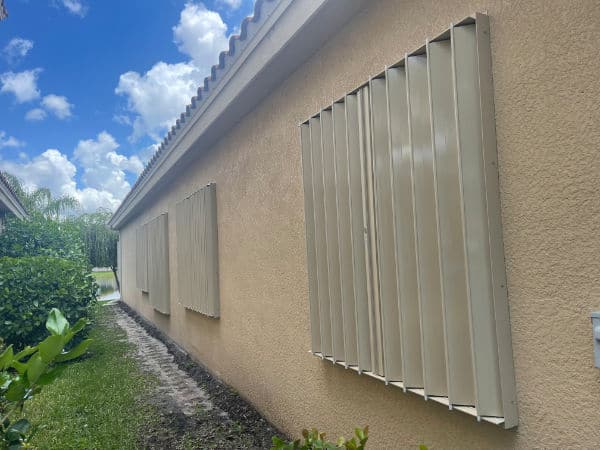 Accordion hurricane shutters are permanently installed shutters on the exterior of your home. They have fins that open and close horizontally from side to side. They can be opened, closed, and locked with ease, both inside and outside the home.
Bahama Shutters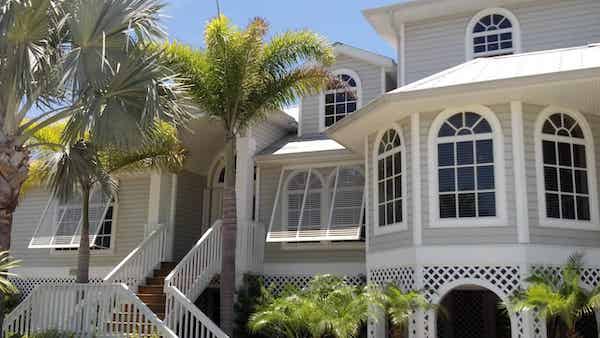 Bahama (also called Bermuda) shutters are a stylish window protection option that can truly enhance the look of your house. These permanent shutters offer easy to use protection for your windows. They also look tropical as well as provide shade and UV control for your home.
Colonial Shutters
Colonial shutters are a premium type of storm shutter. They protect your windows while giving your home a bit of southern style and charm. They are permanent so they are easy and fast to deploy. These look like traditional colonial shutters, or board and batten shutters, but the are functional and close over your glass windows.
Clamshell Shutters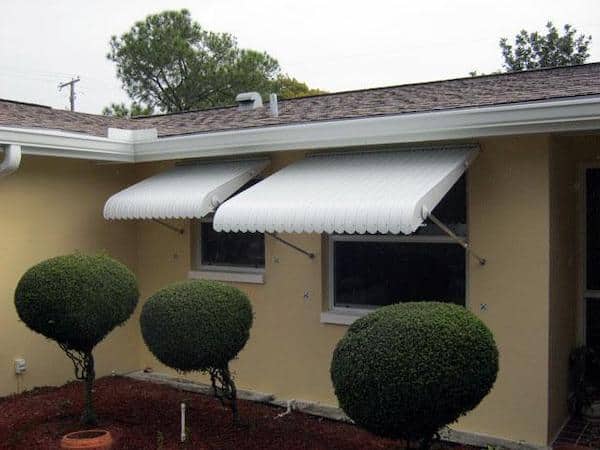 Clamshells shutters are also known as Clamshell awnings or aluminum awnings. These are also permanently attached to the outside of your home. They are one of the more economical and easiest to use types of hurricane shutters available. While they do offer a degree of storm protection they are non-hurricane rated. Clamshell shutters are popular for homes and as storm shutters for mobile homes.
See a full list of hurricane shutters options with more information here.
3. Hurricane Fabric: flexible window protection from hurricanes
Protection for your home comes in the form of many different shutter material options.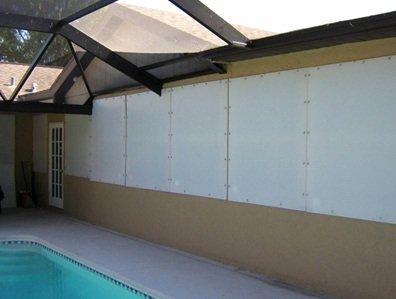 Hurricane fabric is a solid alternative to hurricane shutters, impact windows and hurricane panels.
What sets it apart? It is made of super strong, flexible and light-weight DuPont KEVLAR®. This means it is easy to install and is flexible enough to work for egress and other more complicated applications.
It is also a more economical choice than some other hurricane window protection options. So if you want something that is flexible, light-weight and economical, but still protects your home than hurricane fabric might be right for you.
4. Storm Panels: the least expensive window protection for a hurricane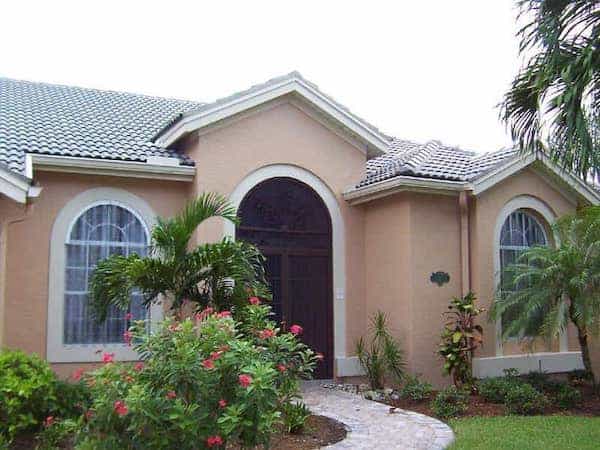 Storm panels are usually included on any list of hurricane window protection options. The reason? While it's true these panels are heavier and more difficult to install than some other protection options, they are also typically the most economical option. Because of this they are a great option for those looking for hurricane window protection that is affordable.
Plus they are also really strong. They are literally panels of strong metal.
These are some of the reasons why storm panels are so popular in areas like Fort Myers, Florida where mostly everyone has some form of window protection.
Storm (hurricane) panels are corrugated panels. They overlap each other to protect a home's glass surfaces. The panels are installed before a storm, and then they are removed after a storm. Some folks who do not live in a house year-round also leave them up for extended periods of time for hurricane and security protection (as security shutters).
Hurricane panels are typically metal or aluminum. Aluminum hurricane shutter panels are lighter than metal and don't rust. Panels are also offered in clear hurricane panels so you can let the light in.
It is true that putting up panels does require a bit of time and energy so keep that in mind.
Learn the process for installing panels here.
FAQ about Hurricane Window Protection
How do you hurricane-proof a window?
There are many ways to hurricane-proof a window. You can install hurricane shutters or storm panels over your window. Or you can replace your standard glass windows with impact windows. If in a pinch you can also use plywood, but this is not a reliable, long-term solution. The most important thing is to create a barrier between your glass windows and 1. high wind gusts and 2. flying debris. The other important thing to remember is to ensure the protection is installed properly so that it does not blow off during a storm.
What is the best protection for windows during a hurricane?
There is really no right or wrong answer. Hurricane protection products are engineered and installed to protect your home and family from hurricanes and tropical storms. Using products that are tested and rated for category 5 hurricanes is your best bet. But the best option depends on your budget and preferences. For more information see our complete guide on How to Choose the Best Hurricane Shutters For Your Southwest Florida Home
How do you protect windows during a hurricane?
Here are five effective ways to protect windows during a storm:
1. Hurricane shutters
2. Impact windows
3. Hurricane fabric
4. Storm panels
5. Plywood (as a last resort)

These options act as effective window protection from the wind, air-borne debris, and positive and negative pressures during a storm.
Conclusion: what is the best window protection for hurricanes?
We have given our four best hurricane window protection options for 2021. No matter what your budget or preference, one of the options above should meet your needs.
Here is a breakdown:
If you are looking for 24/7 protection without changing the look of your home then impact windows are probably the best option .
Hurricane shutters may be the best option if you want to enhance the style of your home (Bahama or colonial shutters) with an easy to use option. Shutters, such as storm panels and fabric shutters are also a good option for the budget-minded homeowner or builder.
If you want a flexible, light-weight option then hurricane fabric might be your best bet. Hurricane fabric installs easier than options like hurricane panels because of its lighter weight. It might also the only option for some complicated installations, such as installations with egress.
Looking for the most economical option? Storm panels are most likely right for you.
Cost is a component that should be taken into account so make sure you learn about the cost you should expect for different shutter options.
Hopefully this article was helpful.
Get the best quality protection for your home in Southwest Florida
If you need more information you can learn more about all your hurricane protection options on the Eurex Shutters site. If you need window protection for your home, including hurricane shutters in Fort Myers, Cape Coral or anywhere in Southwest Florida then we would love to help.
Contact us by calling (239) 369-8600 or fill out the quick form below with any questions and to get a free estimate.