Living in Southwest Florida means dealing with hurricanes and severe storms during hurricane season. Hurricane shutters help protect your family and home against damage from wind and flying debris. Eurex Shutters offers high quality, custom hurricane shutters at a fair price along with unbeatable service. We are Southwest Florida's oldest hurricane shutter company for a reason. You don't have to compromise when it comes to protecting your home's windows and doors! Get the widest selection of custom, locally made hurricane shutters and great service at fair prices. You can trust our hurricane shutters protection systems will keep your home and family safe. All of our hurricane-rated shutters are Florida Product approved and meet the latest Florida Building Code.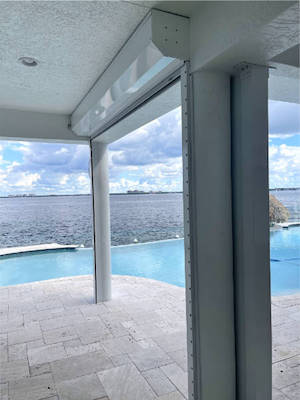 What are Hurricane Shutters?
Hurricane shutters are impact resistant shutters. They protect your home's vulnerable areas, such as windows, doors, screens, from damage during a storm. Hurricanes and severe storms have powerful winds and flying debris. Both of these have the ability to break unprotected glass windows and doors. And once a window breaks you are at risk of water intrusion and flying debris getting inside your home. Broken windows can also cause your home to become pressurized. This may result in more severe damage, such as damage to your roof or structure.
You install hurricane shutters before a severe storm hits. They protect your home's glass openings that would otherwise be damaged by strong wind or flying debris. They are very effective in doing this because they are made from impact resistant materials. They are also have fastener systems designed specifically to keep them attached to your home during a storm.
Learn more: What are hurricane shutters?
Types of Hurricane Shutters
We offer many types of hurricane shutters to meet your needs. Below you will find our range of shutter systems.
Roll Down Hurricane Shutters
Roll down shutters are another permanent shutter. They close by sliding vertically and locking into place. They offer maximum storm protection and also can be used for security protection. They come in manual and automatic versions. Both are made from either aluminum or polycarbonate.
Electric hurricane shutters (roll down) are powered by an electric motor with a manual override. They can be effortlessly controlled inside your home by a switch or by an optional mobile app.
Our manual roll downs are operated inside your house by a manual crank or strap system.
Learn more about roll down hurricane shutters.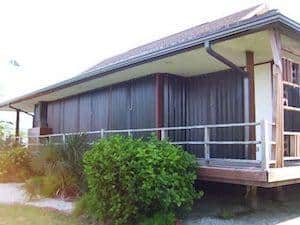 Accordion shutters are permanent, aluminum shutters that always remain on your home. They are easy to use and have a lot of functionality. When not in use they fold in a housing on the side of the window. When a storm is approaching you close them by sliding them horizontally across your window or door. They also have an optional locking system. Learn more about accordion shutters.
Bahama Style Hurricane Shutters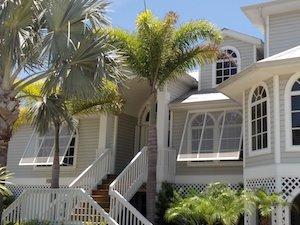 Bahama shutters are permanently attached to your home and made from aluminum. These shutters provide strong storm protection while providing beauty and style for your home. They also are great for shade and UV control. Learn more about bahama shutters.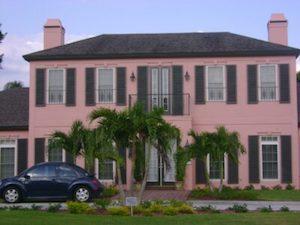 These shutters add Southern charm to your Florida home while also delivering strong storm protection. When open they look like traditional shutters on the sides of your windows. But they close over your windows and are locked in place when a storm approaches. In addition they are easy to operate. These shutters are made from aluminum. Learn more about colonial shutters.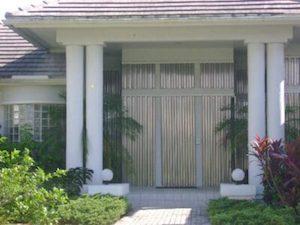 Panels are typically the most economical form of storm protection you can buy. They are corrugated, impact resistant panels made from either metal, aluminum, or polycarbonate. These panels overlap each other to protect your windows and doors. They are not permanently attached to your home. So you do need to install and uninstall the panels for each storm. Learn more about storm panels.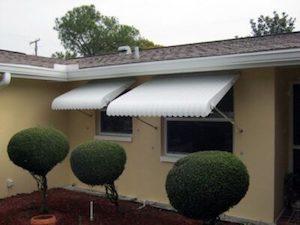 Clamshell shutters are aluminum awnings that are permanently installed over your windows and/or doors. This type of shutter is economical, offer shade for your home, and are easy to use. They do offer storm protection, but they are non-hurricane rated. Learn more about clamshell shutters.
Fabric Hurricane Shutters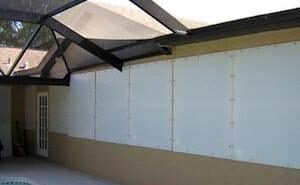 Our ArmorPanel fabric hurricane panels are an alternative to traditional metal and aluminum hurricane storm panels. These fabric, lightweight hurricane panels are made from impact resistant fabric vs rigid metal. They are flexible, easy to store, and easier to install. Learn more about our fabric hurricane panels.
We can help you find the perfect storm shutters for your home or business.
Fill out our quick form or call us by clicking the button below to get a FREE in-home estimate.
Our Storm Shutter Materials
Our hurricane shutter materials include metal, aluminum and polycarbonate (clear plastic). You can find information about each below.
Metal Hurricane Shutters
Metal/steel hurricane shutters are typically your least expensive option. Metal is also the heaviest option. Steel is strong and meets the current Florida Building Codes. Metal options have a risk of rusting if not properly coated/treated, especially over time.
Aluminum Hurricane Shutters
Aluminum is strong. It is lighter than steel and it does not corrode. Most of our shutter types are offered in aluminum. All of our aluminum hurricane shutters (with the exception of clamshell shutters, which are non-hurricane rated) meet the current Florida Building Codes and can withstand up to a category 5 hurricane.
Polycarbonate Hurricane Shutters
Lexan plastic, a trade name for polycarbonate, is a clear, extremely tough plastic material that meets the Florida Building Codes. Because it is clear it has the benefit of letting natural light into your home or office. Certain shutter types are offered in clear Lexan, including Lexan hurricane window panels and inserts for rolling shutters. Learn more about our clear, polycarbonate hurricane panels.
Kevlar Hurricane Shutters
We offer ArmorPanel hurricane fabric panels made from DuPont KEVLAR®. DuPont's KEVLAR fabric is extremely strong yet lightweight and flexible. There is no compromises as this product meets all current Florida Building Codes.
Storm Shutters for Windows
Hurricane shutters are critical for protecting your home's vulnerable spots, such as windows, from wind gusts and flying debris during a hurricane or tropical storm. Regular glass windows are at risk of breaking if impacted during severe weather. But windows with hurricane shutters installed are capable of withstanding the impact of flying objects and hurricane wind gusts.
We offer a full range of hurricane window protection. All of our hurricane shutter options are suitable as hurricane protection for windows. This includes accordion shutters for windows, roll down shutters, storm panels for windows, fabric shutters, and more.
Hurricane Shutters for Doors
Protecting your doors during a hurricane is similar to protecting your windows. Doors create vulnerable spots on your home during severe weather. Like windows they are susceptible to damage or even breaking when impacted by flying debris and severe wind gusts. Doors with hurricane shutters installed can withstand flying debris and hurricane force wind gusts.
Hurricane shutters can be used to protect sliding glass doors, patio doors, exterior french doors, entry doors, and more.
Some popular options are accordion shutters, roll down hurricane shutters, and storm panels. Rolling shutters also provide security for your sliding glass doors, patio doors, entry doors, front door, etc.
Hurricane Shutter Installation & Repair Services Near Me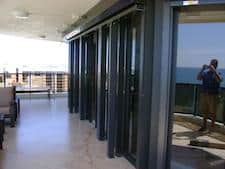 Contact us if you need help with installing, repairing or maintaining your storm shutters. Need help installing your storm panels? We offer an annual
hurricane panel installation
service. In addition we offer
hurricane shutter repair
and maintenance services throughout Southwest Florida regardless of which brand products you have.
Call us or fill out our form to request a consultation and estimate.
Hurricane Shutter Parts Near Me
Looking for
hurricane shutter parts & hardware
in Lehigh Acres or anywhere else in Southwest Florida? We carry a full inventory of replacement parts if you are looking to repair or maintain your storm shutters yourself.
Call us or fill out our form to request a consultation and estimate.
Request an in-home consultation or call us with any questions. Click below to call us or fill out our quick contact form.
Why Choose Eurex Hurricane Shutters?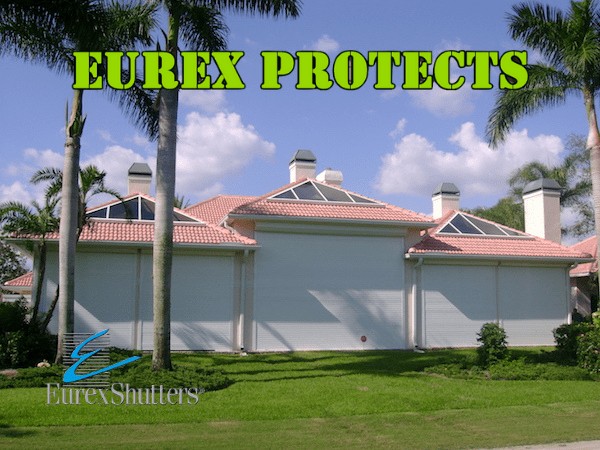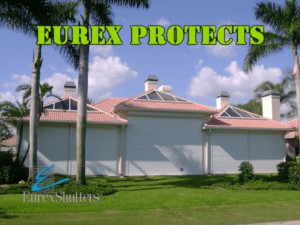 We've been protecting Southwest Florida since 1986 (35 years).
There's a reason why we have over 25,000 satisfied customers.
Here's why you can feel good about working with us:
Our shutters provide the highest quality and value in Southwest Florida
All our products are manufactured locally in Lehigh Acres and installed by local technicians
Eurex Shutters' hurricane shutters have the industry's most complete warranty (20 year limited, and transferrable)
Get personalized, friendly service. Our customers are our #1 priority. We have over 25,000 satisfied customers for a reason!



I WAS SOLD ON EUREX BY THE KNOWLEDGE AND PROFESSIONALISM OF HANS!
I HAD A VERY DIFFICULT INSTALLATION ON A HURRICANE SHUTTER,12'H X 19'W, WHAT A INSTALLATION JOB THE TECHNICIANS DID, HANS AND THE TEAM NEVER GAVE UP AND SHRIVED TO SATISFY MY INSTALLATION AND APPEARANCE IDEAS.
I HAVE BEEN IN BUSINESS FOR 50 PLUS YEARS AND NOT EASY TO BE IMPRESSED BY A COMPANY AND THEIR SERVICES,I CAN BE CONTACTED ANYTIME FOR A REFERENCE.
THANK YOU HANS AND TOMMY FOR BUILDING A PROFESSIONAL TEAM.
-FIORINO PALERMO
FREQUENTLY ASKED QUESTIONS
How do I install hurricane panels?
Hurricane panels need to be installed and uninstalled before each storm. Although the process is fairly straight-forward it does require time and energy so knowing how to install panels is important.
If you have never installed storm panels before or need guidance please see our instructions on how to install hurricane shutters panels.
Looking For Hurricane Shutters Near You?
We install custom, high quality hurricane shutters at a fair price throughout Southwest Florida, including in the following cities: