Need hurricane shutters?
Custom, quality hurricane & security shutters in Southwest FL for 35 years.
Types of Hurricane Shutters
We can help you find the perfect storm shutters for your home or business.
Fill out our quick form or call us by clicking the button below to get a FREE in-home estimate.
Our Storm Shutter Materials
Metal Storm Shutters
Metal/steel is typically your least expensive option. It is also the heaviest option. Steel is strong and meets the current Florida Building Codes. Metal options have a risk of rusting if not properly coated/treated.
Aluminum Hurricane Shutters
Aluminum is strong and meets the current Florida Building Codes. It is lighter than steel and it does not corrode. Most shutter types are offered in aluminum.
Clear Lexan (Polycarbonate)
Lexan plastic, a trade name for polycarbonate, is a clear, extremely tough plastic material that meets the Florida Building Codes. Because it is clear it has the benefit of letting natural light into your home or office. Certain shutter types are offered in clear Lexan.
Complete Hurricane Shutter Installation & Repair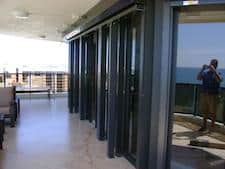 We offer shutter installation & repair services for our shutters and impact products in Lehigh Acres, Fort Myers, Cape Coral, Naples/Marco Island, Punta Gorda/Port Charlotte, Venice/Sarasota, and throughout Southwest Florida.
After 35 years in business we have earned a reputation for our impeccable installations and craftsmanship.
Call us or fill out our form to request a consultation and estimate.
Why Choose Eurex Hurricane Shutters?
We've been protecting Southwest Florida since 1986 (35 years).
There's a reason why we have over 25,000 satisfied customers.
Here's why you can feel good about working with us:
Our shutters provide the highest quality and value in Southwest Florida
All our products are manufactured locally in Lehigh Acres and installed by local technicians
Eurex Shutters' hurricane shutters have the industry's most complete warranty (20 years and transferrable)
Get personalized, friendly service. Our customers are our #1 priority. We have over 25,000 satisfied customers for a reason!



I WAS SOLD ON EUREX BY THE KNOWLEDGE AND PROFESSIONALISM OF HANS!
I HAD A VERY DIFFICULT INSTALLATION ON A HURRICANE SHUTTER,12'H X 19'W, WHAT A INSTALLATION JOB THE TECHNICIANS DID, HANS AND THE TEAM NEVER GAVE UP AND SHRIVED TO SATISFY MY INSTALLATION AND APPEARANCE IDEAS.
I HAVE BEEN IN BUSINESS FOR 50 PLUS YEARS AND NOT EASY TO BE IMPRESSED BY A COMPANY AND THEIR SERVICES,I CAN BE CONTACTED ANYTIME FOR A REFERENCE.
THANK YOU HANS AND TOMMY FOR BUILDING A PROFESSIONAL TEAM.
-FIORINO PALERMO FT. MYERS, FL.
Hurricane, Storm & Security Products Made Locally in Southwest Florida
FREQUENTLY ASKED QUESTIONS
How much do hurricane shutters cost in Florida?
The cost of hurricane shutters range anywhere from $10 a square foot to $50 per square foot. Metal and aluminum storm panels are low cost options, and Colonial, Bermuda (Bahama) and Rolling shutters are on the higher end.
See how much each shutter type costs in our in-depth storm shutter cost guide.
How much does it cost to install hurricane shutters in Florida?
Hurricane shutters for a standard house can range anywhere from a couple thousand dollars to tens of thousands, depending on the specific type and the specific house. Storm Panels are offer base protection at a lower cost, with Accordions being middle of the road, and Roll-Downs and impact windows and glass being the most expensive.
As a rule of thumb, hurricane shutters can range from $10 per square foot to $33 or more per square foot.
Contact us for a consultation and estimate to get pricing for your project.
What are the best hurricane shutters?
The best hurricane shutters depend on your budget and needs. If you want the most economical option then storm panels are a good fit. If you want an option that looks great than Colonial or Bahama are good choices. If you want high functionality and ease of use then roll shutters are a good pick.
Check out the our recommendations for the best hurricane shutters for different situations and budgets.
Are fabric hurricane shutters effective?
Fabric shutters are effective as long as they meet and exceed the latest FL building codes. If they do, fabric options offer a light-weight, easy to use option to protect your home.
What is better hurricane shutters or impact resistant glass?
Both options have their advantages.
Impact glass offers 24/7 protection without having to install and uninstall before a storm. Impact glass has a higher price vs. shutter options.
Hurricane shutters protect glass openings and are a bit less expensive vs. impact glass. However, they may not be the most aesthetically pleasing option.
Learn more about impact glass vs shutters.
How do hurricane shutters work?
Hurricane shutters protect the "envelope" of your home. In other words, they protect any glass opening that may be at risk of damage by flying debris. Hurricane shutters are installed or put on before a storm happens.
When do I need to use hurricane shutters?
All new construction and pre-existing homes need some form of hurricane protection. Any "glass" opening on a home has the potential to break during a storm. This allows wind and rain to enter the building. These are the openings that should be protected. Other uses would be to enclose Lanais so that they are protected from the elements.
When do you put up storm shutters?
Typically, it depends on if you are a full-time or seasonal resident. In general, installing shutters a few days in advance of a storm is sufficient. Seasonal residents many times will close or install their shutters at the start of hurricane season in June. Then they take them down in November. Some of our shutters like Accordions and Roll-Downs only take a few minutes to use.
Learn more details on when to put up hurricane shutters.
What are hurricane shutters made of?
Most of our storm shutters are made of aluminum. We also offer clear hurricane shutter options, including our roll-down shutters, accordion shutters, and storm panels. Our roll down shutters are also available in a "fabric" form.
See our article detailing different impact shutter materials.