We get so many questions about impact windows from our customers. And although we have dozens of articles on our blog discussing different topics about these windows, you may not know how to find answers to all of your questions. So we decided to created a single resource with all the impact windows FAQ we could think of in a single place. Below you will find the answers to some of the most common impact windows FAQ we get asked.
Table of Contents
FAQs About Impact Windows
What are impact windows?
Impact windows may also be called hurricane windows. They are one type of hurricane protection. These windows are constructed of heavy-duty, reinforced frames and impact-resistant, laminated glass. Impact windows are hurricane-rated and can withstand up to a category 5 hurricane.

Impact windows and doors look just like beautiful, new windows. So they will not change the appearance of your home.

Learn more about impact windows.


What are the benefits of impact windows?
Impact windows have many benefits. The biggest ones include:

1. 24/7 hurricane protection
2. curb appeal
3. energy efficiency
4. noise reduction
5. potential reduced insurance costs
6. increased home value
What are the negatives of impact windows?
Like everything in the world they also have a few disadvantages to consider. The biggest thing to consider is the upfront cost of them vs standard windows. However, it should be noted that if you buy standard windows you will need to add hurricane shutters to them, which reduces the difference in price between the two.
Learn more about the negatives of impact windows.
Do impact windows really work?
Yes. Impact windows are engineered and tested to provide hurricane protection. They can withstand up to a category 5 hurricane and withstand the impacts of flying debris as well as the extreme pressures a house faces during a hurricane.
Can impact glass break?
Impact glass can stand the impact of flying debris and the severe pressures during a hurricane. If the laminated glass is hit hard enough it may fracture, but the glass will remain in tact. It is able to do this because it is held together with a high-strength polymer interlayer. So your impact windows can take several impacts without breaking through. This means you will not have an exposed opening during a storm.

The window will fracture, but it stays in tact and does not allow the projectile to penetrate through.
Is tempered glass impact resistant?
Tempered glass windows are made with tempered (toughened) glass. And while tempered glass is stronger than standard float glass it is not impact resistant. So it does shatter if hit hard or hit the right way. In turn, windows and doors made from tempered glass are not impact resistant.

Learn more about tempered glass vs impact glass.
What are the different impact window glass types?
There are two main types of impact glass. These included laminated glass and insulated laminated glass.

You can learn more about these options in our guide on Glass Types For Impact Windows.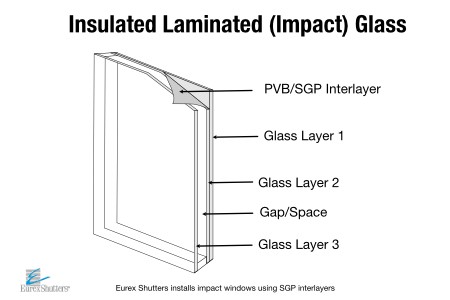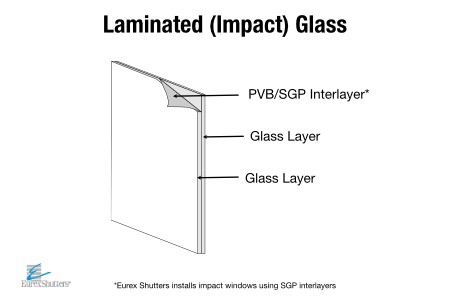 What are Low E impact windows?
These are impact windows where the impact glass has a clear, completely unnoticeable, low emissivity coating (low E coating) applied to them. The coating blocks certain wavelengths of light from passing through the pane while still allowing the passage of visible light. In other words, the coatings reflects (blocks) UV light away from the window.

This helps reduce UV and thermal energy (heat) from entering your home through your windows. This keeps your home cooler while still allowing natural light in.

This coating is an option available on impact windows.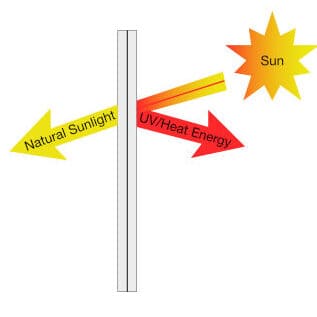 Learn all about low-E glass with these helpful resources:

1. Complete guide on Low E Impact Windows for Florida Homeowners
2. Guide on What is Low E Glass And How it Works
How does the installation process work?
The installation process will differ from one window company to another. However, our process is straight-forward and easy. It starts with an in-home, no obligation estimate and finishes with a quality installation of your windows.

Learn more about our impact window installation process.
What are the best windows for my home in Florida?
The best windows for your home in Florida will depend on factors, such as your needs and preferences, your location, and your budget.

Overall, we think the best windows for homes in Florida are vinyl insulated impact windows with low-E coated glass.

We made a comprehensive guide with all of our picks, including the best replacement windows, the best insulated windows, the best windows for security, etc. This provides recommendations and reasons behind each choice.

See our guide entitled Best Windows For Your Home in Florida.
What are the best energy efficient replacement windows for my home in Florida?
Florida can be harsh both in terms of hurricane season and the intense heat. So if you are replacing your home's windows you may as well choose windows that help with both. Fortunately, energy efficient impact windows exist, and there are several options.

See our picks for the Best Energy Efficient Replacement Windows For FL.
Q: How do you compare impact windows from one company to the next?
If you are shopping for impact windows you understandably want to buy the best ones you can without breaking the bank. But there are so many companies, materials and options to pick from. And you may become overwhelmed.
A lot of customers ask are curious how to compare one window brand from another. Many also are curious how to compare one window line or specific window product from another.
There are many things to compare when shopping for impact windows. Some of these include:
Does the window meet the Florida Building Code?
Is the window Florida Product Approved?
What is the windows performance in key areas such as efficiency, air and water penetration, etc.?
How long is the warranty and what does it cover?
Do the windows have good value?
Etc.
Know exactly what to look for by reading our buyer's guide on How to Compare Impact Windows.
Q: Is it worth it to install impact windows? Are they worth the money?
Impact windows are more expensive vs standard glass windows. So a lot of our customers ask whether impact windows are worth it? And while the answer may depend on your needs and situation we believe that they are worth it. Some of the several reasons why they are worth it include the worry free protection and peace of mind they offer, their potential insurance savings, and the increased home value they provide.
You can learn more in our guide about why impact windows are worth it.
Q: Should I buy aluminum or vinyl impact windows?
All impact windows are made with impact glass. But when it comes to window frames there are different options to pick from. The two most popular window frame materials are aluminum and vinyl. Most people are curious about the differences between the two. And many customers want to know which one is better.
The answer is a big, it depends.
Impact aluminum frame windows are strong, lightweight and durable. Aluminum is also naturally corrosion resistant. They can also be powder coated to accomplish a wide range of colors.
Vinyl impact windows are a very popular replacement window in Florida. These frames are made from PVC. They are a good fit for Florida because they resist fading, do not rot, do not need to be painted, and are low maintenance. They also are energy efficient and resist moisture and condensation.
However it it critical you purchase good quality vinyl windows with quality materials. Cheap vinyl windows have the potential to warp from the intense Florida sun.
Learn more about Aluminum vs Vinyl Impact Windows.
Q: What are the pros and cons of vinyl impact windows?
As mentioned above, vinyl impact windows are a popular choice for replacement windows in Florida. This is because they are suitable for the climate and have numerous benefits.
Some of the benefits of vinyl windows are that they:
are relatively affordable
resist fading
do not rot
do not need to be painted
are low maintenance
energy efficient
resist moisture and condensation
But like with every product, they do have some disadvantages and things to consider. Some things to consider are that low quality vinyl frame windows may degrade in terms of appearance and functionality over time and they may not meet your design or aesthetic needs.
You can learn more in our in-depth guide on Pros and Cons of Vinyl Windows.
Q: What are window grids, and what styles are available?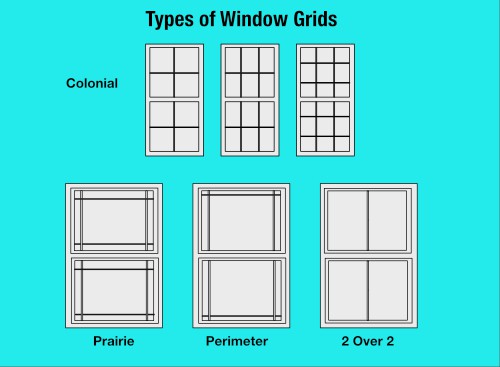 Window grids are the strips that visually divide your window panes into multiple sections. The grids are strictly decorative in nature on modern windows.
There are several different types of grids, including colonial, prairie, perimeter, 2 over 2, etc.
And of course, you can get your impact windows without grids as well.
Learn more in our Window Grids Guide For Your Impact Windows.
Q: How do you clean aluminum window frames?
Cleaning aluminum windows is a similar process as cleaning vinyl and other types of window frames. As a rule of thumb you can rinse, wash with a mixture of warm water/mild dish soap and a soft cloth or sponge (no hard bristle cleaning tools), rinse off the soap, and dry the windows.
See the full step by step process in our guide on How to Clean Aluminum Window Frames.
Q: Can I use impact windows for a new construction home?
Yes, impact windows can be used for a new construction home. In fact, many new construction homes in Southwest Florida and South Florida are being built with impact windows. They are a great way to protect your new home without installing hurricane shutters or storm panels. They also reduce insurance even further right from the start.
Learn more about New Construction Impact Windows.
Q: Can I use impact windows for a retrofit project (as a window replacement)?
Yes, impact windows can be used in retrofit (window replacement) projects. They are available in all window styles. They can also be custom made to fit in any non-standard or unusual size window opening. Vinyl impact windows are a very popular choice for retrofit projects. But aluminum frame windows can be used to replace your old windows as well.
Learn more about window replacement in Fort Myers and Cape Coral.
How can you start the impact window installation process?
Turn to the impact window professionals. We have been installing high quality, impact windows and doors since 1986. We proudly install quality impact windows at fair prices in Fort Myers/Fort Myers Beach, Cape Coral, Naples/Marco Island, Sarasota/Venice, Tampa/Clearwater, and throughout the rest of Southwest Florida.
Contact us today to get started.
GIVE US A CALL AT (239) 369-8600 OR SEND US A MESSAGE FOR YOUR FREE IN-HOME ESTIMATE.