When a hurricane is approaching you want to be able to prepare your home quickly and easily. If you have gone through an active hurricane season in Florida you know just how important it is to protect your home and family. Installing plywood or storm panels is time consuming and hard work. For example, if you got stuck installing plywood or panels before Hurricane Ian you know exactly what we are talking about. And if you couldn't install them yourself then you were probably scrambling to find someone who could install them for you. So if you are tired of cumbersome hurricane protection then you came to the right place. In this article we provide the best options for easy hurricane shutters.
The best option is to protect your home
We do want to mention how critically important it is to install some form of hurricane protection before a storm hits your area. Leaving your home's windows and doors unprotected makes you vulnerable to property damage or even harm.
The options given in this article are meant to be taken into consideration well in advance of any storm. The reason is they take time to custom make and install them permanently on your home. And if a storm is on it's way, you won't have enough time to wait.
So if you are in a pinch and all you have is panels or plywood use what you have.
Intro to hurricane shutters
Their purpose
Hurricane shutter systems help protect your home's windows, doors and other vulnerable openings from hurricane force winds and flying debris.
How do they protect your home?
Storm shutters are made from impact resistant materials, such as aluminum, metal, and clear polycarbonate. Shutter systems are made to meet the current Florida Building Code and all other requirements. They are rated to withstand up to a category 5 storm. So they offer some serious protection.
They create an impact resistant barrier, which protects your windows, doors, and other vulnerable areas of your home. Or in other words, they prevent flying debris or hurricane force winds from breaking your glass and pressurizing your home. Hurricane shutters also help to prevent water intrusion from wind driven rain that would enter through broken glass openings.
What are non-permanent shutters?
Non-permanent shutters are ones that do not stay affixed to your home. You need to install and uninstall them before each storm. You also need to store them when they are not in use.
Two popular examples include:
What are permanent shutters?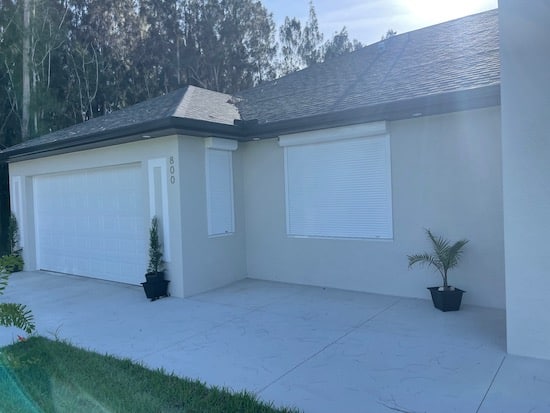 Permanent shutters are ones that are permanently affixed or installed on your home. This means you do not have to install and uninstall them on your home for each storm. All you need to do is close and secure them. When the storm is over you just open them back up. Because of this permanent hurricane shutters are easier and faster to use than non-permanent shutters.
Popular types of permanent hurricane shutter systems include:
You can learn more about hurricane shutters in our guide What Are Hurricane Shutters? An Introduction
What are the most difficult hurricane shutters?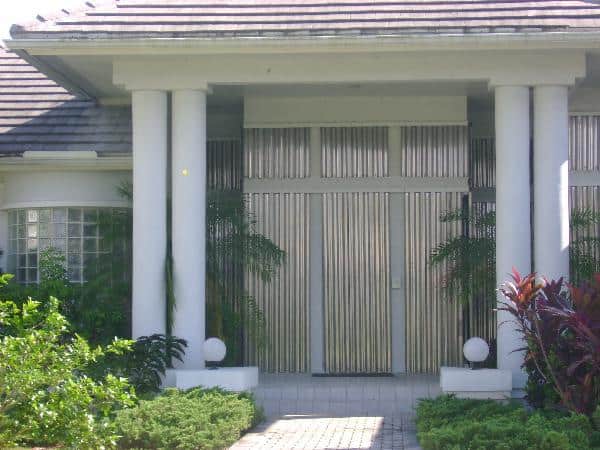 Some types of hurricane protection are significantly harder to install vs others.
But there are two types of storm protection that are generally difficult and time consuming.
These are:
plywood panels
corrugated storm panels
Both of these are both non-permanent protection options. They also both need to be installed on your home before the start of each storm.
And when we say install, we don't mean just close them. These need to be taken out of storage, and each panel needs to be attached to your home using adequate fasteners.
The installation process for these is not quick. In fact, it is time consuming. It is also hard work, especially if you are doing it yourself. This is why homeowners will hire someone to do it for them.
What hurricane shutters are easy to use?
On the flip side you have permanently installed hurricane shutter systems. Unlike plywood and panels these are permanently installed on your home. So all you have to do to prepare your house is close and secure them.
And yes, it is true that some permanent shutters are easier to use than others. But compared to non-permanent shutters they are all relatively easy.
Below we provide our recommendation for the best option for convenience, speed and ease of use.
What are the easiest hurricane shutters to use?
Easiest: Automatic roll down hurricane shutters.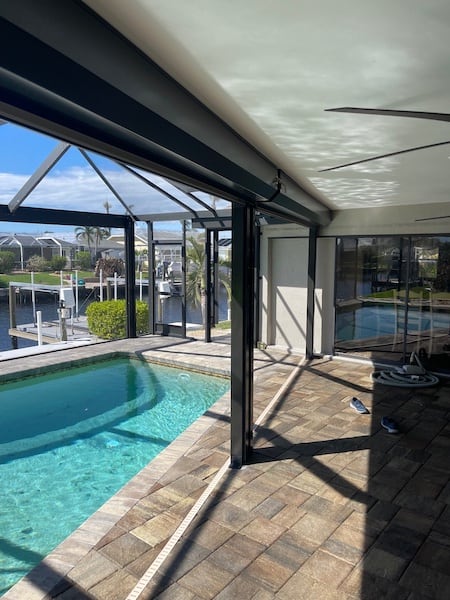 Roll down hurricane shutters are offered in both manual and automatic versions.
Both versions are very easy to use. But if you want the fastest, easiest hurricane shutters then electric roll down shutters are the best option by far.
Why? These shutters are operated by electric motors and operated by a switch inside your home. The electric motors roll the shutters up and down with ease.
If you want to make it even easier you can install a single switch system. Or you can choose to operate them using a mobile app on your phone, such as the TaHomA System APP. Either option allow you to protect your entire home quickly and with minimal effort in under a minute.
Learn more about roll down hurricane shutters.
Honorable mentions
Roll down shutters offer the ultimate in convenience and ease of use. But maybe they don't fit into your budget. Or maybe you don't like the looks of them. Whatever your reasons are don't worry. There are additional options that, while not as easy as electric roll downs, are also very easy to use.
These options include:
Manual roll down shutters – these have the same design and function as their electric counterpart, but they are manually opened and closed with a crank or strap system.
Accordion shutters – these close from side to side vs up and down. You should be able to deploy accordion shutters on an average size, single-story home within 15-20 minutes.
Conclusion
Protecting your home and family during a hurricane or tropical storm is critically important. And while you may need to use plywood or storm panels if you have no other option they are both hard to install and time consuming. There are definitely some shutters that are easier than others. And then there are extremely easy to use hurricane shutters, such as automatic roll down shutters.
Not sure which option is right for you? Or maybe you still have questions? We would love to help you. Our company has been serving Southwest Florida since 1986. So if you need easy hurricane shutters trust the pros at Eurex Shutters.