HURRICANE SCREENS
Eurex Shutters PTX™ Hurricane Screens protect your outdoor living areas from the worst hurricanes and severe weather. With hurricane screens there is no need to spend hours removing or securing furniture and belongings in your home's outdoor spaces. You can easily deploy your retractable storm screens within a few moments. And you can rest assured your family will be safe and secure even with the worst storms. Our retractable screens are built from the strongest materials so they provide seriously strong protection. They meet Florida Building Codes and Miami-Dade County requirements. And they are attractive and provide shade to make your outdoor space even more enjoyable.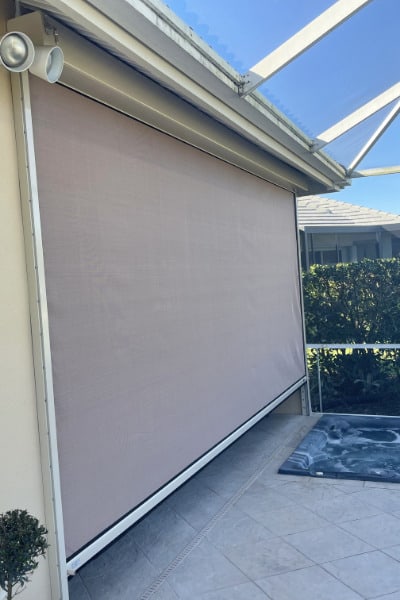 Product Highlights & Benefits
SERIOUSLY STRONG
Eurex Shutters PTX™ Hurricane Screens are made from the toughest materials. The housings and tracks are constructed from high-grade aluminum. And the actual screens are woven DuPont KEVLAR®. This material is stronger than steel and used in things like bullet-proof vests.
FLORIDA & MIAMI-DADE APPROVED
Our retractable screens are both Florida and Miami-Dade County requirement approved. They pass the most stringent tests, including: ASTM E1886, ASTM E1996, ASTM E330, TAS 201, TAS 202, and TAS 203. They are rated to withstand up to 180 MPH winds.
ATTRACTIVE AND LOW PROFILE
Hurricane screen housings are smaller than metal roll down housings so you can barely notice them in your outdoor spaces. The screens themselves are clean and attractive. And they come in multiple colors to ensure they will match the look of your space.
GREAT FOR WIDE OPENINGS
Our storm screens work great for wide openings, such as patios, lanais, porches and other outdoor spaces. In fact, they can be used for openings up to 30 feet depending on the location of the installation. This allows you to reduce the number of seams and tracks you need.
HURRICANE SCREENS ARE EASY TO USE
People love Eurex Shutters PTX™ Hurricane Screens because of how easy they are to use. You can open and close your screens quick and easy. This is true regardless if you have manual or electric ones.
SEE THROUGH & PROVIDE SHADE
Hurricane screens offer a lot more than only storm protection. They also provide shade. And this is a huge benefit in Southwest Florida. And they don't completely black out your space. You can still see through even when they are closed.
Product Options
Our storm screen systems are designed and manufactured to your exact specifications. You can also choose from several options. These include color and mode of operation.
Learn more about some of our product options below.
Color Options
Eurex Shutters PTX™ Hurricane Screens are available in several standard color options:
Screen Colors
Black
Beige/black
Beige
Beige/white
White
Frame Colors
Manual and Automatic Operation
We offer our screen systems in both manual and automatic (electrically driven) options. You can learn more about each option below:
Automatics storm screens are operated by electric motors and are typically controlled with a switch in your home. They can be opened and closed quickly and easily when a storm is approaching. These are equipped with manual overrides in case power is lost.
Manual hurricane screens are opened and closed manually vs automatically.
PTX™ Hurricane Screens Installations in SWFL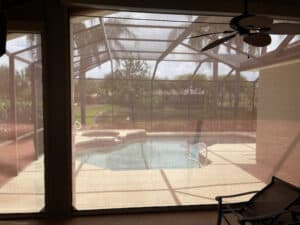 Request An Estimate
Are you looking for hurricane screens or other storm protection in Fort Myers, Cape Coral, Lehigh Acres, Naples, Venice or anywhere else in Southwest Florida? See why Eurex Shutters is the oldest and most trusted manufacturer in Southwest Florida.
Related Posts
Negatives of Hurricane Shutters? Consider These When Shopping

Hurricane protection is a must in the sunshine state and other coastal areas prone to hurricanes. Different hurricane shutters offer different levels of storm protection, ease of use, curb appeal, and functionality. But even though they are a popular form of hurricane protection there are some things that you may consider negatives of hurricane shutters.…