If you live in Southwest Florida you know how important it is to protect your home and family against hurricanes. When a hurricane comes you want to be protected. Installing some kind of storm protection on your home is critical to accomplishing this. But there are so many options available that it can be hard to know which one is right for you. One popular option of hurricane protection in SWFL is Accordion Shutters. Accordions offer strong storm protection and convenience. At the same time they do cost a bit more than cheaper options like storm panels. In turn, we get asked a lot by clients "are accordion shutters worth it?"
That is what we will discuss in this guide. Our hope is to provide information to help you decide if accordion shutters are worth it to you.
Trying to decide if you want storm shutters as a whole? If so, check out our related guide on Are Hurricane Shutters Worth It in SW Florida?
Are Accordion Shutters A Good Option?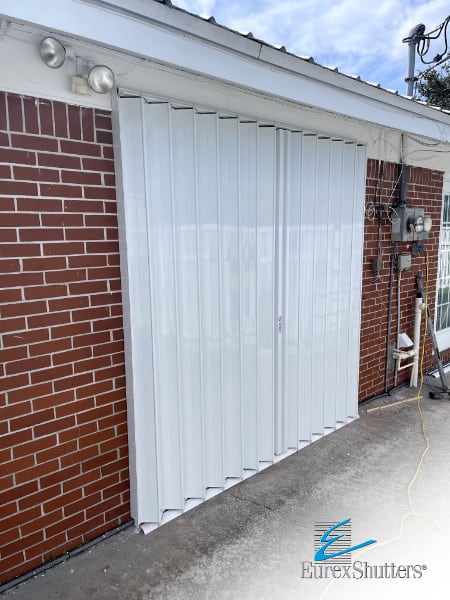 Our opinion is yes. They are a solid option of permanent hurricane shutters.
When it comes to value and convenience accordion shutters are a great option. In terms of value for the money accordions are hard to beat.
Accordions are a good option because of their storm protection and convenience. We discuss each one more below.
If you are new to hurricane shutters you can read our complete guide titled What Are Hurricane Shutters.
Strong storm protection
Accordion shutters are a type of hurricane shutter that offers excellent storm protection. They are made from high-grade, impact resistant aluminum. And they are designed, built, and tested to withstand up to a category 5 hurricane.
What wind speed are accordion shutters rated for?
As mentioned above accordion shutters are rated up to a category 5 hurricane. According to the Saffir-Simpson Hurricane Scale, this means they can withstand sustained wind speeds of 157+ mph along with the impact of flying debris.
For more information on this topic, check out Are Accordion Shutters Hurricane Proof?
High level of convenience
Accordion shutters are fast and easy to deploy when a storm is approaching. In fact, under normal circumstances it should take about 15-30 minutes to close all the accordion shutters on an average sized, single-story home. And you can accomplish this without much physical effort.
Accordions area type of permanent hurricane shutter so there is no installation before a storm. All you have to do to prepare your home is slide them closed. This is night and day compared to the 1-2 days and hard, manual labor it takes to install cheaper options like storm panels.
In a nutshell, accordion shutters are an easy to use hurricane shutter. So if you are looking for convenience at a good price then accordion shutters may very well be worth it for you.
You may also like: Accordion Hurricane Shutters: Are They Right For You?
How long do accordion hurricane shutters last?
Great question! With any big purchase you want to make sure the product will be durable and last for many years. So you are most likely asking this question about accordion shutters.
The answer to this question is a big "it depends." Why? Well, the life of accordion shutters will vary from one manufacturer to another. Some brands of accordion shutters are higher quality than others. And some installers will do a better job than others. But if you get good quality hurricane shutters installed by an expert hurricane shutter company you should expect them to last a long time.
For instance, our EUREX SHUTTERS PTX™ ACCORDION SHUTTERS carry a 20 year limited warranty.
When properly used and maintained your hurricane shutters should last for years to come.
Curious what maintenance these shutters involve? See our guide entitled How Do You Maintain Accordion Shutters? 4 Tips
Are Accordion Shutters Worth It?
To be transparent, our company does install accordion shutters for many homeowners in Southwest Florida. But they are far from the only hurricane protection product we install. In reality, we install several different types of hurricane shutters as well as impact windows. So we don't really have a "favorite" type of hurricane shutter.
Accordion shutters offer great storm protection, and a high level of convenience for a reasonable price. This means they are a great value.
But still, you should weigh the benefits of accordions against the cost to determine if they are worth it for you.
Below we give some reasons why we think they are worth it. Hopefully, this helps to highlight some of the benefits and make your decision more informed.
Reasons why accordion shutters are worth it:
Offer strong hurricane protection. As we mentioned above accordion shutters can withstand up to a category 5 hurricane. This means they provide strong protection for your family and your home.
Fast and easy to deploy. You can deploy your accordion shutters quickly and easily. As we mentioned earlier they are permanently installed. So all you have to do is slide them closed to prepare your home.
Can be locked for extra security. Most accordion shutters have optional security locks. This is helpful if you leave your home unprotected, which may happen after a hurricane. This is a great way to protect your home and possessions if ever needed.
Minimal effect on the looks of your home. They are not completely hidden. This is true. But when not in use accordion shutters fold away cleanly. This means their appearance will be minimized on your home while open.
Increase home value. This is true for most types of storm protection. However, it is true for some more than others. Accordion shutters are usually a strong selling feature because of their ease of use and strong protection. So buyers will usually value them when looking at your home. As a result, having them on your home will increase it's value.
Can contribute to a lower home insurance cost. With accordion shutters you should be able to earn a discount on your home insurance policy in the form of a wind mitigation credit. The actual discount will depend on your carrier and your specific home.
Are Accordion Shutters Right For You?
Accordion shutters provide strong storm protection and are extremely easy to use. And while they cost a bit more than cheaper options like panels they offer many more benefits. There are several good options for storm protection, but in terms of accordions we feel they are worth the cost.
Eurex Shutters has been a leader in storm protection products in Southwest Florida since 1986. We have 25,000+ satisfied customers in the area. So if you need storm protection give us a try. We promise you will get the highest quality protection products, the best installations, and truly great service.