Southwest Florida truly is an amazing place to live. But living here does come with some real risks, such as hurricanes that you have to deal with. So if you have lived through an active hurricane season you know how important it is to protect your home and family against hurricanes. Installing reliable hurricane protection on your home is critical to accomplishing this. There are options available for every taste and budget, including shutters and impact glass.
One popular option of hurricane protection in Southwest Florida is Bahama Shutters. They look great, are easy to deploy, provide shade, and are rated to withstand up to a category 5 hurricane. This style of hurricane shutter is a premium option. So they do cost more than cheaper options like storm panels. So some of our clients ask us "are Bahama shutters worth it?"
This is what we will discuss in this guide. However, at the end of the day the answer to that question is 100% up to you. So our intention is not to persuade you, but to provide you with information to help you decide if Bahama shutters are worth it to you.
What is the point of Bahama hurricane shutters?
At their core hurricane rated Bahama shutters are intended to protect your home and family from hurricanes and severe weather. In addition they do serve other purposes and provide many other benefits. These include:
Curb appeal – these shutters can transform your home and provide a great design aesthetic
Shade – they are great for providing shade due to their position and the horizontal slats of the shutters, and this is beneficial in the hot Florida sun
Help with rain run-off due to the angle they sit over your window
Allow breeze into your home when your windows are open, even when it is raining outside (due to the rain run-off)
Are Bahama Hurricane Shutters A Good Hurricane Shutter Option?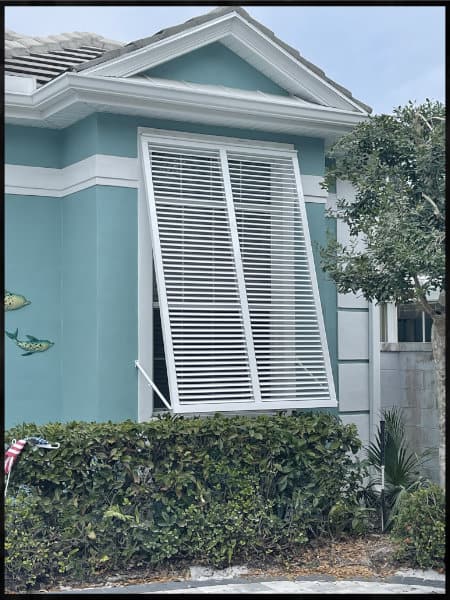 Our opinion is yes.
But the question is if they are right for you. And the answer to that question will depend on your needs, preferences and budget.
At a high level, if you want great looking, hurricane-rated shutters then Bahama shutters are a great option.
Bahama shutters are a good option because of their storm protection, good looks, and other benefits. We discuss each one more below.
Are Bahama shutters right for you? Learn more about them in our guide What Are Bahama Shutters & Pros and Cons For Your Southwest FL Home.
Strong storm protection
Hurricane-rated Bahama shutters offer excellent storm protection. Our Bahama style shutters are hurricane-rated and made from high-grade, impact resistant aluminum. And they are designed, built, and tested to withstand the hurricane force winds and flying debris of up to a category 5 hurricane. They meet the Florida Building Code.
But you should note that this will differ from manufacturer to manufacturer. So make sure you find ones that are hurricane rated, meet the Florida Building Code and made of high quality materials.
What wind speed are Bahama shutters rated for?
As mentioned above Bahama hurricane shutters are rated to withstand up to a category 5 hurricane. According to the Saffir-Simpson Hurricane Scale, this means they can withstand sustained wind speeds of 157+ mph along with the impact of flying debris.
Great looks and curb appeal
Not many hurricane shutters look as attractive or provide as much curb appeal as Bahama Shutters do. This is especially true if you want to achieve a Caribbean or "beachy" design for your home. Or if you want to transform an older style home into a modern home. Lastly, they are also a good fit if you just want great looking shutters that won't degrade your home's appearance.
Convenience
Bermuda shutters are fast and easy to deploy when a storm is approaching. All you need to do is adjust the telescoping arms to the closed position. And you can accomplish this without much physical effort.
Bahama shutters are a permanent hurricane shutter so they are always attached to your home. This means you don't have to install these shutters on your home before a storm. All you have to do to prepare your home is close them into position. This is night and day compared to the 1-2 days and hard, manual labor it takes to install cheaper options like storm panels.
In a nutshell, Bahama/Bermuda shutters are an easy to use hurricane shutter.
How long do Bahama hurricane shutters last?
Great question! With any big purchase it is a very good idea to ensure the product will be durable and last for many, many years.
The life of Bahama shutters will be different from one manufacturer to another. Some brands of shutters are higher quality than others. And some installers will do a better job than others, which creates less issues over the shutters' life. But if you get good quality hurricane shutters installed by an expert hurricane shutter company you should expect them to last a long, long time.
For instance, our EUREX SHUTTERS PTX™ BAHAMA SHUTTERS carry a 20 year limited, transferable warranty.
And as always, if your shutters are properly used and maintained they should last for years to come.
Are Bahama Shutters Worth It?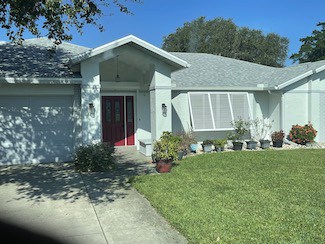 In full disclosure we do install this type of shutter. But we also install many other types of hurricane shutters as well in addition to impact glass. So we don't really have a "favorite" type of hurricane shutter or any particular bias towards one or the other.
We personally like Bahama style shutters for several reasons. They provide great storm protection, curb appeal, convenience, shade and other benefits.
So while they are a premium option at a premium price tag, they do provide quite a bit of benefits.
But still, you should weigh the benefits against their cost to determine if they are worth it for you.
Below are some reasons why Bahama shutters may be worth it. Hopefully, this helps to highlight some of the benefits and make your decision more informed.
Reasons why Bahama shutters are worth it:
Offer strong hurricane protection. As we mentioned above Bahama shutters can withstand up to a category 5 hurricane. This means they provide strong protection for your family and your home.
Fast and easy to deploy. You can deploy them quickly and easily. As we mentioned earlier they are permanently installed. So all you have to do is slide them closed to prepare your home. If you are looking for shutters that are fast and easy to install these may be a good option.
Great curb appeal and design aesthetics. Bahama shutters may just be the best looking hurricane shutters you can buy. As a result they provide your home with great curb appeal. So if you are worried about shutters degrading the look of your home you shouldn't have that fear with this style of shutters.
Increase home value. This is true for most types of storm protection. However, it is more true for some than others. Bahama shutters are usually a strong selling feature because of their great looks, ease of use, strong storm protection, and added shade and privacy. So if you plan on ever selling your home these will help. That's because buyers will usually value them when looking at your home. As a result, having them on your home will increase its value.
Can contribute to a lower home insurance cost. With these shutters you should be able to earn a discount on your home insurance policy in the form of a wind mitigation credit. The actual discount will depend on your carrier and your specific home. But hurricane-rated shutters that meet the criteria will generally help with insurance credits.
Are Bahama Shutters Right For You?
Bahama shutters provide strong storm protection, great looks, shade/privacy and are ease of use. And while they do cost more than cheaper options like panels they offer many more benefits.
If you are interested in Bahama shutters choose the professionals at Eurex Shutters. We have been a leader in storm protection products in Southwest Florida since 1986 and have 25,000+ satisfied customers in the area. So if you need storm protection give us a try.
Our promise to you: you will get the highest quality protection products, the best installations, and truly great service.