During hurricane season you need to be prepared to protect your home or business from hurricanes, tropical storms, etc. If you have (or are considering) hurricane panels on your Fort Myers, Cape Coral or Southwest Florida house you should know how to install hurricane shutters panels. The biggest question on homeowner's minds is "HOW do I do my hurricane shutter installation!?" This guide gives step-by-step instructions for how to complete your hurricane shutter installation easily. These instructions are specifically for Eurex Shutters brand storm panels. But they can also be used as a general guide for other brand panels as well.
You may also like: Hurricane Shutter Cost Guide.
Precautions and Things to Note Before Starting Your Installation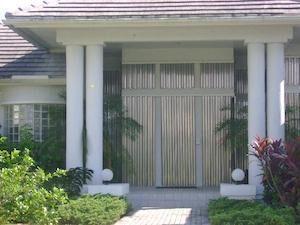 Keep the things below in mind before starting.
Safety first
You must wear protective gloves when handling any hurricane panels. Storm panels, especially metal shutters (and to a lesser degree aluminum shutters) are heavy. Eurex Shutters Storm Panels (like others) are treated with a protective oil coating and may cause allergic reactions. Additionally, the storm panels have SHARP corners and edges. In turn, wear protective gear and use extreme care when handling them at all times.
Two story homes will require proper ladders and equipment. Ensure that you have adequate ladders, know how to properly use them and feel comfortable using them.
Practice and be prepared
Practice if you have never installed hurricane panels before. Eurex Shutters recommends that you install all panels before hurricane season starts to familiarize yourself with the installation process. This goes for all hurricane shutters.
Install your panels early
You should perform your shutter installation early in the event of a storm. Depending on your home and physical capabilities, it may take you 1 or 2 days to install. Make sure you have plenty of time before the storm hits.
Make sure to read our guide on when to put hurricane shutters up.
Have your hurricane shutter hardware ready
Make sure you have all necessary shutter fasteners and hurricane shutter hardware ready. Eurex Shutters Storm Panels include hurricane shutter tracks, which help with installation, but having your hardware readily available is necessary. If your panels do not have tracks then make sure you have the fasteners handy to reduce the burden of attaching them to your house. This will make your installation much easier and faster.
If you don't want to install your panels yourself
Installation and removal should be done by an able body adult. If you do not have the time, ability or desire to do the installation you should consider hiring someone to install your hurricane panels instead. In fact, we recommend that you use the services of a competent installation professional.
Looking for hurricane installation near you?
There are several hurricane shutter installation services that offer installation of your hurricane shutters in Fort Myers, Cape Coral, Napes and throughout the Southwest Florida area. Eurex Shutters, for example, is a hurricane shutter installation company. We offer an annual installation service.
Installation Instructions: How to Install Hurricane Shutters Panels: Step 1
Prepare for the installation.
For any doorways, you must first install the bottom track at the bottom of the doorway. If you have Eurex Shutters storm panels then the bottom f track for your window panels is already in place. Some other brands may not have such a track system, in which case you may have to install the panels without tracks. 
See the image for what the track looks like.
Next, carefully slide the bolts into the track chamber and get them into position (see image 1).
How to Install Your Hurricane Shutter Panels: Step 2
Carefully slide each storm panel up in to the top track (see image 2) as you line up the hole at the bottom of the panel with the bolts.
Secure the panel with the wing nuts. Place each additional panel, overlapping them as you slide up each panel.
Installing Your Hurricane Shutters Panels: Step 3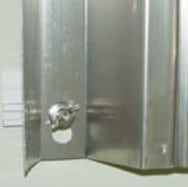 After all panels are placed tighten each wing-nut bolt firmly and snugly by hand (see image 3).
You want the wing-nuts tight, but make sure not to over-tighten them. Never use a power tool to tighten. Each wing-nut bolt should be firmly in place so the panels do not rattle.
Frequently Asked Questions About Hurricane Shutters Panels Installation
Can I install my own hurricane shutters?
Initial installation of your hurricane shutters should be done by a licensed contractor (and it is usually required). But if you have the time and ability then yes, you can install your own storm panels before a storm.
How hard is it to put up hurricane panels?
Although not hard the process can take some time and be tedious. Aluminum and metal storm panels can be heavy. Depending on the size of your home the project can take 2-3 days. Make sure you are able and willing before you start. There are several installation services available if you want or need help.
Have Questions or Need Hurricane Shutters or installation service in Fort Myers, Cape Coral, or Southwest Florida?
Whether you need hurricane shutters or help installing, repairing or maintaining them we can help. We've been protecting homes and business in Fort Myers and throughout Southwest Florida since 1986. We would love to help you too!
You may also like these articles:
Bahama Hurricane Shutters Install North Fort Myers

Hurricane Shutters Cost: 2023 Pricing Guide

Case Study: Custom Hurricane Shutters Installation Bokeelia FL