Living in Southwest Florida means weathering FL hurricanes and severe weather every year. And some styles of decorative hurricane shutters are absolutely beautiful, but they also have higher price tags. So what if you are trying to protect your home without breaking the bank? What are the best, high-quality affordable hurricane shutters? That's what we answer in this article. So if you are looking for low cost hurricane shutters that will provide the best bang for the buck then make sure to read through our guide.
Table of content
Affordable hurricane shutters vs cheap shutters
First things first. This article is not intended to provide a list of cheap hurricane shutters. We think of low quality when we hear the word "cheap". So while the shutters we discuss below are indeed more affordable than other types, they are not cheap quality.
You may get lucky. But finding the cheapest shutter system you can buy, such as boarding up with plywood or lower-quality big-box-store products may not end well. For instance, it could result in damage to your home. Or it may end with you having to replace them prematurely due to their low quality and durability.
The good news is, there are affordable, high-quality storm shutters available. And no, you may not get the aesthetics and extra functionality of higher price shutter types. But you will get strong storm protection and years of use due to more durability.
So our list is made up of high quality yet affordably priced hurricane shutters.
3 Types of affordable hurricane shutters
We provide four types of low cost, high quality hurricane window protection options below. Each one has its pros and cons. All of them are priced in the low to middle tier in terms of shutters.
View our Hurricane Shutters Cost Guide to see the pricing for each option.
1. ARMORPANELTM Hurricane Fabric Panels
What are they?
ARMORPANELTM Hurricane Fabric are flexible, fabric panels that you install over (cover) your windows similar to metal storm panels. Also like metal panels they attach using hardware on the outside of your windows.
Each panel is custom cut to cover your window perfectly.
And yes these are made from fabric, but it is extremely strong fabric. The fabric is DuPont KEVLAR®, which is stronger than steel. It is commonly used in products like bullet-proof vests and other anti-ballistics products.
Why we like them
ARMORPANELTM Hurricane Fabric is affordable and easier to use than metal storm panels.
Specifically ARMORPANELTM Hurricane Fabric panels:
Are much lighter weight vs metal panels so they are easier to handle and install
Eliminate the risk of cuts from sharp edges of metal panels
Can be custom cut to fit unique window openings
Can be stored with much less room vs metal panels
Considerations
Fabric panels are easier to store and install then metal panels. However, you do still need to store and install them. They are not permanent. Make sure you are okay with installing and uninstalling them before each storm. If not, you may want to choose a permanent shutter type. We discuss one of those next.
Learn more about ARMORPANELTM Hurricane Fabric.
2. Clamshell Shutters (Awnings)
What are they?
Clamshell shutters are also called clamshell awnings or aluminum awnings. They are permanent hurricane shutters that resemble traditional awnings. But they are different in several ways. First, they are made from impact resistant aluminum so they offer more protection. And second, they close down over your windows like a clamshell to better protect your glass. They are non-hurricane rated, but they do still provide some storm protection.
Why we like them
First, clamshell shutters are permanently installed. This makes deploying them before a storm a lot easier than the other non-permanent shutter products on this list. So if you are like us and love the look of them this is just about the most affordable type of permanent shutters you can get.
Second, they are affordable. Of course, they are on this list. They start at about $300/window.
Considerations
Clamshell shutters are affordable and permanent. But there are a few things to consider with them.
First, they do offer some storm protection, but they are non-hurricane rated.
Second, they are permanent. If you don't like the way they look or just don't want visible shutters 24/7 they may not be right for you. If you do like the look of them then you will be able to enjoy the way they look all the time.
Third, clamshells are only really used for covering your windows. If you need to protect your doors you will have to add an additional type of storm shutter that is suitable for doors.
Last, they are typically used on mobile and manufactured homes. And while homes commonly used them in the past, they are not as commonly used on houses anymore.
Learn more about Eurex Shutters PTX™ Clamshell Shutters.
3. Accordion Shutters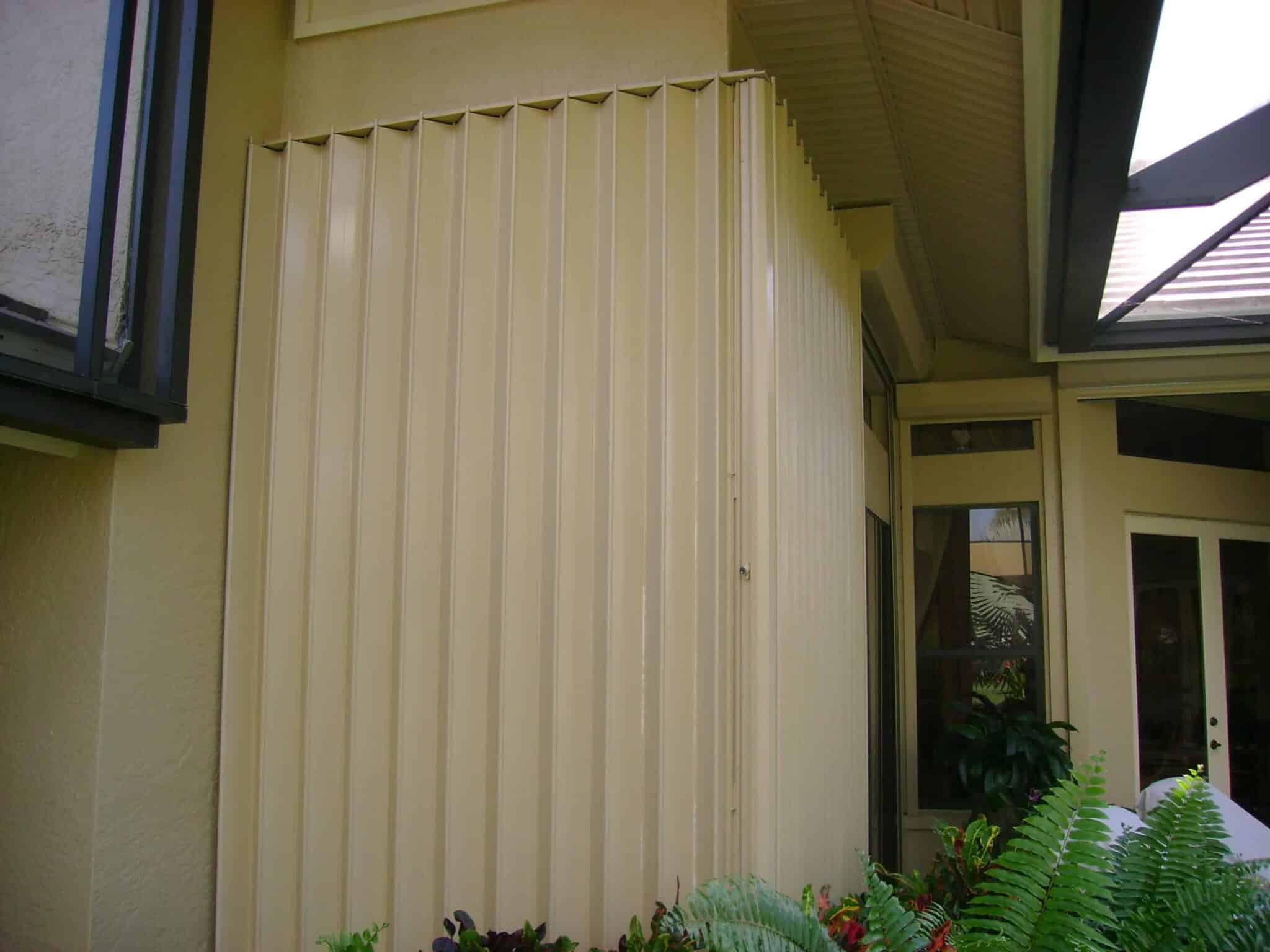 What are they?
Accordion shutters are permanent, aluminum shutters that open and close side to side. The fins move along a permanently installed track system on the top and bottom. And when not in use the fins hide away nicely in the side so they are less visible.
Why we like them
Accordion shutters are extremely popular in Southwest Florida, and for good reason. Here are some of the reasons why we like them:
They are permanent so you don't have to install and uninstall for each storm
Deploying them can be done rapidly when a storm is approaching
You can add a locking mechanism, which provides additional security to your home
They can be used for privacy or creating temporary spaces out of areas like patios or lanais
Considerations
Accordion shutters provide a lot of convenience and functionality. But there are a few things to consider.
First, they are affordable, but they are pricier than options like metal storm panels. They may not be the best choice if your budget is constrained or you just don't want to pay a lot.
Second, like with anything that has moving pieces they do require some care and maintenance to continue performing well. For instance, you need to clean them regularly to reduce dirt build-up in the tracks. You will also need to periodically lubricate them (with the correct lubricant type for accordion shutters). Not keeping up with these tasks may eventually result in accordions that don't open and close as smoothly.
Find out more about Eurex Shutters PTX™ Accordion Shutters.
Honorable Mention: Eurex Shutters PTX™ Storm Panels With Track System
If you are looking for the absolute lowest cost hurricane shutter then storm panels are your best bet.
They are not permanent. And they do require installation and removal for each storm. But they do offer strong storm protection at a low price.
If you decide to go with storm panels you may want to consider Eurex Shutters PTX™ Storm Panels. Our panels are available with our helpful storm panel tracks system. This track system makes installation easier by supporting each panel as you attach it to your home.
Conclusion
Living in Florida requires you to protect your home from severe weather like hurricanes. And while there are many types of hurricane shutters not all of them are affordable. And not everyone has a huge budget. But finding affordable storm protection that is high quality and durable is possible. Three options are clamshell shutters, hurricane fabric panels and accordion shutters. For those looking for the absolute cheapest option you can also choose metal storm panels.
If you are looking for hurricane shutters anywhere in Southwest Florida we would love to help you. Our company has been installing, repairing and maintaining shutters in SWFL for 35+ years. Request a consultation below using our quick form.