Living in South Florida means you have to deal with hurricanes and the damage they have potential to create. If you have a home in this area then protecting it from such damage is important. If you are in the market for hurricane shutters for your house in Fort Myers, Cape Coral, Naples or Southwest Florida you have probably seen the terms permanent shutters and non-permanent shutters. Hurricane shutters can be confusing if you are unfamiliar with them. There are so many options and styles that it can be overwhelming. For instance, what the heck is a permanent storm shutter? So in this article we answer the question "what are permanent hurricane shutters?" We then give examples of types of permanent hurricane shutters and also some of their pros and cons.
What are permanent storm shutters
Permanent hurricane shutters are those that are permanently attached to a property, whether that is shutters for your house, condo balcony shutters, or office. They can be used to protect your windows, doors, garage doors, screened in areas, and other parts of your home.
Permanent shutters are always installed or fastened to your home securely. So there is no need to install the shutters before each storm or remove them after each storm. They are affixed to your property permanently. When a storm approaches you only have to deploy them, which is a fancy way of saying close them up! This creates a faster, easier process to secure your home vs. non-permanent shutters, which we talk about below.
Types of permanent storm shutters
Below are some different styles of permanent hurricane shutters for your windows, doors, etc.:
Pros of permanent impact shutters
There are several benefits of permanent hurricane window protection products. They are a great way to hurricane proof your home. The benefits include: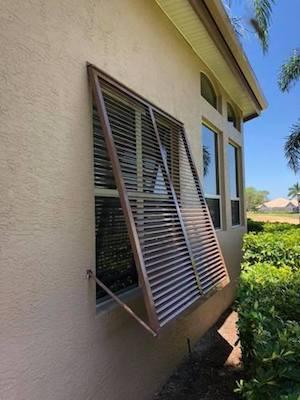 1. Permanent shutters are easy and fast to operate – don't struggle with panels
The biggest benefit of permanent shutters is their ease of use vs. non-permanent types.
Permanent window storm covers are always on your home. As a result, deploying (closing) them is much easier than installing and uninstalling non-permanent types of shutters like metal panels.
Accordion shutters can be closed quickly by sliding and locking them. Similarly, roll shutters simply roll downward, either manually or automatically with electrically driven shutters. Bahama shutters and colonial shutters can just be closed and locked.
Learn more about motorized hurricane shutters.
2. Shade and light control – tame that Florida sun
Permanent shutters, such as accordion and roll shutters, give you the ability to partially close them to block and control light or shut light out completely. Being able to partially or fully close permanent storm shutters to control light allows you to get more enjoyment out of the use of your home. Other permanent styles, such as Bahama and clamshell shutters are always partially closed and provide shade all the time.
3. Added security protection – protect your family from intruders
Hurricane shutters that are permanently attached also provide a layer of security for your home. Roll shutters, for example, can also be used as security shutters. They completely block off access to entry points, such as windows and doors. If you are leaving your home unattended then these are a great way to protect your home against intruders.
4. They look better than panels – have the nicest looking house on the street
It is fair to say that some shutters look more attractive then others. But certain permanent styles like Bahama shutters and Colonial shutters can truly improve the look of your home. These options are not only tough as nails, but they can help you achieve amazing curb appeal that your neighbors will be jealous of.
5. No costs and hassles to install them and uninstall them before each storm
We mentioned before that permanent impact shutters are always attached and easy to operate. This means you can easily install them yourself in a short period of time. This is a huge benefit vs. non-permanent styles like aluminum, metal, plastic, or fabric panels that need to be installed and uninstalled every storm.
Non-permanent options are not so easy. They have a fairly time-consuming and labor intensive process. So unless you have 2+ days to install and uninstall your panels yourself you will most likely have to pay an installation service to put them on your property. This is one cost that you will not have to worry about with permanent hurricane shutters.
You may also like: Pros & Cons of Roll Down Shutters.
Cons of permanent storm shutters
Permanent shutters sound amazing! But no product is a perfect fit for every single person. This includes permanent shutters. So below we list some things to consider when deciding between permanent and non-permanent shutter options.
Higher cost vs. non-permanent options
Permanent shutters have a lot of benefits, and it is fair to say they offer more value for what you get. But like with anything you will pay more for added convenience and more features. If you are looking for the cheapest hurricane protection and don't care about things like ease of use, shade control, added security, or beauty than permanent storm shutters may not be your best option. Non-permanent shutters, like storm panels or fabric hurricane panels might be a better fit.
You may also like: Pros & Cons of Hurricane Fabric.
They are permanently attached to your home
Being permanently attached offers several benefits as we showed above. And styles like accordion and roll shutters are designed to tuck away nicely, reducing their visual effect on your home. However, some folks just don't like they way they look. So if you are not a fan of the way they look installed on your home then this may create a downside. If this is the case you could consider impact windows or non-permanent options.
On a side note, if you are also considering impact glass you can read our guide on impact windows vs. impact shutters. This may help you decide what the better choice for you is.
Conclusion
So to recap we defined permanent hurricane storm shutters as ones that are permanently attached to a property. They include many styles including accordion, roll down, Bahama, colonial, clamshell storm shutters. They offer several benefits, such as fast and easy operation, additional features, added functionality, security protection, good looks, and reduced costs long-term. On the flip side their many features mean they are priced higher than non-permanent options. They are also always attached to your home so this may not be ideal for some folks.
We hope you found value in this article. If you are interested in seeing the different styles of permanent hurricane shutters in person or getting an estimate of their cost we would love to help! Eurex Shutters has been proudly serving Greater Fort Myers and the rest of Southwest Florida since 1986.