Are residential security shutters a good idea for your home? Are you wondering why you need to protect your home and family in Southwest Florida? Well, there were almost 1.2 million total burglaries and nearly 7 million property crimes in the United States in 2019 according to the FBI. More than 62% of the burglaries happened to residential properties. So taking steps to protect your family isn't a bad idea. In fact, it is a smart idea. But there are a lot of options for home protection. One option is residential security shutters. We discuss them in detail below so you can determine if they are a good fit for your home.
What are residential security shutters?
Many folks are curious if shutters can be used as security for their home? And the answer is yes. Certain kinds of shutters can be used to protect your home.
Residential security shutters are rolling shutters. Roll down security shutters are typically installed on the outside of your home's windows and doors. They open and close by rolling up and down. You can lock them in place to secure your home's entry points.
If you live in an area that requires protection from hurricanes then roll down security shutters are an especially great choice. This is because they will serve both purposes.
What are security shutters made from?
Residential rolling security shutters are made from impact resistant metal or aluminum. So rolling security shutters are seriously tough. How tough? Well they are also used as hurricane shutters because of their ability to withstand hurricane force wind and flying objects. So they are well suited to withstand impacts from burglars.
How do you operate them?
Residential rolling shutters are easy to use. They roll up and down and lock into place. You can choose either an automatic or a manual model. Both options are easy to use, and you can open and close both rather quickly. Below we discuss each option in more detail.
Electric security shutters
Automatic residential security shutters open and close automatically using a switch inside the home (or a mobile app). An electric motor powers them. You can also have them installed with a manual override and/or a backup power supply. This is helpful in case of a power outage or engine malfunction.
Learn more about how to operate automatic rolling security shutters.
Manual (crank or belt operation)
You can opt for manual residential security shutters for a lower cost option. Manual versions open and close by either a hand crank or belt system. You can close them quickly with minimal effort. But they are not quite as easy as the automatic versions.
Learn how to operate manual crank roll down shutters and how to operate manual belt operated roll down shutters.
What do they look like?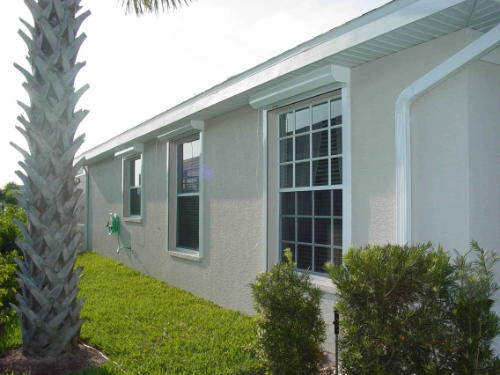 Protecting your home and family is critical. But you also obviously still want your home to look amazing. So sacrificing the look of your home with ugly security protection products is a no no. But security shutters have minimal affect on the look of your home. They are a definite improvement over other physically installed security products, such as security bars.
Roll down home security shutters are designed to be as sleek in appearance as possible. They are sometimes referred to as European rolling shutters due to their sleek, European design. And they tuck away nicely in a housing box when not in use. This helps to minimize their appearance on your home. They even look pretty attractive when they are closed and locked.
If you want you can custom design them to meet your needs. For instance, you can choose between a number of colors to match the exterior appearance of your house.
Are roller shutters good for security?
Yes. Unlike alarm systems Residential security shutters actually prevent and stop break ins. While security alarm systems do notify you when there is a break-in thy do not actually prevent or stop a break-in from happening.
A home's security shutters on the other hand, can stop break-ins.
How? They completely block access to your home's vulnerable windows and doors when they are closed. And intruders usually enter your home via your windows and doors. So if intruders can reach your home's vulnerable access points they can't get inside.
Do security roller shutters deter burglars?
Yes, residential security shutters help to deter burglars from trying to break in. How? They are intimidating to say the least. When closed and locked they create an impact resistant barrier that you can clearly see from the exterior of the home. This makes it obvious that they will have to break through a wall of metal or steel to get in. This is will create a big deterrent for any potential intruder.
There is a good chance they will move on to a property without security shutters.
How much do rolling security shutters cost?
The cost of residential security shutters will vary depending on many things. These include the supplier you buy from, the options you select (manual vs. electric, etc.) and the difficulty of your specific project. But in general you can expect a cost of approximately $30-35/SQFT for roll down security shutters.
Disclaimer:
With certain products, such as roll down shutters and screens, additional costs for motors and electrical work will apply.
It should also be noted that due to the current situation in the market and price inflation of raw materials our prices can fluctuate quite a bit over time due to many external factors, such as hikes in raw material costs (ie. metal), labor costs, etc.
So please take the costs given below as a rough, general pricing guidance. For an actual estimate contact us for a free in-home estimate.
Conclusion
The need to protect your family, your home and your belongings in Southwest Florida is real. According to the FBI about 1.2 million burglaries happened in the USA in 2019. Residential security shutters are one option to protect your home. Home security shutters actually prevent intruders from breaking in unlike alarm systems that just alert you when intruders have entered your home. These are impact resistant and block access to your home's vulnerable access points. Intruders can't break through them. They provide a high level of security for a reasonable price. Whether security shutters are right for your residential application will depend on your budget and preferences.
Looking for custom made, residential security shutters? The Eurex Shutters team can help.