If you live in Southwest Florida you know protecting your home and family against severe weather is important. Every year our communities face the threat of hurricane season. And yes, it is true we are not affected by a storm every. But we must realize that the threat of damage and loss from hurricanes is real. In the last five years alone Southwest Florida has been affected by two major storms, Hurricane Irma in August of 2017 and Hurricane Ian in September 2022. So protecting our homes and families against these storms is a real, critical need.
One popular form of hurricane protection are roll down hurricane shutters. But these premium shutters carry a premium price tag. So people commonly ask if they are worth it. So in this article we discuss whether roll up shutters work and if they are worth the cost. Our hope is to provide information to help you decide if they are worth it to you.
Related: Roll Down Hurricane Shutters: Florida Buyer's Guide
Roll Down Shutters: An Overview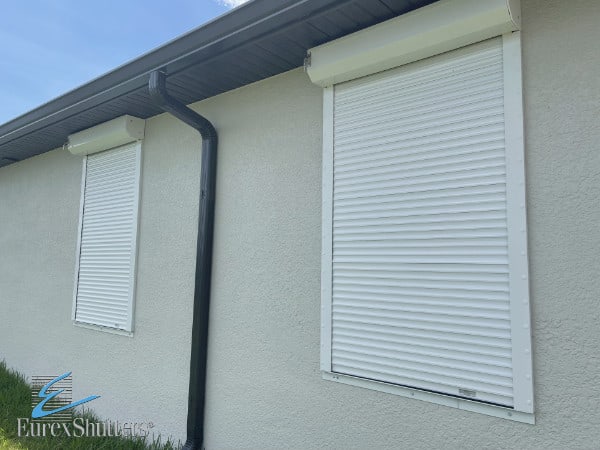 What are Rolling Hurricane Shutters?
Roll down hurricane shutters are one type of permanent, custom hurricane shutter system. They can be used for both homes and commercial buildings. You can also use them for both storm protection and security protection purposes.
You may also like: Rolling Exterior Shutters – A Guide For FL Homeowners
How They Work
How they work is very simple.
They roll up and down to cover and protect your windows, doors, and other vulnerable openings, such as patios or lanais.
Rolling shutters consist of aluminum slats that move up and down on permanently installed tracks. They close and lock in place. And when they are not in use they hide away neatly in a housing box above the window/door.
Manual and Automatic Versions
Roller shutters are available in both manual and automatic (versions).
Manual roll down hurricane shutters open and close manually. You operate them using a crank system or strap system.
Automatic models are operated via electric motors. The electric motors open and close the rolling hurricane shutters for you automatically. You can control automatic versions with a switch inside the home. You can also control them using a mobile app, such as our TaHomA System APP.
What Do They Look Like?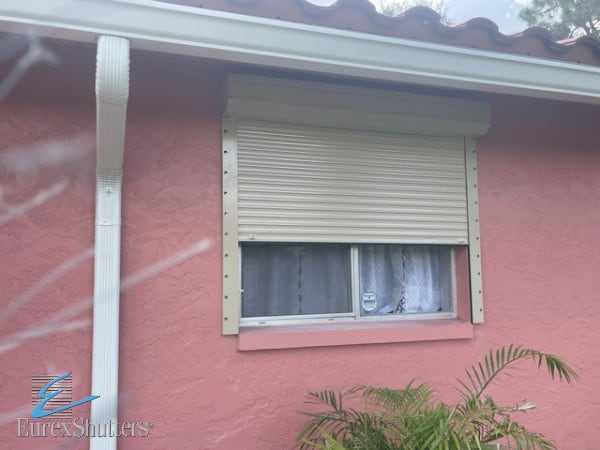 If you are looking for hurricane shutters with a simple, clean appearance then these might be right for you. Roll down shutters have a clean and sleek design. You may also be able to hide the housing boxes in some installations to reduce their appearance even further.
And in terms of color choices, you can pick from a variety of standard colors to go with your home.
Do Roll Down Hurricane Shutters Work?
Yes. They work very well.
Roll down storm shutters are extremely effective for both storm and security protection. There is a reason why roll down shutters are frequently considered the top of the line option in terms of protection. There are two main reasons for this:
They create an impact resistant barrier over (on the exterior of) vulnerable openings on your home, like windows and doors. This means they completely cover and block your glass openings from any impacts a hurricane can throw at them.
Roll up storm shutters are engineered from high-grade, impact resistant aluminum. They are designed and tested to withstand the severe wind gusts and impacts of flying debris experienced during up to a category 5 storm.
Read more in our article on: Do Roll Down Hurricane Shutters Work?
Are Rolling Shutters Worth It?
It is true that rolling hurricane shutters have a premium price tag. But they also offer premium protection and benefits.
We admit we may be a bit biased. After all, we have been designing and installing custom roll down hurricane shutter systems in SWFL since 1986. But, it is our opinion that rolling storm shutters are definitely worth the cost.
Below are some reasons why.
Reasons rolling shutters are worth it:
They are extremely fast and convenient to deploy. You can deploy your roll down hurricane shutters without much effort in minutes, not hours. If you have automatic shutters you can protect your entire house in seconds. The speed in which you can protect your house with roll shutters is priceless. This is especially true when you compare roll up shutters with options like storm panels (even those with tracks and rails) or plywood, which take hours and quite a lot of effort. So you can ensure your home is fully protected fast. And if you need to evacuate you can ensure your house is protected before you leave, even if it is with short notice.
Roll down shutters offer ultimate protection. There is a reason why they are commonly referred to as the ultimate in protection. They create an impenetrable barrier between your home's vulnerable openings and the outside elements. They can withstand up to a category 5 storm.
Won't detract from the appearance of your home. Rolling shutters have a clean and sleek look. So if you are looking for a highly effective shutter option that won't drastically change the look of your home these are a great option.
Plenty of functions, benefits and features. There is usually a relationship between price and benefits/features when it comes to products. Rolling storm shutters are no exception. They offer a ton of functionality and benefits outside of just storm protection for your home. For instance, they are great for security, privacy, shade, and more. Explore all the uses for roll down shutters in Florida.
Learn more about Roll Up Hurricane Shutters: Pros & Cons For Your FL Home
Are Rolling Storm Shutters Right For Your Family?
Rolling hurricane shutters offer top of the line storm protection and convenience for homeowners in SWFL. They also offer lots of other benefits, such as privacy, shade and security. It is true that they are more expensive than some other types of hurricane protection. But they also have many benefits. So we feel they are very much worth the cost.
Eurex Shutters has been a leader in roll down hurricane shutters in Southwest Florida since 1986. In fact, we have 25,000+ satisfied customers in the area. Give us a try if you want the highest quality roll down hurricane shutters, the best installations and truly great service.