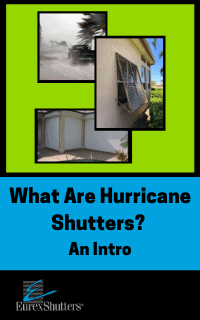 What are hurricane shutters? If you live in Southwest Florida or any other area that is frequently affected by tropical storms and hurricanes then you have heard the words "hurricane shutters". But if you are new to the area or don't have them installed yet you may be unsure what they are exactly. So in this article we will give an introduction to them. Learn what they are and what they do.
What Are Hurricane Shutters?
They have many names, including storm shutters, hurricane coverings, hurricane panels, hurricane protection, hurricane window protection, hurricane window covers, etc. Certain types are also used for security reasons. So sometimes they may also be referred to as security shutters.
They all have the same purpose no matter what they are called. In simple terms hurricane shutters are any form of covering that protects vulnerable parts of a home or building. What are vulnerable spots? These include things like windows, doors, and screened in areas (patios, lanais, etc.). So their purpose is to protect windows, doors, etc. during a severe storm, such as a hurricane or tropical storm.
Are storm shutters the same as regular window shutters?
In short, no. Not even close.
It is common to confuse impact shutters with decorative shutters. But they are not the same thing. Hurricane shutters are designed, engineered, and built to stand up to hurricane force winds and flying objects and debris. They are common in areas like Southwest Florida where hurricane season happens every year.
Find out when hurricane season is.
Decorative shutters, on the other hand, are made to be purely decorative. These are not intended to be impact resistant. Normal window shutters are common in areas where hurricanes and tropical storms don't happen a lot. Purely decorative shutters are made from light-weight materials like vinyl or wood. Most types are usually permanently fixed shutters on the outside of windows. so this means they can't be closed to protect your glass.
What are they made of?
Hurricane shutters are built from strong materials. The materials need to withstand high winds and the impact of flying objects. So impact resistant shutters are typically made from steel, aluminum and clear, impact-resistant plastic. There are also fabric hurricane shutters made from materials like Dupont(TM) Kevlar(R).
If you are interested in learning more about hurricane shutter materials then check out our guide on shutter materials: what are hurricane shutters made of.
Is there more than one hurricane shutter style?
Yes. There are many different types. They range from affordable options, such as storm panels, to stylish options like Bahama or Colonial shutters. You can also throw in clamshell shutters, which are not hurricane-rated but do still offer some storm protection.
What kinds of hurricane shutters are available?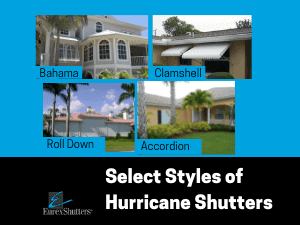 Popular shutter styles are below (click each for a more detailed overview):
What are the best kind of storm shutters?
This is one question we hear a lot. The truth is it depends on your needs and budget. Shutters range drastically in terms of price, style and features. Someone using the price of storm shutters alone may decide that storm panels are the best. On the other end, someone looking to improve the look of their home might pick Bahama shutters. If you are looking for the absolute easiest installation (for example so you don't have to worry about installing panels) you may choose electric roll down shutters.
If you are ready to starting to decide which option is right for you then check out our guide on How to Choose the Best Hurricane Shutters for Your Home.
Conclusion
In summary impact shutters are any type of covering that protects your home's vulnerable areas. Their purpose is to protect your windows, doors, and other vulnerable spots during severe storms. They are made from strong, impact resistant materials.
Also, there are many different styles of hurricane shutters. The best choice for you depends on your needs and your budget.
Check out our other helpful blog posts to keep learning more about shutters.
You may also like these other helpful articles: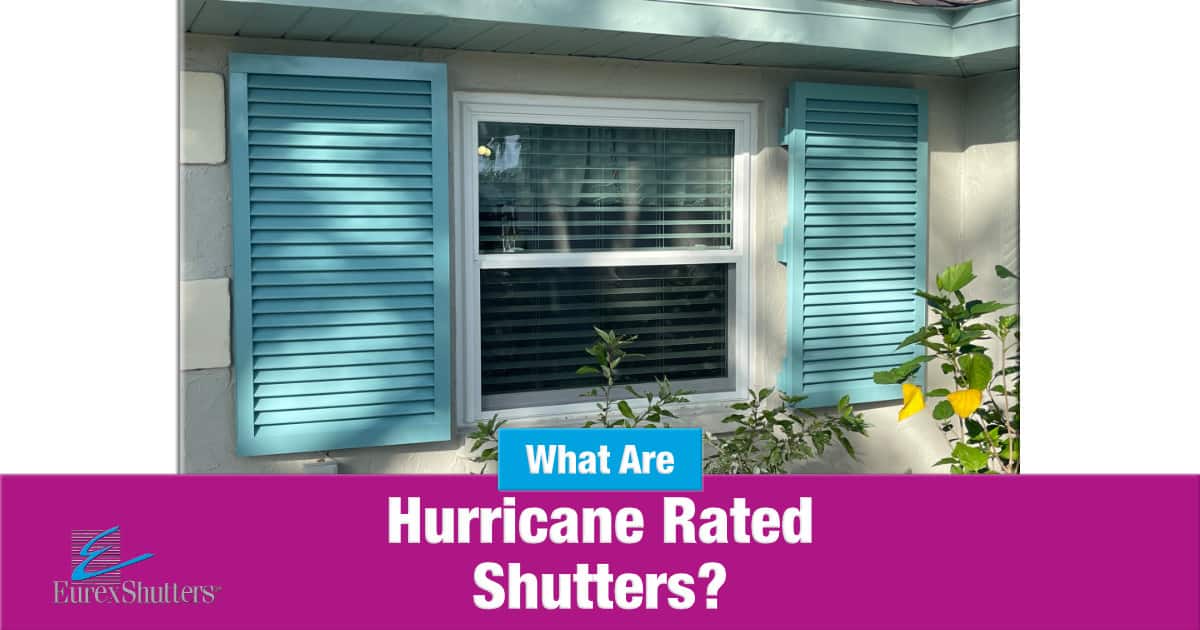 You can protect your family and home from hurricanes with hurricane rated shutters. Hurricane shutters are a popular choice in areas affected by hurricanes, such as Southwest Florida. But not all shutters are equal when it comes to storm protection. So if you want shutters to protect your home from hurricanes they need to be…