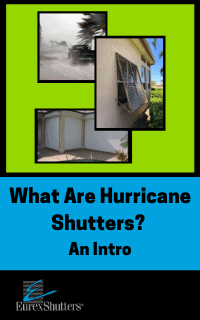 What are hurricane shutters? If you live in Southwest Florida or any other area that is frequently affected by tropical storms and hurricanes then you have heard the words "hurricane shutters". But if you are new to the area or don't have any installed yet you may be unsure what they are exactly. So in this article we will give an introduction to them. We hope this is helpful so you can understand what they are, what they do, and the different options available.
What Are Hurricane Shutters?
Hurricane shutters is a term used to describe a range of products. They are referred to by many names, including storm shutters, hurricane coverings, hurricane panels, hurricane protection, hurricane window covers, etc. Certain types can also be used for security reasons. So sometimes they may also be referred to as security shutters.
In general, they are a class of functional, impact resistant shutters that protect your home during a hurricane.
What is the purpose of hurricane shutters?
There are many types of storm shutters, but they all have the same purpose. That purpose is to protect your home during a hurricane. Specifically, they serve to protect the vulnerable openings of your home from extreme wind and flying debris. Both of these are common during a hurricane.
The shutters cover and protect your home's vulnerable openings. These are the areas of your home that are vulnerable to breakage and/or damage during a hurricane. These openings include glass windows, doors, and screened in areas as well as patios, lanais, etc.
So the main purpose of these shutters is to protect your home from further damage during severe weather, such as a hurricane. The shutters act as an impact resistant layer over your home's vulnerable openings. This prevents your home from becoming pressurized, which can lead to more severe damage.
Types of Hurricane Shutters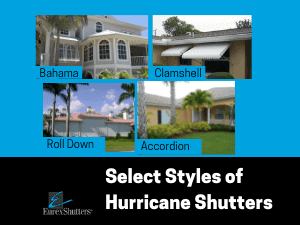 There are many different types and styles of storm shutters available. They range from affordable options, such as storm panels, to stylish options like Bahama or Colonial shutters. You can also throw in clamshell shutters, which are not hurricane-rated but do still offer some storm protection.
There is many different types available, which means there is one for everyone's style and budget.
We discuss some popular hurricane shutters types below. For more details, click on the appropriate link to explore each one more.
Accordion Shutters
Accordion shutters are extruded aluminum shutters that open and close (expand and compress) horizontally like an accordion. They roll along tracks on the top and bottom of the window/opening.
They are permanently installed, and they can be locked from inside or outside your home. They move along a permanently installed track system making them easy to open and close.
They are popular here in Southwest Florida because they are permanently installed, easy to use, and are reasonably priced.
The cost of accordion shutters vary depending on the materials of construction, the size needed and the specific features you prefer.
Learn more about: Accordion shutters
Rolling Shutters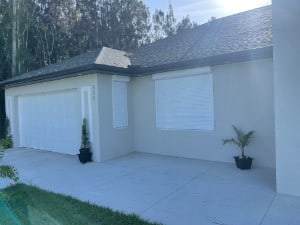 Roll down shutters are a permanently installed shutter type. They open and close vertically and roll up and down on tracks that are installed on the sides of a window or door, etc.
Rolling shutters are very easy to use, and can be either manually controlled or opened and closed with electric motors.
This type of storm protection is very popular in Florida. This is because they offer a high-level of hurricane protection, functionality, and features.
Roll shutters are heavy-duty and offer exceptional protection. The extra features are a bonus, but at their heart they are designed to offer ultimate protection for your home and/or business. This is why they are commonly used for security protection as well.
This shutter option costs more than some others. But they also offer a lot of benefits.
Learn more about Roll-down shutters
Bahama Shutters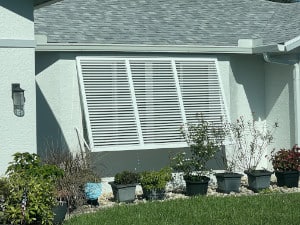 Bahama shutters are a great option if you are looking for hurricane protection and curb appeal. They offer permanently installed storm protection while also giving your home a touch of Caribbean style and beauty. They also provide your home with shade from the harsh UV and light of South Florida.
Bahama shutters are simple to operate because of their design. They pop out and are lock into place by use of telescoping arms.
The biggest reason why people love the Bahama style is because of their great looks. They are surely "aesthetically pleasing". And they are customizable. For example, product comes in a wide variety of colors and options. So unlike other, lower cost shutters they can actually enhance the look of your home or business. This is why people choose them, even though the cost of Bermuda shutters is higher.
Learn more about Bahama shutters
Colonial Shutters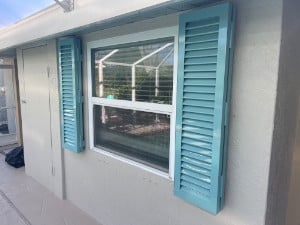 Colonial shutters are a premium type of permanent hurricane shutter. They look like traditional Colonial shutters, but they are hurricane-rated. These storm shutters are bursting with Southern charm and style. So they actually enhance the look of your home while protecting it.
Colonials are also customizable to your home's style. They come in many different color options. You can see in the picture that you can get them in mostly any color. These are a beautiful "tiffany blue".
Colonial shutters offer strong hurricane protection. And they are also fairly easy to use although they do require the use of a locking bar when closed.
Learn more about Colonial shutters
Storm Panels
Storm panels are corrugated (or flat) panels that create a shield to protect your windows and doors. They can be constructed of metal, aluminum or clear plastic (polycarbonate) material. They attach to your home by screwing them into your home's exterior walls with specialized fasteners. Some systems include rail and tracks systems to make it easier.
Storm panels are considered a basic storm protection option. They are also typically the most affordable shutter option as well.
So storm panels are a great option if you are looking for the most economical hurricane shutter cost and don't mind the manual process of installing storm panels and taking them down.
Learn more about Storm panels
Other types of hurricane shutters
Clamshell shutters – these provide some storm protection, but they are non-hurricane rated shutters commonly used on mobile homes
Fabric Hurricane Panels – our fabric panels are an alternative to traditional, rigid storm panels. Our fabric hurricane panels are made of DuPont KEVLAR® reinforced soft-sided fabric
Hurricane Shutter FAQ
ARE STORM SHUTTERS THE SAME AS REGULAR WINDOW SHUTTERS?
No. Storm shutters and decorative shutters are not the same.
It is common to confuse hurricane-rated shutters with decorative shutters. But they are not the same thing.
Hurricane shutters are designed, engineered, and built to withstand hurricane force winds and flying debris. They are common in areas like Southwest Florida and the Gulf Coast of Florida where hurricane season is a concern every year.
Find out when hurricane season in Florida is.
Decorative shutters, on the other hand, are made to be purely decorative. These are not intended to be impact resistant. Normal window shutters are common in areas where hurricanes and tropical storms don't happen a lot. Purely decorative shutters are made from light-weight materials like vinyl or wood. Most types are usually permanently fixed shutters on the outside of windows. so this means they can't be closed to protect your glass.
WHAT IS THE DIFFERENCE BETWEEN STORM SHUTTERS AND HURRICANE SHUTTERS?
You may hear folks use the two terms interchangeably. But essentially they are the same thing. Hurricane shutters protect your home against the hurricane force winds and flying debris during a hurricane.
When picking a product make sure your storm protection is "hurricane-rated", which means they have Florida Product Approval, and meet the Florida Building Code.
View our Product Approvals.
WHERE CAN STORM SHUTTERS BE USED?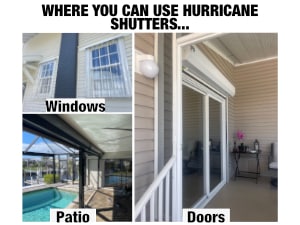 As a whole these shutters can be used to protect all of the openings around your home. This includes installing them to protect the following areas around your home:
Glass doors – they can be used to protect your entry doors, sidelights, patio doors, and sliding glass doors
Garage doors – some types of shutters be used to protect your garage door(s) if it is not hurricane-rated
Lanai – certain types of shutters are suitable for wide openings, such as shutters your lanai, patio, and large stretches of windows/doors
You should note that not all shutters can be used for every opening or area of your home. Some types are limited to protect only your windows, such as Bahama Shutters or Clamshell shutters.
In this case you can mix and match protection products to make sure every vulnerable area is protected.
WHAT ARE THE DISADVANTAGES OF HURRICANE SHUTTERS? THINGS TO CONSIDER.
As we have covered above, hurricane shutters offer many benefits to homeowners and business owners in Florida. But like with everything, they also have some things to consider to determine if they are the right fit for you. Below are some things to consider:
They have to be deployed (closed), which requires you to be present and able to close them before a storm approaches. If you live in Florida year round this may not be an issue. This is especially true since permanent hurricane shutters are typically easy and quick to deploy. But, if you are not at your home you will need to have a plan to close up your shutters before a hurricane hits. This is one reason some folks prefer impact windows as they offer 24/7 protection. In other words, they require no preparation before a storm.
Shutters are visible on your home (to varying degrees). Some hurricane shutters are more visible vs others, but all of them are visible nonetheless. This may be an issue if you want to keep the exact design and look of your home. There are some solutions though. First, you can pick a sleek shutter design, such as rolldowns, which minimize the appearance. Or you can opt for a decorative hurricane shutter, such as Bahama Shutters or the Colonial style. This will allow you to add curb appeal to your home.
WHAT MATERIAL ARE THEY MADE OF?
Hurricane shutters are built from strong, impact resistant materials. The material of the shutter needs to be able to withstand high winds, extreme positive and negative pressure, and the impact of flying debris.
Most impact resistant shutters are made from aluminum. Certain kinds of clear hurricane shutters are constructed from clear polycarbonate. Storm panels are available in aluminum, steel, and polycarbonate material options. And lastly, there are also fabric hurricane shutters made from strong materials like Dupont™ Kevlar®.
If you are interested in learning more about hurricane shutter materials then check out our guide on shutter materials: what are hurricane shutters made of.
WHAT ARE THE BEST KIND OF STORM SHUTTERS?
This is one question we hear a lot. The truth is the best shutters for you depends on your needs and budget. Shutters range drastically in terms of price, style and features. Someone using the price of storm shutters alone may decide that storm panels are the best because they are the most affordable. On the other end, someone looking to improve the curb appeal of their home might pick Bahama shutters. And if you are looking for the absolute easiest installation (for example so you don't have to worry about installing panels) you may choose electric roll down shutters.
If you are ready to starting to decide which option is right for you then check out our guide on How to Choose the Best Hurricane Shutters for Your Home.
CONCLUSION
In summary impact shutters are any type of covering that protects your home's vulnerable areas. Their purpose is to protect your windows, doors, and other vulnerable spots during severe storms. They are made from strong, impact resistant materials.
Also, there are many different styles of hurricane shutters. The best choice for you depends on your needs and your budget.
Check out our other helpful blog posts to keep learning more about shutters. Or fill out the form below to request a free estimate today.
Or call (239) 369-8600 for immediate service.