Are you looking for storm protection for your South Florida home's windows, doors or lanai? If yes, then you are also probably researching the cost of different types of hurricane shutters. There are many factors that help you decide the type of hurricane shutters you buy, but price is definitely a big one. But you may notice the cost of hurricane shutters can a bit of a mystery because companies don't usually list their prices online. The reason is because its hard to give a one-size fits all price for impact resistant window treatments. After all, every house and job are different. In this updated guide for 2022-2023 we provide a range of what each popular type of hurricane shutters may cost you. We have also added hurricane screens to the list. 
We start with the least expensive shutter options and go up to the more premium hurricane shutters.
Considering impact windows? Check out our helpful comparison on impact windows vs. hurricane shutters.
Hurricane Shutters Cost: the very high-level answer and fine print
How Much Do Hurricane Shutters Cost? 
Hurricane shutters for a standard house can range anywhere from $10 per square foot for storm panels to $50 per square foot for premium, decorative shutters. For an entire project it could range from a couple thousand dollars to tens of thousands of dollars. The cost of your project will depend on 1. the specific shutter you select, and 2. the total square feet of your project.
Here is an example. Assume your home has 8 windows and the average size window is 2 feet by 4 feet (or 8 square feet per window). You would have a total of 8 windows at 8 square feet per window. So you have a total of 64 square feet. You would take the total square feet and multiply it by the cost per foot square to get your estimated cost for protecting your windows. You can do this exercise with your actual windows and door sizes. 
*Disclaimer: please read about given shutter pricing
It should be noted that the price ranges, even for one specific shutter type can vary widely from project to project. So the pricing depends on your specific home, the job, type of materials, and of course, your preference of shutter type (ex: roll down vs storm panels, etc.). With certain products, such as roll down shutters and screens, additional costs for motors and electrical work will apply.
It should also be noted that due to the current situation in the market and price inflation of raw materials our prices can fluctuate quite a bit over time due to many external factors, such as hikes in raw material costs (ie. metal), labor costs, etc.
So please take the costs given below as a rough, general pricing guidance. For an actual estimate contact us for a free in-home estimate.
Hurricane Shutter Cost by shutter type
At a high level storm panels are the basic protection, with accordion shutters being a middle of the road option, and roll-downs, Colonial and Bahama varieties being more expensive.
So below we give a price range for each specific type of shutter as well as an overview of what each one is.
Storm Panels: approximately $12 – $16/sqft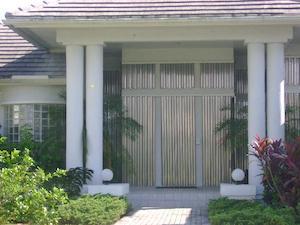 What are they?: Storm panels are corrugated panels that overlap each other to protect your windows and doors. They can be constructed of metal, aluminum or clear plastic materials. They attach to your home by screwing them into your home's exterior walls with specialized fasteners.
These panels are your basic storm protection option. So they are usually thought of as the most economical shutter option as well.
The reason why they are so affordable is because the cost of storm panels is mainly made up of the cost of the materials and labor. The materials used to make them are less costly and they are also not permanently attached. This means they don't use an engineered system to install and uninstall them (like for instance roll shutters). In turn, this means the cost to produce the finished product is lower.
The cost of our storm panels varies depending on the material you choose (steel, aluminum or clear plastic).
So storm panels are a great option if you are looking for the most economical hurricane shutter cost and don't mind the manual process of installing storm panels and taking them down.
Learn more details about storm panels.
Clamshell Shutters : starting at $300/window
What are they?: Clamshell shutters are impact resistant, metal awnings that close like clamshells. Crazy, right?
This style is an economical and easy to use form of protection for your home's windows. But do note that they while they do offer storm protection they are non-hurricane rated. You will notice many South Florida homes with them installed because of this. They are frequently used for manufactured homes. 
You can learn more about clamshell shutters here.
Hurricane Fabric: approximately $17/sqft
What is it?: Eurex Armor Panel hurricane fabric is an alternative to traditional hurricane shutter options. Eurex Shutter's Armor Panel hurricane fabric is made of extremely tough, reinforced fabric. Because of this the material is light-weight and flexible. So it can be used in complex installations that require highly custom sizes and flexibility. It is also quick and easier to install than a rigid option such as storm panels.
Learn more about our Armor Panel Fabric Hurricane Panels.
Accordion Shutters Cost: approximately $20 – $25/sqft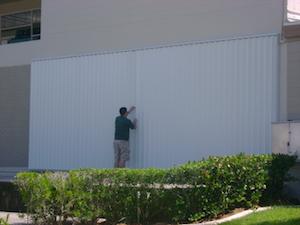 What are they?: Accordion shutters are extruded aluminum shutters that open and close (expand and compress) horizontally like an accordion. They are permanently installed, and they can be locked from inside or outside your home. They move along a permanently installed track system making them easy to open and close.
Accordion shutters are more expensive then basic panels because they are permanently installed, have more features, and have more components. As a trade off, they are easier to use and have more style options than storm panels.
The cost of accordion shutters vary depending on the materials of construction, the size needed and the specific features you prefer.
Find out more about our accordion shutters.
Hurricane Screens Cost: $30 – $40/sqft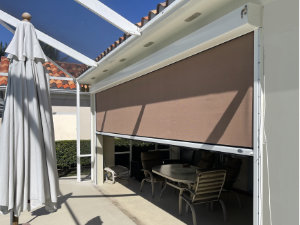 Please note: Electric (automatic) roll down screens have additional costs for motors and electrical work not included in the pricing above.
What are they?: Hurricane screens are a permanently installed, impact resistant grade screens that open and close vertically on a track. You can choose whether you want them to close manually or automatically (if you opt for electric motors). The electric screens will have an added cost, but they are very easy to use. If you value convenience then the motorized version may be worth the extra cost. 
Get more details on the cost of hurricane screens.
Storm screens are popular for a good reason. Yes, they offer a high level of storm protection, but all of the options on this page do. Screens are popular because they are very attractive and they are also super easy to use. In addition to that they also offer other benefits, such as very effective shade control and added privacy. 
Like roll downs and accordions these are a great fit for wide openings. You can use them on big spaces like patios. Many people also choose them because of their high level of functionality. They are excellent for not only protecting your home, but also for making it more enjoyable. This is especially true in geographical areas with extremely strong and bright sun and UV, such as Florida. So you will commonly see them installed on patios (like the ones pictured) and other areas where people tend to "hang out" outside.
Learn more about Eurex Shutters PTX™ Hurricane Screens. 
Roll Down Shutters Cost: $30 – $35/sqft
Please note: Electric (automatic) roll down shutters have additional costs for motors and electrical work not included in the pricing above.
What are they?: Roll down shutters are permanently installed shutters that open and close vertically. They are very easy to use, and can be either manually controlled or opened and closed electronically. Our roll down shutters even have the option to be controlled by a mobile app.
Roll down shutters have a higher cost, but they are still a popular option because of their high-level of protection, functionality, and features. For instance, this type of shutter offers:
Easy to use, superior storm protection and security protection
Instant privacy and a way to control UV and light in your home
Energy savings when closed
Sound reduction when closed
The ability to turn a lanai into an enclosed room
Roll shutters are definitely heavy-duty and durable. The extra features are a bonus, but at their heart they are designed to offer ultimate protection for your home and/or business. This is why they are commonly used for security protection as well.
This shutter option costs more for a few reasons. First, the materials are heavy-duty and made to offer maximum protection. Second, there is a higher-level of design and engineering that goes into  each installed system. Third, roll downs have a high-level of features, which make them more complex and pricier.
Continue learning about roll down shutters.
Bahama Shutters Cost: $33 – $50/sqft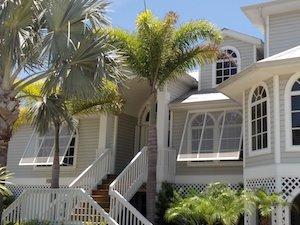 What are they?: Bahama shutters are an option for those looking for a certain home aesthetic. They offer permanently installed storm protection while also giving your home a touch of Caribbean style and beauty. They are a great option for storm protection as well as protecting your home from the harsh UV and light of South Florida.
These are simple to operate. They pop out and are locked into place by use of telescoping arms.
Perhaps the biggest reason why people love the Bahama style is because of their good looks. They are considered "aesthetically pleasing". Our product comes in a wide variety of colors and options. So unlike other, lower cost shutters they can enhance the look of your home or business. This is why people choose them, even though the cost of Bahama hurricane shutters is higher.
Discover our Bahama Style shutters. 
Colonial Shutters Cost: $33 – $50/sqft
What are they?: Colonial shutters have Southern Charm and style that enhances the look of your home vs. degrading it. It is easy to match your home's style because Colonials come in so many different color options.
Even though the Colonial style looks like regular Colonial style window shutters they offer strong hurricane protection. Just make sure you pick a supplier whose products meet and exceed Florida Building Code and standards.
They are also easy to use. You can open and close them from either inside or outside your house.
Their aesthetic beauty and easy operation do come with a premium price tag.
See the Colonial Style Shutters here.
Learn more about all the different options for hurricane window protection.
Hurricane Shutters Cost FAQs
How much does it cost to put up hurricane shutters?
The costs above will typically include the cost of the shutters and normal hurricane shutters installation. But your total cost to put up shutters may require additional costs, such as permits, additional parts, customizations, etc. Also, if you are going to install motorized shutters then there will be additional costs for the electric motors, any back-up power systems, and other necessary components. You may also have higher costs for things like difficult installations, certain customizations, etc. 
So the total cost to put up your new hurricane shutters does depend on your specific requirements and project. As we mentioned above, it is best to get a quote so that you can find out the actual cost for your project. Once you know the actual cost you can determine if and which ones are right for you. 
Are hurricane shutters cheaper than impact windows?
Generally speaking impact windows are more expensive vs hurricane windows. This is especially true when you compare the cost of them vs lower cost shutters, such as storm panels and clamshell shutters. However, the cost becomes more comparable if you are comparing the cost of impact glass vs premium shutters. So while hurricane shutters are generally cheaper it does depend on the type of shutters you want. 
We recommend getting a quote for different options so you can make an informed decision. Working with a storm protection company that installs both windows and shutters will allow you to compare the differences between these two different products. 
Are hurricane shutters worth the cost? 
We think hurricane shutters are worth it, but you will ultimately have to make your own decision. 
Hurricane shutters are a very effective way to protect your home and family from hurricanes. And even though they are not cheap they do provide several reasons why they are worth it. First, they can withstand up to a category 5 hurricane. And with the frequency of severe storms in South Florida it is without a doubt important to have hurricane protection on your home. Hurricane shutters offer excellent protection. Second, they may help you lower your insurance premiums, which may help them pay for themselves over time. Third, hurricane protection, such as hurricane shutters add value to your home. And last, decorative shutters can actually help improve the great looks of your home. 
Learn more in our guide: Are Hurricane Shutters Worth It? 
Conclusion
In conclusion, shutters can range anywhere from $12 to $50+ per square foot. The cost for an entire project can range from a couple thousand to tens of thousands of dollars. However, as mentioned in the notes above, the prices can vary widely based on your specific project and based on external factors like material costs and labor. This is especially true with the current market conditions and inflation. 
So in order to get an actual cost it is recommended to get a free in-home estimate to get an actual price for your project. If you are looking for hurricane shutters anywhere in Southwest Florida we would love to help you.