Installing hurricane protection on your Florida house before a hurricane hits is tough enough. Unless you have permanent hurricane shutters or impact windows the process is time consuming. And installing heavy metal storm panels makes your job even harder. Their weight and size make them very difficult to install. It is a task that most people other than super heroes find exhausting. But there are other options that make installing your hurricane protection easier. We'll discuss some of these lightweight options in this article.
Table of contents
Benefits of Lightweight Storm Panels (vs Metal Panels)
Hurricane panels are an affordable form of hurricane protection. That's a major reason they are so common in Florida. But the biggest downside of panels is that you have to install and uninstall them every storm. And metal panels are heavy and cumbersome, which makes this a tough job.
So before you decide to buy steel panels from the big box store consider making your life easier by instead picking lightweight hurricane panels.
Below are a few of the major benefits of lightweight panels vs steel panels:
1. Easier to lift, install and store lightweight panels
Lightweight panels are made from lightweight materials, such as aluminum, polycarbonate and lightweight aramid fibers. Panels made from these materials are easier to handle and install while still being incredibly strong and meeting Florida building codes.
The heavy weight of metal panels is their biggest downside. So panels made from lightweight materials make the job of installing your storm panels easier. In other words, it will take less energy, time, people, etc. to get them on your home before a storm. And that is critical when you are in crunch time.
And when we say there are lighter alternatives we mean it. In fact, it's not even close. Here are some numbers to show how different panel materials compare to steel:
2. Rust resistant
As a side benefit all of the lightweight panels we recommend below will not corrode like unprotected steel does. Steel panels have coatings on them to prevent them from corroding, but these break down over time.
You wont have to worry about rust with panels made from these lightweight materials, such as aluminum, polycarbonate and aramid fibers.
Lightweight Hurricane Panel Options
Below are three lightweight storm panels that you can consider vs heavy, metal panels.
1. Clear Polycarbonate Hurricane Panels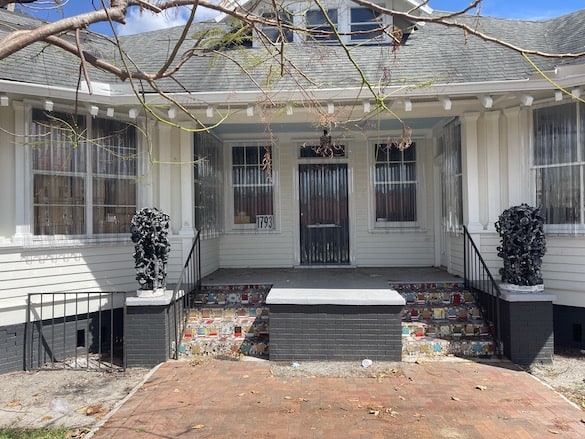 Polycarbonate storm panels look similar to metal storm panels. They also install and fasten to your home similarly. But they are made from clear plastic.
But don't get worried because they are made from plastic. These panels offer exceptional protection to your home and family. As we mentioned above, polycarbonate panels are about 6 times lighter than steel. But they have an impact resistance of about 200 times higher than steel. That means polycarbonate panels are both stronger and lighter than steel panels.
Polycarbonate is a an excellent choice for protection products. This plastic material has the ability to take extreme impacts without deforming or breaking.
And again, polycarbonate panels are lightweight. And because of this the handling and installation/uninstalling of them is much easier than metal panels.
But polycarbonate also has a unique benefit that none of the other panels mentioned in this article have. They are clear hurricane shutters. Why does that matter? They let natural light inside your home when they are installed. This is a big benefit over other types of storm panels that block out all sunlight and turn your home pitch black.
2. Aluminum Storm Panels
Aluminum storm panels also look, and install on your home just like metal panels. But they are made from lightweight aluminum vs. heavy steel.
Aluminum is a lightweight, strong material. It offers strong impact resistance and protection at lower weight vs steel.
It is also naturally rust resistant so you won't have to worry about your panels corroding, especially if you live in Florida.
You can learn more about Aluminum Hurricane Panels vs Galvanized Steel.
3. Fabric Hurricane Panels
Fabric panels are pretty unique from other hurricane panels out there. Like other panels they cover your windows completely and attach to your home. But unlike rigid storm panels they are made from lightweight, flexible fabric.
So they are not rigid. They are flexible. And this makes them unique compared to all other rigid storm panels.
Their flexible nature provides some big benefits. These include:
Easy to handle as they are lightweight and less cumbersome to carry vs large, rigid panels
Easier and require less space to store as they can be folded and compressed
But while they are flexible and lightweight they are super strong and highly effective for hurricane protection.
Another benefit is that they are translucent. So while you can't see through them completely they do let natural light into your home when installed. This provides natural light into your home when they are covering your windows.
Want to learn more about hurricane fabric? Read our comprehensive guide: Pros & Cons of Hurricane Fabric in Florida: 2021 Guide
Alternative: Permanent Hurricane Shutters or Impact Windows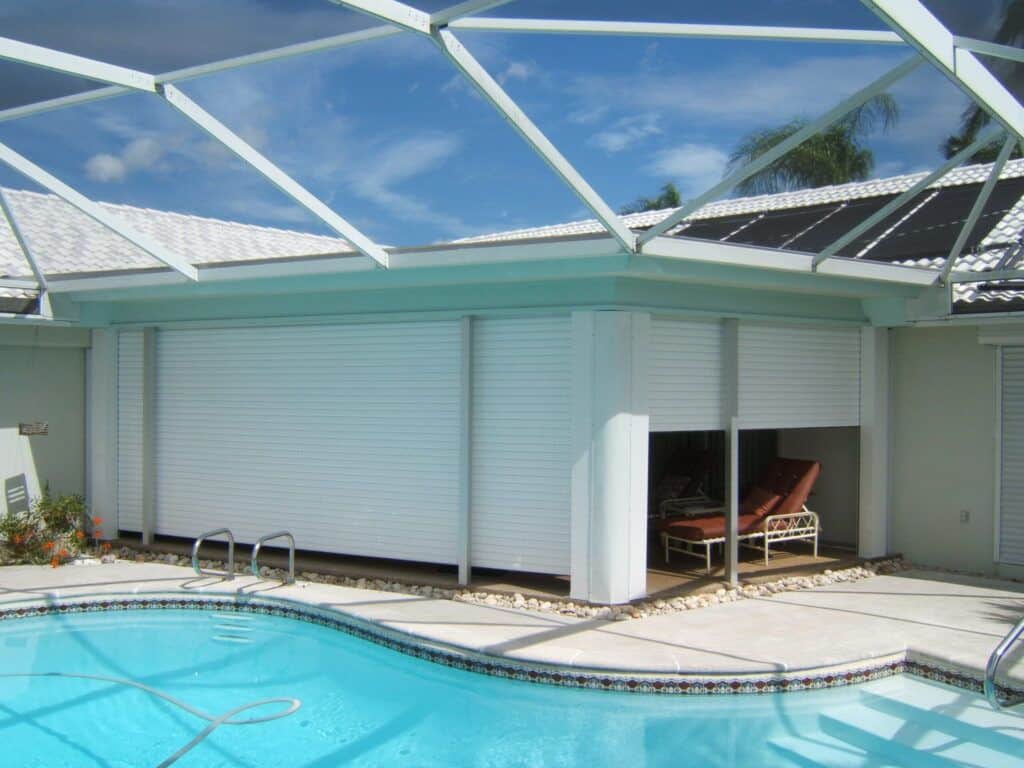 Here is another option if convenience and ease of use is important to you. To be clear, this option has nothing to do with the weight of the actual shutters. But they will make preparing your home easy and pain free. We include them here because we feel its important to understand your options.
Both impact windows and permanent hurricane shutters make preparing your home faster and easier.
Impact windows take zero preparation. They offer 24/7 hurricane protection without the need to install or deploy anything. The only exception is if you chose to install shutters over your impact windows.
Permanent storm shutter systems are permanently attached to your home. When you need to deploy them you just close them over your windows vs installing panels over each windows every storm. This process can usually be done with little effort in minutes vs hours or days.
There are multiple types of permanent hurricane shutters. They include:
Which lightweight storm protection is right for you?
Metal storm panels provide storm protection at an economical price. But steel panels are heavy, which means they can be difficult and exhausting to install. There are lightweight options to make protecting your home easier. These include aluminum panels, polycarbonate panels and fabric panels. There are also permanent options that are even easier to install before a storm. All of these options offer hurricane protection for your family and home that is significantly easier to install vs metal metals.
Do you need help picking the right type of hurricane shutter for your home? If so let us know. Eurex Shutters has been installing, repairing and maintaining hurricane protection products in Southwest Florida since 1986. We have over 25,000 happy customers, and we would love to help you as well.