If you are shopping for hurricane protection for your Florida home you are most likely asking yourself "Impact Resistant Windows vs. Hurricane Shutters?" This is a question we get a lot from Southwest Florida homeowners. We will discuss impact windows and hurricane shutters as well as the pros and cons of each.
Want to see all your storm protection options? Check out our in-depth guide on how to protect your windows during a hurricane.
What's Better? Impact Resistant Windows vs. Hurricane Shutters?
The choice really does come down to your preferences and needs.
Impact windows are the best if you have a higher budget and want easy, 24/7 protection without changing the look of your home.
Hurricane shutters are the better option if you want a lower price, want some added functionality, are looking for a specific style, or don't mind the look of them.
Below is a run-down of each to help you make a decision.
If you need to protect your lanai then your options are a bit different. Learn more about your options to protect your lanai.
Impact Resistant Windows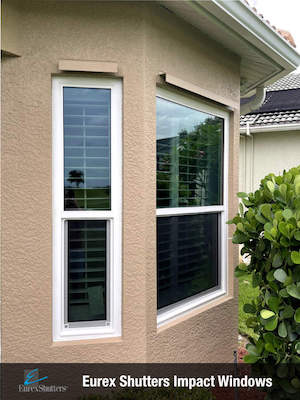 Impact windows, also referred to as hurricane windows are windows installed on your home or commercial property. They look like ordinary windows, but they are impact resistant. In other words, they are made to withstand the impact of hurricane force winds and flying objects during a storm. They can take an impact and without shattering into pieces.
When are impact resistant windows a good option?
Impact windows are your best option if you want (or need) 24/7 storm protection without changing the look of your home. They are also the best choice if you don't want to deal with the hassle of installing anything before a storm. They will protect your home during a storm. However, if something hits your impact glass, they will most likely need to be repaired or replaced. And the repair time and cost can be high depending on the damage.
Pros vs shutters:
Impact resistant windows look like normal windows so they don't detract from the look of your home
They offer 24/7 hurricane protection and require zero installation or removal before and after a storm
Allow natural light in the home
Cons vs shutters:
Hurricane windows are more costly then most hurricane shutters both for installation and repair
The repair time can be lengthy if they need to be repaired or replaced
They are only useful for protecting window openings so you will need other storm protection products for other openings such as your doors, lanai, patio, etc.
What About Hurricane Shutters?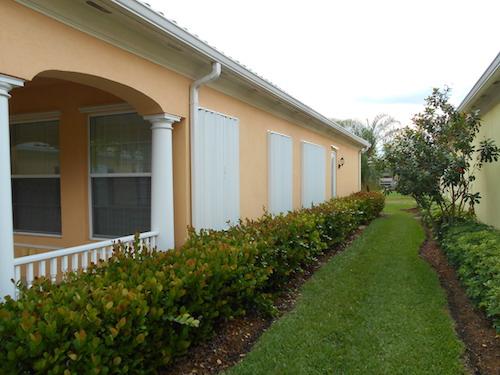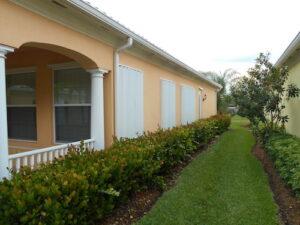 Hurricane shutters are impact resistant shutters that cover and protect your windows, doors, lanai, patio, etc. Some shutters are removable and need to be installed and uninstalled before each storm. Others are permanently attached to your home and just need to be closed before a storm.
They are a good choice if you want a lower cost option vs impact windows. They are also a good choice if you want to achieve the aesthetics of a certain style of shutter, such as Bahama or Colonial shutters.
Types of Hurricane Shutters
There are many different styles of hurricane shutters. Each type varies in terms of their looks, ease-of-use and cost. The different styles of storm shutters include:
All of them are made of materials to protect the glass openings of your home during a storm. All impact shutters should be rated up to a category 5 storm. But make sure to check with the supplier to verify their products.
Below we provide some of the
Pros of hurricane shutters vs impact glass:
They are usually cheaper (most styles)
Easier and less costly to repair or replace if damaged
Can add to the style or character of your home (such as Bahama or Colonial shutters)
Certain styles have multiple uses, such as security shutters. So they are a good option for security protection, shade / light control, and privacy as well as storm protection
Cons of shutters vs impact glass
Require varying levels of installation and removal before and after a storm, which may be difficult and time consuming
May take away from the look of your home depending on which shutter style you select
Some style require storage (such as storm panels)
Common questions about impact windows vs hurricane shutters
Are impact windows the same as hurricane windows?
The answer is yes. Hurricane windows and impact windows are the same. They may also be referred to as hurricane resistant windows, impact resistant windows, storm windows, etc.  They are designed to withstand flying (wind born) objects during a severe storm, such as a hurricane or tropical storm, etc. Learn more about impact windows.
Are hurricane impact windows worth it?
The answer is, it depends on your needs, budget and preferences. If you put a high preference on ease of use and home aesthetics then impact resistant glass is worth it. Insulated varieties also help with insulation of your home, which is helpful in the blistering heat of Southwest Florida.
Do you really need hurricane shutters?
If you live in an area with a high risk of severe storms, such as Southwest or Southeast Florida then it is our opinion that yes, you need hurricane shutters or an adequate form of storm protection.
Do I need hurricane shutters if i have impact windows
This is a matter of personal preference. The basic answer is no. You do not need hurricane shutters if you have impact windows. The impact windows will protect your home and family from hurricane winds and flying debris. This is their purpose. However, you may still choose to install hurricane shutters over your impact windows. Doing this would help to protect your investment and reduce the need to repair or replace damaged windows if they were impacted.
Conclusion
The choice between Impact Resistant Windows and Hurricane Shutters really comes down to your preferences and budget. Choose impact resistant windows if you want 24/7 protection without any visual effect on your home. Or choose hurricane shutters if you want a more affordable option or specific style shutter and don't mind the installation process.Choosing permanent hurricane shutters will help reduce the installation burden of storm panels. Choosing electric hurricane shutters will make the process extremely easy.
Decide what is important to you and make a decision based on this.
If you are looking for storm protection, including impact windows and hurricane shutters in Fort Myers, Cape Coral or anywhere in Southwest Florida and have questions we are happy to help. Eurex Shutters is the oldest hurricane shutter company in Southwest Florida. And we have over 25,000 satisfied customers for a reason.
Contact us by calling (239) 369-8600 or filling out the form below for a free in-home consultation and estimate. We can review samples and help you determine the best fit for your home and family.