You can protect your family and home from hurricanes with hurricane rated shutters. Hurricane shutters are a popular choice in areas affected by hurricanes, such as Southwest Florida. But not all shutters are equal when it comes to storm protection. So if you want shutters to protect your home from hurricanes they need to be hurricane rated. The difference between decorative and hurricane rated shutters is significant. This is what we will discuss in this article.
What are hurricane rated shutters?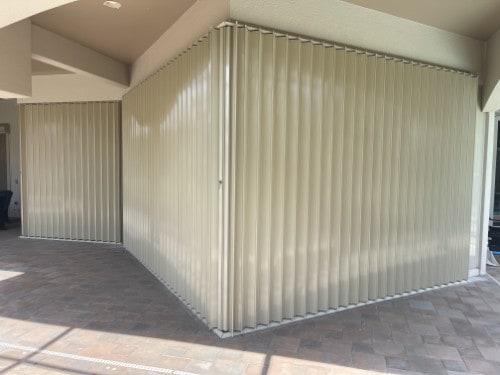 Hurricane rated shutters are a specific class of shutters. If you are unfamiliar with hurricane shutters you can read our introductory guide What Are Hurricane Shutters to learn all about them.
Hurricane rated shutters can be either temporary or permanent hurricane shutters are capable of withstanding the effects of up to a category 5 hurricane.
What does that mean? It means they can withstand the hurricane force winds and flying debris during such a storm.
Hurricane ratings vary by location
It is important to note that shutters may be hurricane rated in one location but may not be approved for use in other locations.
For instance, if you live in a High Velocity Hurricane Zone (HVHZ) you will need HVHZ approved shutters.
You may also need shutters that meet your local city or county requirements. For example you may live in an area that requires shutters that are Miami-Dade County Product Approved.
You can visit their site to learn more about the Miami-Dade County Product Approval requirements and process.
You should also note that requirements do change from time to time. For examples, the effects of Hurricane Ian may very well change the requirements in certain areas, such as Southwest Florida. So it is important to be aware of these changes as you are shopping.
In turn, it is important to understand what the requirements are for where you live. And then you will need to confirm that the shutters you are buying meet those requirements. If you are unsure it is recommended to work with a professional hurricane shutter company.
How you can tell if shutters are hurricane rated or not?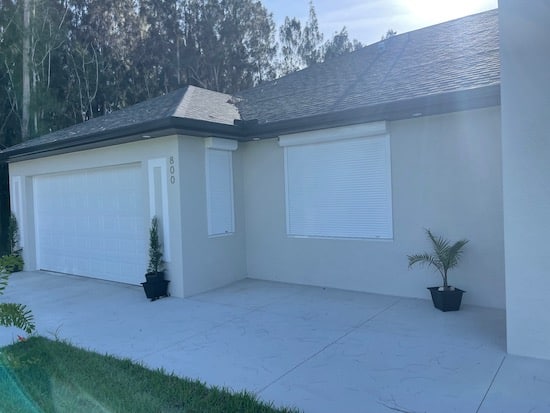 This is an important question to ensure you have shutters that will protect your family and home. It is also important to ensure they meet the requirements of where you live, such as HVHZ, Miami-Dade Product Approved, etc.
Below are some recommendations. These can help you confirm that the shutters you are buying are in fact hurricane rated.
Supplier provided documentation
Your hurricane shutter company or contractor should be able to help you with this. They should also be able to provide you with the documentation you need to confirm they are hurricane rated.
You can start by first asking them if their shutters are hurricane rated and approved for your property's location.
It is also not a bad idea to ask them for documentation confirming the shutters are in fact approved for your property's location.
This may include documentation confirming the shutters:
Have an appropriate Florida Product Approval Number (FL #) or Miami-Dade NOA number
Are approved for use in HVHZ areas, IF your home requires this
Have passed the appropriate tests, such as the large missile impact test, etc.
Search For Florida Product Approval Number
If you live in Florida, all hurricane rated shutters should have a Florida Product Approval Number (FL #). If you have this number you can search for the shutters' documentation yourself.
You can search for products (shutters included) that have Florida Product Approval. This is a public search accessible on the Florida dbpr Product Approval search site.
Important note when searching for approval documentation:
Generally it is the shutter manufacturer that applies for and gets any product approval. Most hurricane shutter installers and companies source shutters from the large manufacturers. The shutter companies then customize them and install them on your home. So you will need to know which manufacturer your installation company sources their shutters from in order to verify they are approved.
HVHZ Approved
Within the FL Product Approval details for each product it will state whether the product is approved for use within a HVHZ, and or approved for use outside of HVHZ. This is of course helpful if you need to know this information. For instance, it is important if you live in a HVHZ zone.
Search For Miami-Dade Approval NOA Number
You can also search for products that are Miami Dade approved as well.
Products that have a Miami-Dade NOA Number will come up on the Product Control Search.
As we stated above, the shutter manufacturer is most likely the one who will apply for and get the product approval. So you will need to search for the manufacturer of the shutters. You can ask the shutter company for this information.
Types of Hurricane Rated Shutters (and Screens)
You will be happy to know that there are a wide variety of hurricane rated shutters. They vary in terms of installation, aesthetics, ease of use, and functionality. Some are permanently affixed to the exterior of your home. Others are temporary and need to be installed and uninstalled for each storm.
There really is a hurricane shutter for everyone, regardless of your budget, preferences, and needs.
Some of the most popular hurricane shutters include:
Roll down hurricane shutters (including automatic and manual)
Colonial hurricane shutters
Storm Panels (aluminum, and polycarbonate)
Fabric storm panels
Conclusion
Hurricane rated shutters can protect your family and home from even the worst hurricanes. But not all shutters are hurricane rated. And not all shutters are approved for use in all areas. So before you purchase hurricane shutters you need to ensure that they are in deed rated for hurricanes and approved for use in your property's location.
If you need hurricane shutters for your home, including hurricane shutters in Fort Myers, Cape Coral or anywhere in Southwest Florida then we would love to help.
Contact us by calling (239) 369-8600 or filling out the quick form below with any questions and to get a free estimate.
Related Posts
You can protect your family and home from hurricanes with hurricane rated shutters. Hurricane shutters are a popular choice in areas affected by hurricanes, such as Southwest Florida. But not all shutters are equal when it comes to storm protection. So if you want shutters to protect your home from hurricanes they need to be…

---