Protecting your home and family from hurricanes in Florida has become a necessity. Hurricane shutters are a popular form of storm protection. And while you may be eager to buy storm shutters you might not know what to buy or where to start. And it's easy to understand why. There are so many types of shutters. There are also many options, colors, and materials to pick from. All of this can leave you feeling overwhelmed to say the least. But don't worry. At Eurex Shutters we feel that there is a perfect hurricane shutter for every home and every homeowner. This guide will help you pick the perfect hurricane shutters for your home.
Below we go through a series of questions you can answer to help you weed through the options and pick the perfect shutters. But first, we provide an overview of what hurricane shutters are and the different types you can pick from.
If you need more guidance please feel free to contact us.
Here's What the Guide Includes:
Hurricane Shutters Overview
You will hear hurricane shutters referred to by many names, such as storm shutters, hurricane resistant shutters, etc. And there are many styles of them, such as rolling, accordion, etc. Some of them are permanently attached to your home and others are installed and uninstalled for each storm. But all storm shutters serve the same purpose. They all protect the weakest areas of your home from hurricane wind gusts and flying debris.
Hurricane shutters protect your windows and doors, which are the most prone to damage during a storm. Glass breaks easily. But the shutters form a protective, impact resistant barrier over the glass. This stops objects from breaking your glass surfaces, prevents objects from entering and keeps rain from getting in.
Hurricane Shutters to Pick From
There are several types of hurricane shutters to pick from. We introduce each of the most popular styles below.
Learn more about all the different kinds of hurricane shutters.
Storm Panels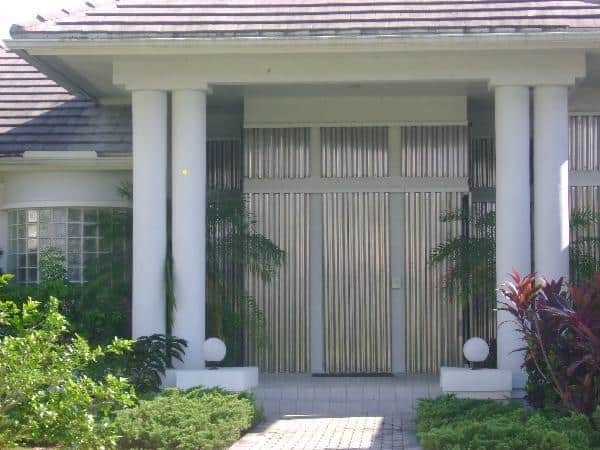 Classification: not permanently attached
Storm panels are corrugated aluminum, metal or clear polycarbonate panels that cover your windows and/or doors. They are attached to your home with anchored bolts or other approved fastener systems. One the plus side they are the most affordable type of storm protection. On the negative side, they are the most labor intensive of all impact shutters. They also require a good amount of space to store them. This is because they are not permanently attached to your home. So you have to install and uninstall them each storm.
Find out more about storm panels.
Fabric Hurricane Panels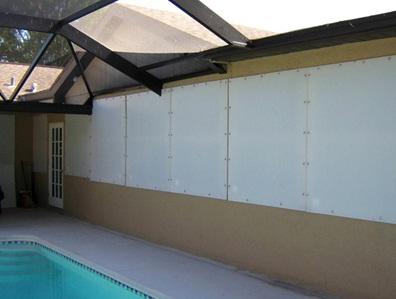 Classification: not permanently attached
Think of fabric hurricane panels as flexible, lightweight storm panels. They are easier to handle because they are lightweight. And they are easier to store because they are flexible and fold up. At the same time they are made from super strong materials so they offer the same tough protection as storm panels.
Find out more about Armor Panel Hurricane Fabric Panels
Clamshell Shutters (Awnings)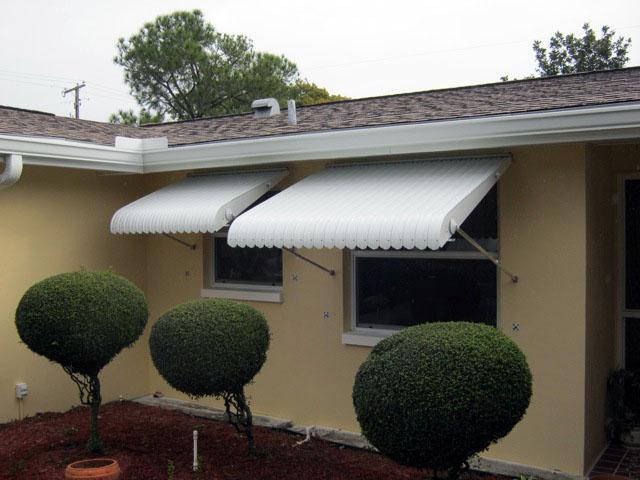 Classification: permanently attached
You can think of clamshell shutters as retractable, aluminum awnings. Because they are aluminum they are more impact resistant than fabric awnings. They close up like a clamshell to protect your windows. But while they do offer storm protection they are not hurricane rated. They are commonly used for both homes and mobile homes in Florida. On the plus side, they are economical and easy to use. Not every homeowner prefers their appearance, but it really is about your taste.
Find out more about clamshell awnings.
Accordion Hurricane Shutters
Classification: permanently attached
Accordion hurricane shutters open and close horizontally along tracks similar to an accordion. When they are open the fins hide away cleanly on the side of the shutters. When they are closed you can lock them in place.
Accordion shutters are pretty easy to use when maintained (cleaned and lubricated). This makes them quick to deploy before a storm. In fact you should be able to close all of your accordion shutters on a single story home within 15 minutes (depending on the size of your home and any obstructions). This means they don't require much effort to use.
Rolling Shutters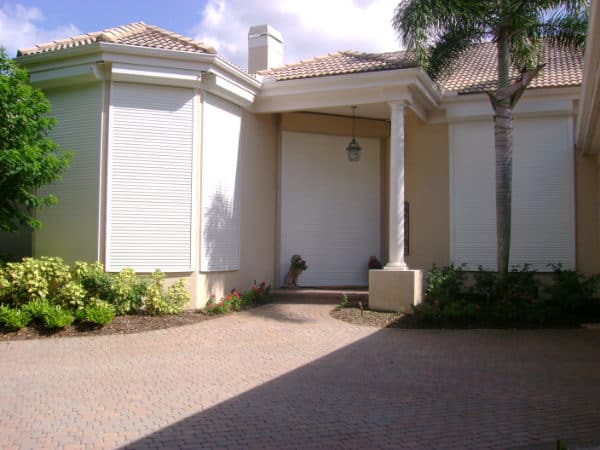 Classification: permanently attached
Rolling shutters roll up and down over your windows and doors. They offer unbeatable storm protection as well as security and many other added benefits. You can go with manual roll downs or roll downs powered by electric motors. Manual rolling shutters are easy to operate. But if you are looking for the ultimate in convenience then the electric rolling shutters are your best bet. You can control motorized shutters with a single switch or even the TaHoma mobile app on your phone.
Learn more about Roll Down Hurricane Shutters
Bahama (Bermuda) Shutters
Classification: permanently attached
These hurricane shutters have a tropical look that is common in the Caribbean. Bahama shutters are a permanently installed hurricane shutter that is chosen as much for its look as it is for its protection. In addition, they offer great shade and UV control as the shutters are always partially covering your windows. These are a premium impact shutter, but they certainly are worth it if you want to achieve that tropical look. You can also use them to give a traditional home a more modern look.
Find out more about Bahama Shutters
Colonial Shutters
Classification: permanently attached
Colonial hurricane shutters are another premium storm shutter that are used to achieve a specific style. If you have your heart set on a traditional style or southern style Colonial shutters are a good fit. They look like traditional board and batten shutters. But they are made from impact resistant aluminum, close over your windows and lock in place. This means they will give you the look of traditional shutters with the protection of hurricane shutters.
Picking the Perfect Hurricane Shutters For You
As you can see there are many different kinds of hurricane shutters to pick from. Add to this the different colors, materials and other options and it becomes overwhelming pretty quick.
Below we provide a few questions to help you cut your list down. We then provide different options based on your answer for each.
Going through the process should help you decide on your perfect hurricane shutters. At the very least, it will help you narrow down your list to a manageable group to pick from.
Let's get started and find your perfect hurricane shutters!
1. What is your budget?
There is no denying that budget is an important consideration for any purchase. This is especially true for any larger purchase.
We always recommend establishing a budget that you are comfortable with. This is similar to setting a budget for how much you can spend on a house. It will give you more comfort and it will help you narrow your choices down to those within your budget.
Because of this we recommend establishing a budget as a first step.
Below we bucket the different hurricane shutters into three price buckets.
To find out the cost ranges for each type you can reference our Hurricane Shutters Cost: Pricing Guide.
Premium Price Shutters ($$$)
Colonial hurricane shutters
Bahama hurricane shutters
Electric rolling hurricane shutters
Medium Price Shutters ($$)
Manual rolling hurricane shutters
Accordion hurricane shutters
Lower Price Shutters ($)
Clamshell shutters
Fabric hurricane panels
Storm panels
2. How important is convenience and ease of use?
Convenience and ease of use are often overlooked with hurricane shutters. Price or style often takes the spotlight. But you need to be okay with the level of effort required to use them. If you are not, then you won't be motivated to deal with them. And if that happens, they will become more like decorative paper weights than useful hurricane shutters.
Yes, convenience is important
If convenience is very important to you then you should consider permanent shutters that close easily by a switch from inside your home or even via your mobile phone. Below are some options to consider if you prioritize easy shutters that are super convenient.
Ultimate convenience – roll down hurricane shutters with electric motors offer unbeatable convenience and ease of use.
High level of convenience

Accordion shutters – accordions are not self-closing, but they can be deployed quickly and easily
Manual roll down shutters – get all the benefits of roll down shutters without the one button control. Manual versions open and close quickly with crank or belt (strap) systems.

Runner-ups – none of these are specifically made for convenience, but they are all relatively easy to deploy due to their design.

Bahama shutters
Colonial shutters
Clamshell shutters
No, convenience is not important
If convenience is not important to you then you can consider any type of hurricane shutters. With that being said, just realize that there is a significant amount of time and effort required for storm panels. The same is true for hurricane fabric panels, but to a lesser degree.
Is Achieving Beauty or a Specific Style Important?
Some types of hurricane shutters are installed literally just to protect a home. And that's fine. That is their overarching point. But other types are hand-selected by designers and design-minded homeowners to achieve a specific aesthetic (look/style).
If you are looking to maintain or create a specific design for your home there are a few options. If you are not, then it becomes more about what you think looks the best.
See our recommendations below for specific styles:
Do you want to achieve a traditional home look?
If you want to maintain the appearance of or create a traditional or Southern style home there is one clear choice. Colonial hurricane shutters are your best bet.
Another option you may consider is Bahama shutters, but this will depend on the design you want.
Do you want to achieve a tropical or Caribbean look?
Bahama hurricane shutters are the ideal choice for creating your tropical or beach paradise. Common in the Bahamas, Bermuda and other tropical locations these shutters will help you achieve this look.
Do you want a sleek, clean, European look?
Roll down hurricane shutters are also known as European Roller Shutters. Their design is sleek and clean. You can even opt for a hidden installation to minimize their appearance on your home even more.
So rolling shutters are a great choice if minimizing the appearance of the shutters on your home is important.
Still Need Help Deciding? Talk to the Pros.