Looking to both protect your home and make it look more beautiful at the same time? Decorative hurricane shutters may be perfect for you. Protecting your home from hurricanes and tropical storms is critically important, especially in coastal areas like South Florida. But if aesthetics are a main priority you may have noticed that only a few hurricane shutters can truly add to the beauty of your home. These are what are called decorative hurricane shutters. In this guide we'll detail what decorative hurricane shutters are and go over what options you have.
What are decorative hurricane shutters?
Decorative hurricane shutters are a type of hurricane shutters that are designed to protect your home while making it look more attractive. Some permanent styles of hurricane shutters are sleek and minimalistic so they don't detract from the style of your home. But decorative shutters go a step further. They are designed to boost your home's style and good looks. You can use them to add to the existing style of your home. Or you can completely change it's style (for the better). This ability to add beauty to your home is one of the benefits of installing hurricane shutters.
Do decorative hurricane shutters offer storm protection?
Yes they do. It is easy to get them confused with regular decorative shutters because they have "decorative" in their name. But they are indeed hurricane shutters. They provide just as much storm protection as any other style of hurricane shutters. But unlike most other storm shutters these also enhance the look of your home.
Decorative Storm Shutter Options
When it comes to options there are really only a few. They are Bahama Hurricane Shutters and Colonial Hurricane Shutters. We discuss each in detail below.
Bahama Hurricane Shutters
Bahama Hurricane Shutters are the most well known type of decorative storm shutter. This is especially true in areas like South Florida where they are a perfect fit for the tropical environment.
They can instantly add a boost of Caribbean style to your home. And they are perfect for helping creating your own tropical paradise. They scream tropical and Caribbean. After all, they are synonymous with homes in the Caribbean, such as in the Bahamas, Bermuda, St Lucia, St Croix, and more.
Bahamas are mostly used to cover your windows. If you are also looking for storm protection for your doors or patio you can use them in combination with another hurricane shutter type, such as roll down shutters.
These are functional shutters. In addition to providing hurricane protection and beauty they also are great for shade and UV control. Bahama shutters are always partially closed over your windows. Their position, and their design with slats, help to block and diffuse light that would otherwise go into your home. In places like Fort Myers, Naples or Miami this is extremely helpful.
Do note that these are suitable for windows alone. They are not suitable hurricane shutters for glass doors, french doors, or other openings, such as your patio or lanai.
Learn more about our Bahama Hurricane Shutters.
Learn more about: Storm Shutters For Your Lanai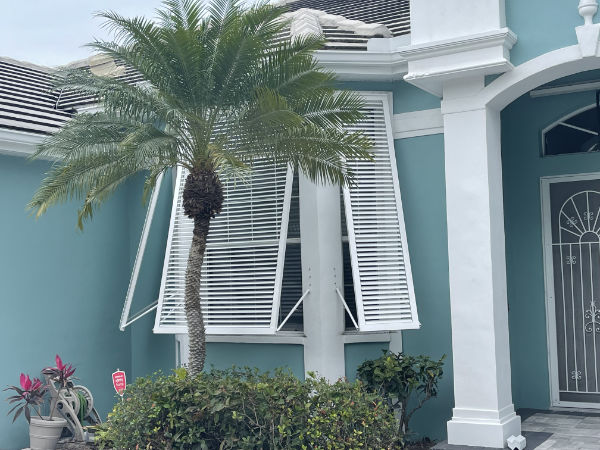 Colonial Hurricane Shutters
But maybe you are not interested in a tropical, Caribbean style home. If you want more of a traditional look then Colonial hurricane shutters are a great option. Colonial hurricane shutters give your home a bit of Southern Charm. This is of course a great fit for homes in areas like Florida or other Coastal areas. It is also a good fit for owners who just want to add a traditional board and batten type look to their home.
As you can see from the image below Colonial hurricane shutters are rectangular shutters that sit stationary on the sides of your windows. But they quickly turn into hurricane shutters when needed. You can easily close them in order to cover and protect your windows from wind gusts and flying objects.
Colonial shutters are similar to Bahama shutters in that they are mostly used to cover your windows. Again, if you need protection for your doors, patios or other areas you may have to use them in combination with other hurricane shutters. For instance hidden roll down shutters may be used.
Colonial shutters are a great way to add traditional style to your home and protect it from severe weather. You won't get the additional benefits of Bahama shutters, such as shade and UV control. But if your goal is to achieve a traditional or Southern look these are your best option.
Learn more about our Colonial hurricane shutters.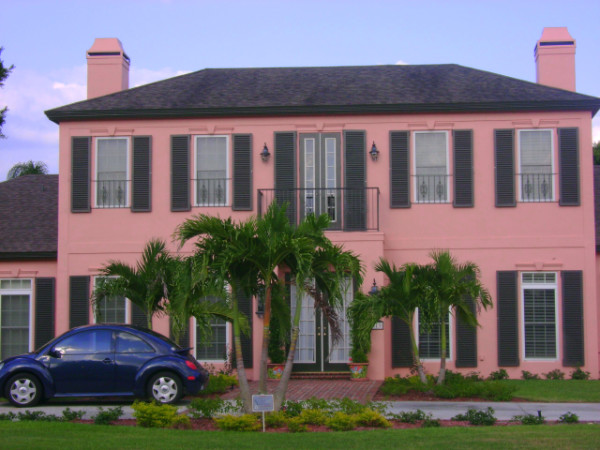 Where Can You Buy Decorative Hurricane Shutters?
You can purchase this type of shutter from a hurricane shutter supplier. Some options for where you can buy hurricane shutters and their pros/cons are below.
Big Box Store
You can check the big box stores. But most times their availability of decorative storm shutters is limited. If they do offer them you will be limited in options, such as sizes and colors. It also usually requires you to measure your home and order them yourself. And then you may need to find your own installer, who sometimes don't want to install and warranty products they didn't order.
Local Hurricane Shutter Company
The other option is to purchase them through a local hurricane shutter company like ours (Eurex Shutters). Ordering from a hurricane shutter company has some benefits over buying from a big box store. First, you can hand off the process completely. We'll measure your home, custom design your shutters to your specifications, pull permits, professionally install them, warranty them and service them when needed. Look for a shutter company who is local, has good reviews, and is reasonably priced.
You may also like: Hurricane Shutters Cost Guide 2022
Conclusion
Decorative hurricane shutters protect your home and make it look more beautiful at the same time They can withstand the most severe storms, add functionality and enhance the look of your home. You can create a tropical/Caribbean look with Bahama shutters. Or you can achieve a traditional/Southern look with Colonial shutters. Either way you will be able to enjoy your home while protecting it and your family for years.
Want to see both of these decorative storm shutters in person or find out more? Stop by our showroom in Lehigh Acres or reach out to the shutter pros at Eurex Shutters.