Are you looking for a hurricane shutter company in Southwest Florida? You may notice there are plenty of companies selling hurricane protection products in the area. So while finding a storm shutter company isn't too hard, finding a good one can be tricky. This article is meant to give some tips for selecting a good hurricane shutter company to work with.
Disclaimer: Our company, Eurex Shutters is a local hurricane shutter company serving the Southwest Florida area.
What is a hurricane shutter company?
First, we define what this type of company is, what products they may sell, and what services they may provide.
Definition: At a high level a hurricane shutter company sells and/or installs hurricane protection products.
These companies differ based on several factors. We talk about these differences below.
How they differ from each other
Products offered
Different storm shutter companies sell different products. Some may sell all types of storm shutters, including accordion shutters, roll down hurricane shutters, Bahama shutters, Colonial shutters, clamshell awnings (non-hurricane rated), hurricane screens, etc. Other companies may sell one or two types.
In addition to the styles offered you should compare the materials and colors available. For instance, we have a range of standard and custom colors for certain shutters. We also offer clear hurricane shutters as an alternative option.
Learn more: What are hurricane shutters
Customization
will also vary from company to company. For instance, some sell custom shutters. Other companies products may be limited to standard sizes, colors and options.
Installation
Some companies install the products they sell. Others do not.
For example, local hurricane companies typically install the products they sell, but not always.
On the other hand, big box stores, online sellers, and wholesale sellers typically sell the products, but they may not install them.
Repair and maintenance
Some storm shutter companies also provide repair and maintenance services. Others do not.
Things to consider when selecting a shutter company
Below are some things to consider when choosing a hurricane shutter company to work with.
1. Do they pass the sniff test?
These are the basics. Make sure the storm shutter company has the basics.
Make sure they have adequate:
Licenses
Insurance coverage
Years of experience
Also make sure they provide you with basic services like:
Free estimates
A written estimate with detailed clearly spelled out
And always ask to ensure they will pull permits and properly follow the permitting process.
2. Does the company meet your product and installation needs?
Try to find a storm protection company that is a good match for your needs.
For instance, if you are looking for a local shutter company to install Bahama Shutters on your home. You know standard sizes will not work. You also are not a licensed contractor and don't want to find a contractor to install the shutters. In turn, you should select a hurricane shutter company that sells custom Bahama Shutters and installs them for you.
3. Is the hurricane shutter company reputable with a track-record of success?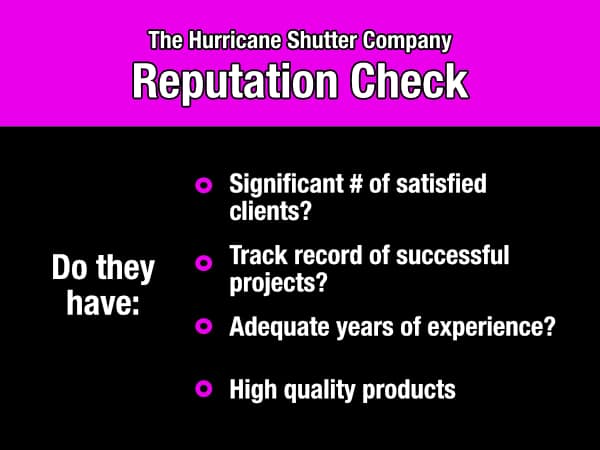 Finding a company with a strong-track record of success and happy customers is critical. Hurricane shutters are important to have, but they are also an investment. Choosing the best investment your money can buy is always important.
You want to make sure you select a company that is very good at what they do. This goes from That includes choosing a company that has:
Many years of demonstrable experience in producing and installing hurricane shutters in Southwest FL
High quality products made from the highest quality materials that are proven to be durable and last for years
A track record of successful projects
A significant number of satisfied clients
Look at their reviews, not only on their website, but on review sites like Google Reviews, Angi, Yelp, and others. Read the reviews and learn why people rated them the way they did. No company realistically has a perfect, five star rating. But the company's reviews and feedback should be overwhelmingly positive.
4. Do their hurricane shutters meet the building code requirements?
Make sure the hurricane shutter company you choose has products that meet all the necessary requirements for your location. These include, at a bare minimum the Florida Building Code for those in Florida. But you may also need the shutters to meet other codes, such as the Miami-Dade requirements.
This is one that sometimes gets left unasked and unchecked. But it is important to ensure their products meet all necessary codes so you can get permit inspection approval, and get any and all insurance credits. Plus, you want to make sure you are investing in something that will truly protect you and your family.
See our Product Approvals.
5. Does the hurricane shutter company also service their products?
While this is not critical this one is definitely a nice to have. This allows you to have one company for any of your hurricane shutter needs.
If you ever need repairs or replacements you will know who to call. And since they are their own products they will know exactly how to fix them. Additionally, getting parts will be easier since they don't have to work through another supplier.
Choose the best hurricane shutter company you can
Hurricane shutters are an investment. And like any investment you want to be smart and select a safe one that will meet your requirements and pay off in the end.
So choose a hurricane shutter company that offers high quality products, impeccable installations, a high level of value and exceptional service. Choose a Southwest Florida shutter company that has years of experience and a track-record of successful installations and satisfied customers.
About Eurex Shutters Southwest Florida
As mentioned in the introduction, we are a hurricane shutter company serving Southwest Florida. And although there are several similar companies here there are several reasons why we are one of, if not the best shutter company around. Here are some reasons to choose Eurex Shutters:
The Tessner family has served 25,000+ satisfied customers since 1986 (35+ years)
Exceptional products

All our shutters are manufactured locally at our facility in Lehigh Acres, FL
Our shutters are made from the highest quality materials
Highest value products in terms of quality, customization and installation
All Eurex Shutters products meet and exceed Florida Building Codes

Impeccable installations by our factory-trained installation crews
Customer service is our number one priority
Get a free estimate today from one of our owners.