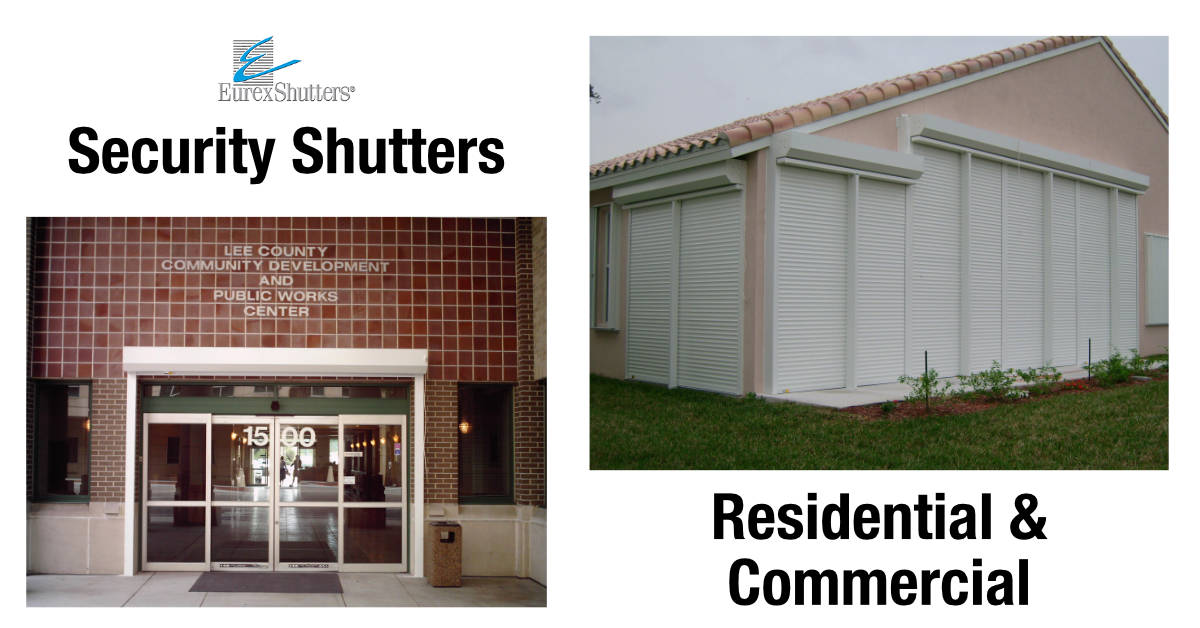 Security Shutters in Southwest Florida Since 1986
You need to protect your home or business from intruders. But you don't want to ruin the look of your property or break the bank. Eurex Shutters' high-quality, roll down shutters for windows and doors are a perfect solution. Our security window shutters are made from the highest quality, strongest materials. Our PTX Protector Series shutters turn your home or business into a fortress, preventing unwanted guests from getting in. Trust our protective shutters whether you are closing your business for the night or leaving your home unattended for an entire summer.
We are proud to provide the finest security window covers to the communities of Fort Myers/Cape Coral, Naples/Marco Island, Punta Gorda/Port Charlotte, Venice and the rest of Southwest Florida.
Call us or contact us to request a free estimate.
Security Shutters for Windows
Prevent burglaries, theft and vandalism. Intruders can break through glass windows easily. But installing metal security shutters for your windows make it near impossible. Metal window coverings protect your windows completely, no matter what burglars try. When locked they completely block access to your property's entry points, such as your windows. In other words, intruders can not reach your vulnerable windows because the shutters create a metal barrier. So they prevent home break-ins through your glass windows. They also prevent damage to your home's windows.
Security Shutters For Doors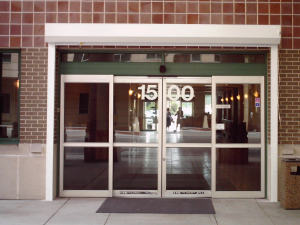 Similarly, door locks can be be busted and opened pretty easily. When this happens intruders are able to get inside your property and have free reign.
Security shutters prevent this by eliminating access to your doors. The safety shutters create a metal barrier that is near impossible to break through. The result is that intruders can't reach your doors. So they can not break in through them.
Rolling door security shutters are easy to use and have a clean look. When open they sit nicely in a housing box above the door. They are easily operated with either an electric motor or manually. So you can protect your home or business without any hassles and without degrading the look of your property.
Roll Down Security Shutters: Strong and Convenient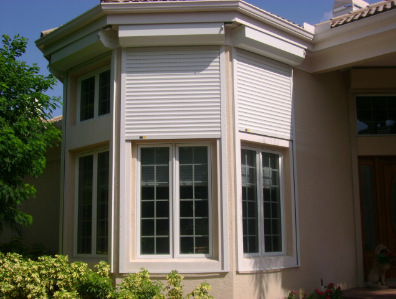 Want great looking, easy to use security? Roll down shutters are a great option! They are a very popular security window covering among home owners and business owners in Southwest Florida.
Rolling shutters have many benefits, including:
Convenience: roll down security shutters are very easy to operate. They are offered in both manual and electric options. Motorized security shutters can be deployed very fast with a switch inside your home or even via a mobile phone app, such as the Tahoma system mobile app.
Permanent: metal rolling shutters are permanently attached to your property so you don't have to install them and uninstall them for each use.
Don't degrade the look of your property: they roll up completely and sit neatly in a housing when not in use. In other words, their appearance is minimal when not closed.
Security & Protection For Every Application
No matter whether you are a homeowner or business owner we have you covered. We offer security protection products for both residential and commercial applications.
Find out more below.
Security Shutters for Home
Don't leave your home and belongings unprotected. Protect your home's windows and doors with our PTX Protector Series of products. We can help you secure your house whether you are going away for the weekend or going North for the summer.
Contact us for a free consultation and estimate or call us to schedule.
Security Shutters for Business (Commercial)
Protect your business's windows and doors with our PTX steel shutters. Regardless of the type of business you run steel shutters will help keep your business and investments safe from unwanted guests. Our security products can secure your office, storefront, warehouse and more.
Learn more about the benefits of security shutters for business.
We have proudly helped protect businesses all over Southwest Florida for 35+ years. Whether you need security shutters for a local government building or a small office space we can help. Trust Eurex Shutters to protect your business.
Or call (239) 369-8600 for immediate service.