If you are reading this article you are probably researching hurricane shutters. If so, one choice you will have to make is the actual material of the shutters. Because hurricane shutters are made of many different materials it can be a daunting decision. So in this article we answer the question "What Are Hurricane Shutters Made of" in order to help you decide.
You may also like: choosing the best shutters for your Southwest FL home
What Are Hurricane Shutters Made Of?
Hurricane shutters can be made from many different materials. They are primarily constructed out of either aluminum or metal. There are also clear hurricane shutters available as well.
Regardless of the material the shutters should meet and exceed the current Florida building code and requirements for your location. Otherwise, they may not provide adequate protection for your home or business.
Homemade shutters (DIY) can be found in an endless variety of materials, from plywood and beyond. Whether DIY systems can adequately withstand hurricanes will depend on the materials used, the construction, the fasteners, the design, etc.
We explore the different material options below.
Aluminum Shutters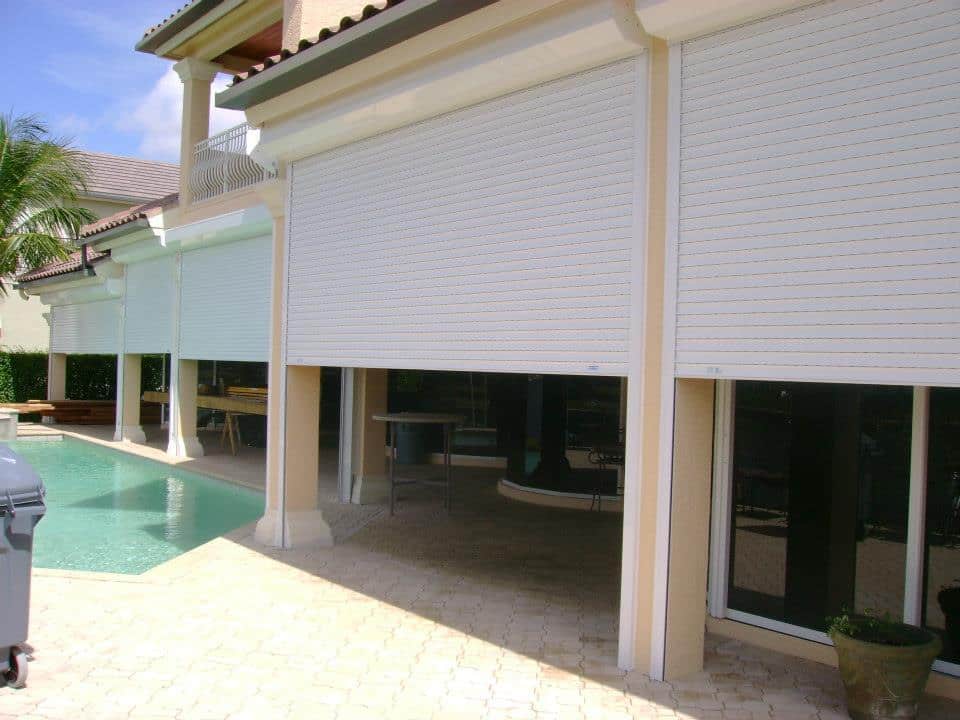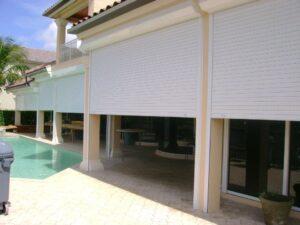 Aluminum is used frequently for hurricane shutters. This material is strong and durable like metal, but it is lighter than metal. This allows for hurricane shutters that can protect your home against hurricanes but don't weigh as much to handle or install. Also, aluminum doesn't corrode like metal. This also helps to prevent against degradation of the shutters over time.
Some shutters that are made out of aluminum include roll shutters, accordion shutters, etc.
Learn more about aluminum hurricane shutters.
Metal Shutters
Shutters are manufactured out of metal because of the material's strength and durability. The downsides are that metal is heavier than aluminum and plastic. It is also prone to corrosion over time, but this can be reduced with anti-corrosion coatings.
Common types of metal shutters are storm panels, which are also the most economical option.
Plastic Shutters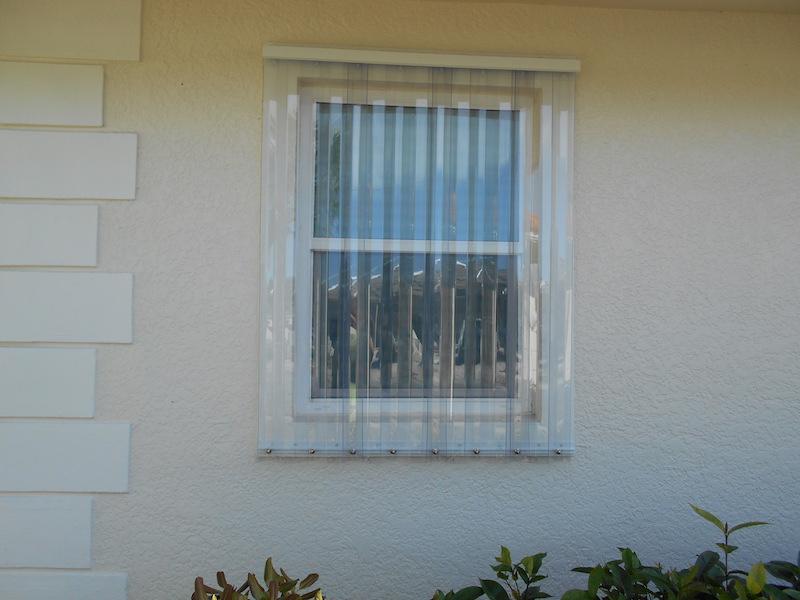 Some types of shutters have an option to be made from plastic. The plastics used are usually polycarbonate, which is a high impact-resistant, light-weight, clear material.
The biggest benefit of plastic is that it allows for clear shutters. Because they are clear they let the light shine in. This eliminates the problem of creating a pitch black house if the power goes out.
Some common plastic shutter types include roll down, accordion shutters, and storm panels.
Fabric Shutters
You will also find fabric hurricane shutter options available. For instance, Eurex Shutters ArmorPanel shutters and Eurex Shutters PTX™ Hurricane Screens are constructed from DuPont KEVLAR® reinforced soft-sided fabric. This material is tremendously strong. It is also light-weight and flexible, which makes it easy to install, even in difficult applications.
Other Materials
There are also glass hurricane protection options, specifically impact resistant glass windows and doors. Find out what the better choice for you is: windows vs. shutters.
Why Are There So Many Different Material Options?
Hurricane shutter materials vary for many reasons.
First, the materials vary by the specific type of hurricane shutter. In other words, different types of hurricane shutters are made from different materials. For instance, storm panels are typically metal or clear plastic. Hurricane fabric shutters are obviously made of a fabric.
Second, the materials vary by manufacturer. Like with all products, manufacturer choose different materials of construction for their products. Some producers may prefer metal, while other prefer aluminum, and others prefer plastic. Also, some manufacturers focus on fabric shutters.
Material selection by a manufacturer might be for quality or cost reasons.
It should be noted that the different materials effects what different shutters cost.
Conclusion: What Is the Best Material For Hurricane Shutters?
The answer to this is a big "it depends".
What material is best for you and your application depends on many factors. The style of hurricane shutter and the manufacturer you chose may limit the materials you can pick from. In turn, we recommend choosing a style of hurricane shutter first and then picking a material next.
Also, the best material for your shutters really depends on your preferences. For instance, if you want to let light shine in to your property while the shutters are installed then plastic is the only option. Or if you want the least expensive shutters that are strong then metal storm panels may be the best material for you.
Explore different styles of shutters to find the one you like the most. Once you have selected a style you can select the material that meets your needs.
Eurex Shutters is Southwest Florida's oldest shutter company. We have been providing storm shutters and security protection products, including impact windows, security shutters and hurricane shutters in Fort Myers, Cape Coral, Naples, and the rest of Southwest Florida since 1986.
Check out all of Eurex Shutters' hurricane shutter styles and materials here, or contact us to get started.