As hurricane season in Southwest Florida approaches the experts are predicting a higher number of major storms. Most homeowners in South Florida know they have to protect their homes from hurricanes. Most people think of hurricane shutters for doors and windows, but what about hurricane shutters to protect your lanai? Let's cover why you might need hurricane protection for your lanai and some of the hurricane shutter options to install.
You may also like: when is hurricane season is in Southwest Florida?
How Can Hurricane Shutters Protect Your Lanai?
Similar to how hurricane shutters protect exterior windows and doors they can also protect your lanai. The shutters enclose your lanai, which is usually just a mesh screen with an impact-resistant material. The shutters act as a barrier protecting your lanai from wind-born (flying) objects. Shutters protect your belongings on your lanai. Shutters also protect the windows and doors that are enclosed behind your lanai's screen.
You may also like: When to put up hurricane shutters.
1. Armor Panel Hurricane Fabric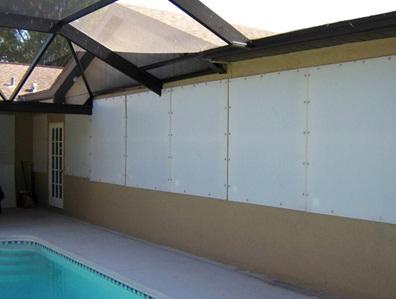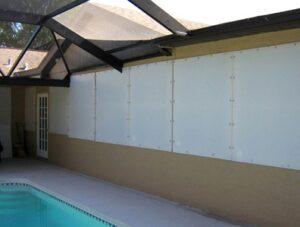 Eurex Armor Panel Hurricane Fabric are hurricane-rated fabric panels made of super-strong Dupont Kevlar. They are affordable, relatively light-weight, and easy to install product compared to other hurricane protection options.
Benefits of Hurricane Fabric
Hurricane fabric is easy & quick to install and remove
Ultra-lightweight panels weigh a fraction of steel or aluminum options
Minimize the effect on the look of your home because no tracks are required
Armor Panel has safe, smooth edges which increases safety/reduces risks when handling
Learn more about Eurex Armor Panel Hurricane Fabric.
2. Roll Shutters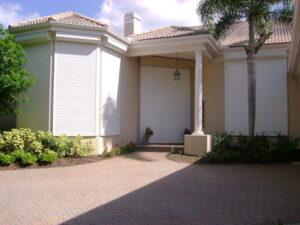 Eurex roll down hurricane shutters are a popular option for hurricane protection, whether for your doors, windows or lanai. They are also a popular choice as security shutters as well as for privacy because of how fast they can be deployed.
Roll down shutters do exactly what the name implies. They roll up and down easily.
These are very popular because they are so easy to install and uninstall. You can easily roll them down when needed and roll them back up when they are not in use. You can operate Eurex roll down shutters manually or electronically. And you can roll them down from inside your home, which means you don't have to go outside to install them.
Outside of hurricane protection roll down hurricane shutters also allow you to turn your lanai into an additional room. They also provide security protection to your home.
Benefits of Roll Shutters
Roll down hurricane shutters are very easy to use; they can be used from inside your home either manually or electronically
Superior strength and durability will surely protect your lanai
Energy saving insulation
Excellent sound reduction
Convenient light control – solid closure for darkness, open slats for partial light
Can turn your lanai into an additional room by closing it in
Learn more about Eurex Shutters roll down storm shutters.
3. Accordion Shutters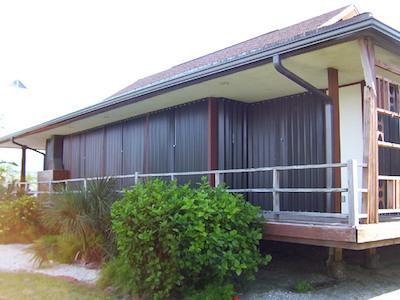 Eurex Accordion Shutters are a great hurricane shutter option to protect your lanai. Accordion shutters are a type of permanently installed impact shutter. In turn, they can be opened and closed easily.
Because this type of shutters is installed permanently it reduces the need to install anything before a storm hits. They can be locked from inside or outside your home.
Unlike other manufacturer's bulky accordion shutters Eurex's state of the art blade stacking system provides the smallest stacks (footprint) in the industry. This limits the amount of space the shutters take on your home. In other words, they are less noticeable.
Benefits of Accordion Shutters
Accordion hurricane shutters are easy to use: they have easy operation from inside or outside the house
Quickly enclose your lanai, windows, doors, etc.
Wide-spans available for large openings, such as lanais or large spans of windows or doors
See a head to head comparison of Roll Down vs Accordion Hurricane Shutters
4. Impact Sliding Doors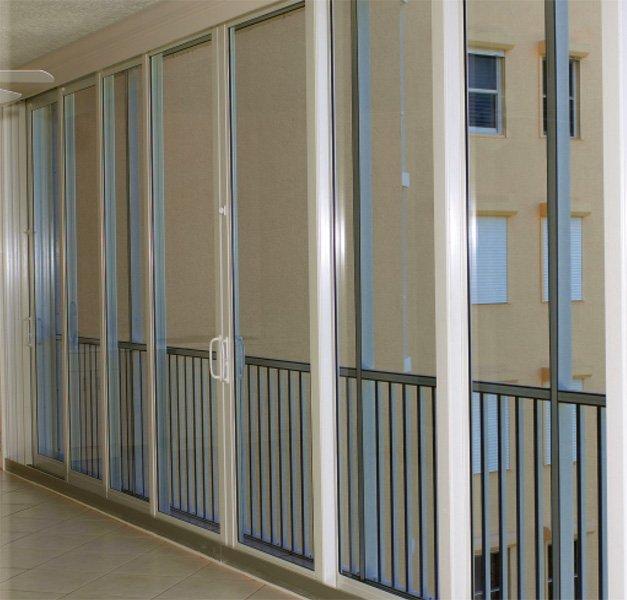 Another option instead of installing hurricane shutters for your lanai it to opt for impact sliding glass doors. Impact sliding doors will not only protect your lanai from storms, but it will also turn your lanai into an additional room for your home.
Eurex impact sliders are tested and proven to reduce the damage by wind-born debris during a storm.
Impact sliding doors can also enhance the style of your home vs. detracting from it. Eurex offers impact sliders in a wide-range of colors and styles to perfectly match your home.
They are also extremely tough and offer maximum protection for your lanai. Impact sliders are tested to ASTM impact standards and meet and exceed the current Florida Building Code and relevant standards.
Read our selection guide to compare impact glass vs. impact resistant shutters.
Benefits of Impact Glass Sliding Doors
Impact sliding doors convert your lanai into a new room
Enhance the style of your home vs. reducing it
Extremely tough and offer maximum protection for your lanai/home.
Conclusion
It is a good idea to protect your lanai, just like you protect your windows and doors. The good news is there are many options available to protect the lanai of your Southwest Florida home.
Eurex Shutters has been providing the highest quality hurricane shutters in Fort Myers, Cape Coral, Naples and the rest of Southwest Florida for over 30 years.  Learn about all of the hurricane shutter options for your lanai, windows and doors.
Contact us using the form below or calling (239) 369-8600 for a free consultation and estimate to get started.