Accordion shutters are a great option for protecting your home and family during hurricane season in Florida. This type of hurricane shutter is very popular with homeowners because they are easy to use and offer strong storm protection. But like with anything your accordion shutters do need to be maintained in order to ensure they work properly when you need to use them. But the question is how do you maintain accordion shutters properly?
In this article we provide some helpful tips for properly maintaining them. Implementing these tips will help you keep your shutters in good working order for a long time.
What we discuss in this article:
1. Operate your accordions regularly, even when no storm is near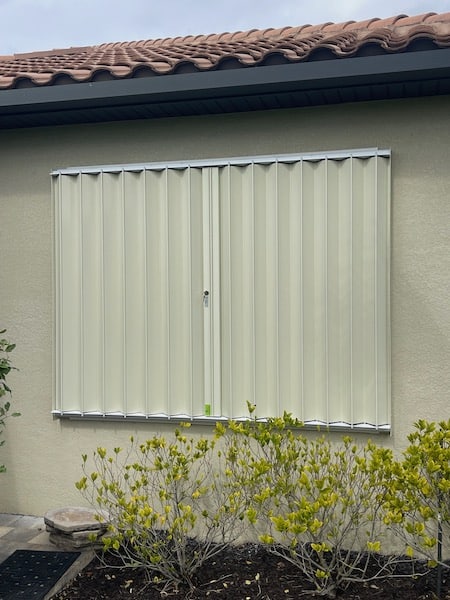 It is recommended that you open and close your Accordion Shutters from time to time. It is good practice to do this on a monthly basis. At the very least you should do it 4-6 times a year.
This is helpful for a few key reasons.
First, it helps keep your accordion's tracks clear of debris, which helps them operate smoother. For instance, this process helps to discourage insects from building their nests in the track. It also helps to prevent debris from building up over time.
Second, opening and closing them regularly will help you ensure that they work smoothly, as they should. If there are issues you will be able to identify and correct them before you actually need the shutters. This ensures you will be able to operate your accordions when you need to.
2. Clean your accordion shutters regularly (a few times a year)
It is important that you clean your accordion shutters at least a few times a year. This helps remove debris, dirt and other substances that may reduce their functionality. This includes cleaning 1. the actual accordion slats (and joints/hinges) and 2. tracks of your accordions.
Process: how to clean your accordion shutters:
Vacuum your tracks, slats and hinges/joints as a first step. This removes dirt that might get spread around with soap and water. It also gets dirt out of tough to reach spots. A vacuum can be used to clean the inside of your accordions when they are in the closed position. You can use the brush attachment to prevent scratching your shutters.
After vacuuming close any windows or doors to prevent water getting in your home.
Spray your shutters with a garden hose to loosen up stuck on/stubborn dirt.
Next clean your accordions completely with soap and water. Use a mild dish soap vs harsh chemical cleaners. You also should use a soft brush or cleaning sponge vs using a hard brush or something abrasive like a wire brush.

Both harsh chemical cleaners and hard scrubbing tools have the ability to scratch and ruin your accordion shutter's surface and components. A mild dish soap or similar and a soft brush are adequate if you clean your shutters regularly.
Tips & tricks for cleaning your accordions:
While washing the slats it is best to wash them while they are closed AND semi-closed. In other words, open them partially and clean them in that position as well. This helps ensure you clean the surfaces of the slats as well as in between the slats (in the joints/hinges). If you only wash them in the closed position you will not clean contaminants between the slats (in the joints/hinges). You should do your best to clean all areas of the accordions, not just the slats alone.
When washing the tracks you want to remove any dirt, debris, insect nests, and other foreign dirt that should not be in them. All of these things limit the accordion's abilities to open and close smoothly.
Cleaning the inside of your accordions can be a bit more difficult. To clean them you can close your shutters and use a vacuum with a brush attachment. If accessible you can also carefully use a soap and water mixture with a damp cloth to clean them from inside your home. Just be careful not to get excess water where it shouldn't be.
3. Lubricate your accordions on a regular basis AND as needed
It is recommended to lubricate your accordions both after you wash them and as needed (if they are not operating smoothly).
After washing the tracks, slats and joints/hinges of your accordions (see #2 above) you should adequately lubricate them to ensure they operate smoothly.
Process how to lubricate accordion shutters:
Let all components of your accordions completely dry before lubricating
Use a a silicone based spray lubricant to lubricate both the tracks and the hinges/joints (in between the slats). Ensure all areas are lubricated.
After lubricating you should open and close them. This allows the lubricant to disburse and ensures your accordions are lubricated adequately and operating smoothly.
If any areas do not operate smoothly apply more lubricant to the trouble area and open/close them again.
Repeat as necessary.
We also recommend that you lubricate your accordions at any point if they become difficult to operate.
What is the best lubricant for accordion storm shutters?
Use a silicone based spray lubricant. Do not use petroleum based products as they will collect dirt and debris.
For more information on lubricating your accordions, check out our guide on What is the best lubricant for accordion shutters?
4. Test and lubricate your locks
Locks have a tendency to not work so good when dirt and debris get in them. It is recommended that you clean and lubricate your locks on a regular basis to ensure they work like they are supposed to. Use a silicone based spray lubricant to keep the locks well lubricated.
FAQs
How often should accordion shutters be maintained?
Open and close your accordion shutters on a monthly basis and clean any dirt and debris out of the tracks when you do this. Clean your accordions at least 1-2 times per year. You will also want to lubricate your shutters and locks after you wash them. Lastly, clean and lubricate your shutters as needed in between washing them.
How to clean accordion shutters?
Clean the slats and hinges/joints of your accordion shutters at least 1-2 times per year. To do so use a combination of warm water and a mild dish soap in combination with a soft scrub brush or cleaning sponge. You can also spray them with a hose to loosen up big dirt. Do not use any harsh chemical cleaners or hard scrubbing brushes. This may damage your shutters. Once you have washed your shutters you want to lubricate them to ensure they move smoothly.
Need Assistance with Your Shutter Maintenance?
When a storm is approaching you want to make sure your accordion shutters are operating correctly. And while it is important to maintain your shutters we know not everyone has the time to do it. That is why we offer a full-range of repair and maintenance services that help you ensure that your home and family is protected. We provide shutter repair and maintenance services throughout Southwest Florida no matter what make or type of hurricane shutters you have.
From cleaning and maintaining your shutters to replacing broken shutters our service team does it all. We'll keep your shutters operating like new. So contact us today to get started.