Accordion shutters are a popular type of hurricane shutter here in Southwest Florida. And for good reason. They offer a lot of convenience and functionality, and they also come at a reasonable price tag. So they offer a lot of value. But before you commit to buying them you are probably wondering how they work. And this is important so you can decide if they are a good fit for you. So in this quick guide we give more detail on how accordion hurricane shutters work.
How do accordions shutters work?
First, it is important to know that accordion shutters are permanent hurricane shutters. In other words, they are permanently attached to the outside of your home. So they are different from some other hurricane protection, such as storm panels, which are not permanently affixed to your house.
And this is good news!
Why?
It means you don't need to install and uninstall them for each storm. Instead, you only have to deploy them. Deploy is a fancy way of saying you close them over your windows, doors, and other openings where they are installed.
When a storm is approaching all you need to do is deploy them (or close them). And this is a quick and easy process with accordion shutters.
It saves you a lot of time, effort, and expense in getting your home prepared before a storm hits.
Accordions have slats with hinges/joints in between each one. To open them, you just slide them open. And to close them you just slide them closed.
When your accordions are open the slats tuck away nicely on the side. This, of course, minimizes their appearance on the exterior of your home.
Below you can see an example of what accordion shutters look like when they are open and closed.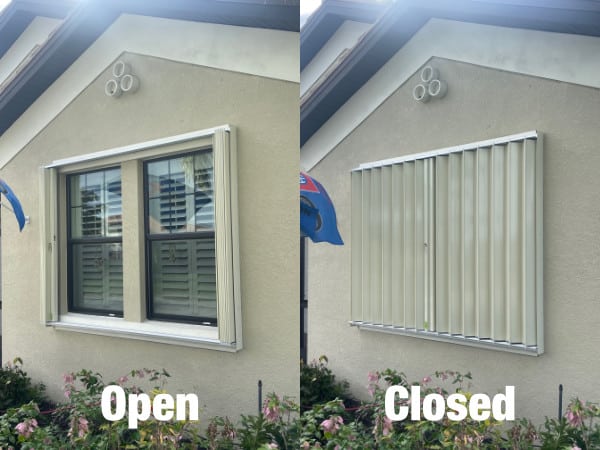 Conclusion
Accordion storm shutters are convenient and easy to use. They are permanently attached on your home. So you do not have to install and uninstall them for every storm. They open and close by sliding along horizontal tracks. When not in use they tuck away nicely on the side of your doors, windows and other openings.
Interesting in seeing accordion shutters in person or getting an estimate? We can help! Eurex Shutters is a local hurricane shutter installation company that has been proudly serving all of Southwest Florida since 1986.
You May Also Like:
Case Study: Custom Hurricane Shutters Installation Bokeelia FL

Sometimes the perfect solution for protecting your home requires using multiple products. That may mean using a combination of impact glass and hurricane shutters. Maybe it is using hurricane screens and either impact glass or shutters. Or it could be using a combination of hurricane shutters throughout your home. The last scenario is exactly what…