Accordion hurricane shutters are a popular shutter system that can be installed to protect your home in Southwest Florida and South Florida. Like other storm shutters, accordions can protect you from hurricane wind gusts and flying debris. But how do they compare to other storm protection options and are they the right choice for you? We'll discuss what accordion shutters are as well as how they compare to other popular hurricane protection options.
Accordion Hurricane Shutters: Overview
Accordion shutters are one type of hurricane shutter. They are made from impact resistant materials, usually high-grade aluminum so they will protect you from hurricane high wind gusts and flying debris.
You can install accordion shutters to protect your home's windows. They are also effective storm protection for doors (including sliding and french doors) as well as large openings, such as patios, lanais, etc.
Unlike temporary solutions like plywood and storm panels, the accordion shutter is permanently attached to your home. This means you don't have to install and remove them for each storm.
How do they work?
An accordion shutter opens and closes by moving side to side along permanent horizontal tracks. When they are fully open the shutter stack together on the side of your window/door. This means when they aren't in use they are hidden out of sight.
Opening and closing them is straight-forward and can be done quickly. You just slide the shutters open or closed. You can do this inside or outside your home. They also have a locking mechanism, which can be locked from either inside or outside of your home.
Where can you install an accordion shutter system?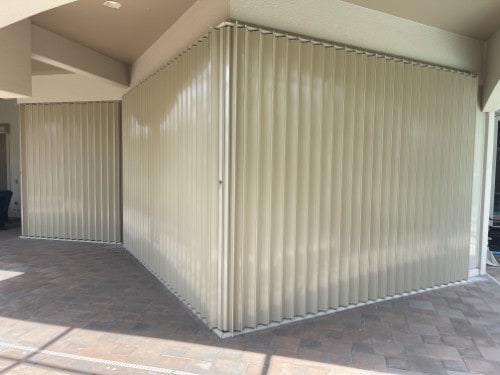 This type of storm shutter is suitable for use on homes, condos and commercial buildings. You can use them as hurricane window protection. They also work as protection for your glass doors (including a French or sliding glass door). You can even areas like your lanai, balcony, patios, and more.
It is also important to understand that these are custom built to fit your specific application. Unlike standard hurricane protection products they are custom made and designed for your specific windows and doors.
How effective are accordion shutters?
Accordions are a great choice for protecting your home and family from the dangers of hurricane season. No matter how bad the hurricane or storm.
We can't speak for other brands, but our PTX™Accordion Shutters are made from high-grade impact resistant aluminum and meet or exceed the the latest Florida building code.
Where are they popular?
Accordion shutters are popular throughout Southwest FL. You will see several existing and new homes, condos and commercial buildings sporting them from Fort Myers/Cape Coral, Sanibel/Captiva, Naples/Marco Island, and throughout the region.
How do Accordion Hurricane Shutters Compare to Other Types of Protection?
We like accordion storm shutters because they are easy to use and offer a lot of functionality at a reasonable price. But there are several storm protection options available. So how do you know if this particular shutter is right for you?
Below we compare this type of shutter to other hurricane protection options.
Vs Impact Windows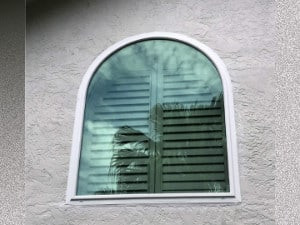 Impact windows are another popular option for protecting your home during hurricane season.
These windows are made with impact glass, also known as laminated glass. This glass has two panels of glass laminated with an interlayer in between. The interlayer is what holds the pane together, even after it has been struck.
In addition to the glass they are also constructed with impact resistant frame materials, such as aluminum and vinyl.
Below are some of the biggest similarities and differences between the two.
Differences
Window vs. shutter: the biggest difference between the two is that one is a window and the other is a shutter. Windows are installed as glazings for your home. Accordions, on the other hand, are shutters that are installed on the exterior of your home.
Preparation required before a storm: windows offer 24/7 protection without any work. Accordion shutters can be completely deployed within minutes, but they do still require you to close them.
Price: impact glass windows have a higher cost vs accordion shutters.
Similarities
Both are permanently attached to your home. While accordions do need to be closed before a storm they are still permanently attached. This means you can prepare your home quickly without installing anything, such as with storm panels.
Both offer effective storm protection: both options meet the Florida building code and both can withstand up to a category 5 storm.
Vs Storm Panel Systems
Hurricane panels are corrugated panels made from either metal, aluminum or polycarbonate. You overlap them to cover your glass windows and doors. They are attached with hurricane rated hardware, such as anchored bolts, etc.
These are the most affordable type of protection from storms. But they are also not permanently attached. This means you need to install and uninstall them for each storm, which can be quite labor and time intensive.
Below are some similarities and differences between the two.
Differences
Permanently installed vs. non-permanent: accordion hurricane shutters are permanently attached to your home. When a hurricane comes all you need to do is close and secure them. On the other hand, with a storm panel system you need to install them on your home before the storm. And then you need to uninstall them after the storm.
Convenience: similar to the difference above, there is a major difference in the time it takes to prepare your house. Accordion shutters can be as quick as 15 minutes for an entire home (depending on your home). On the other hand, the panels can take hours or even days depending on how many people are helping.
Price: as we mentioned earlier, panels are the most economic option available outside of say plywood. You will pay more for the accordion shutters, but you will also get a lot more convenience and functionality.
Similarities
Both offer effective storm protection: both options meet the building code in Florida and both can withstand up to a category 5 storm.
Vs Other Permanent Shutters
There are several other types of hurricane shutters to pick from in addition to accordion hurricane shutters. These include options such as the ones below.
Roll down hurricane screens
If you are interested in learning more about these you can read our guide on Picking the Perfect Hurricane Shutters For You: A Comprehensive Guide.
Need Help Deciding? We Can Help