Hurricane screens are a great way to add hurricane protection to your home's outdoor spaces, such as your patio, lanai and pool area. They also provide a lot of benefits, such as shade and keeping out pests, insects and moisture (rain). Overall, they are a great way to increase the usability and enjoyment of your outdoor spaces. Here is an example of our Eurex Shutters PTX™ Hurricane Screens we just installed on a home in Bonita Springs, FL. This installation turned out great!
Keep reading to learn more about this Bahama shutters installation and see pictures and a video of how it turned out.
Check out some of our other recent installations throughout Southwest Florida.
Client Needs
The homeowner was looking for an easy way to protect two large outdoor openings in the back of their home. The openings were for a large, screened in lanai. The existing, standard screen does not offer any protection against hurricane force winds or flying debris. So the owner knew they needed something to protect this space.
First, the owner wanted to protect everything in the lanai. This includes the glass openings inn the lanai leading inside their home. They also wanted a way to protect their possessions and patio furniture inside the lanai so they didn't have to bring them inside the home during a storm.
Third, the owner wanted a solution that was easy. Being able to prepare their lanai for a storm within minutes vs hours was important. So something like storm panels was not a good fit.
Last, the homeowner wanted a product that did not ruin the enjoyment of their lanai.
Curious to see what other options you have for protecting your lanai? You can read our helpful guide that details Hurricane Shutters For a Lanai: What Are My Options?
Solution
The homeowner chose Eurex Shutters PTX™ Hurricane Screens in black with ivory colored tracks and housing boxes.
These hurricane screens met all of the homeowner's requirements.
As for the looks? The ivory tracks and housing boxes matched their home nicely. And the black screens look luxurious and adds some contrast to the home's appearance. When closed the hurricane screens really do upgrade the look of the rear of the home vs the existing screened in lanai.
Installation Pictures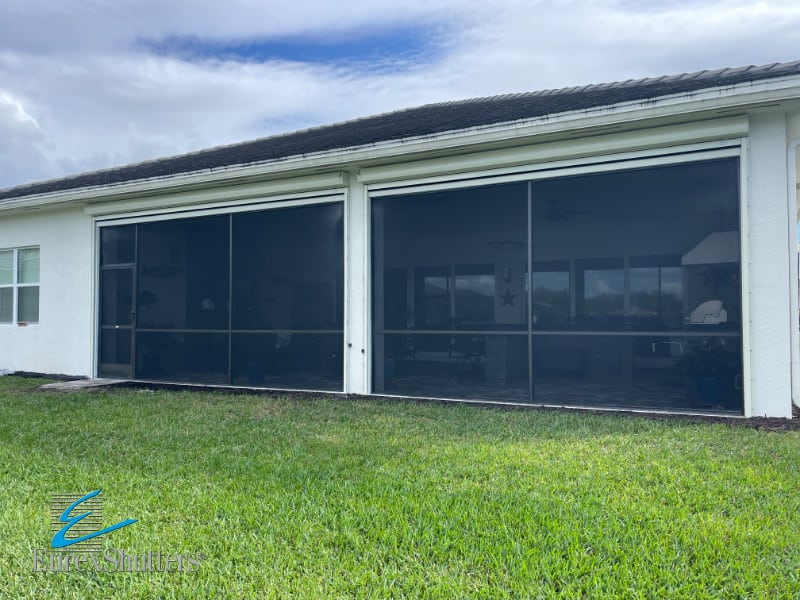 Conclusion
Overall, this was a successful installation of our Eurex Shutters PTX Hurricane Screens in Bonita Springs FL. The homeowner is satisfied, and we think they made a great choice! This is definitely another beautiful, protected home in lovely SWFL!
Are you interested in hurricane protection for your home in Southwest FL? Eurex Shutters can help. Whether you are interested in hurricane screens, hurricane shutters or impact windows we can help. Our team is available to answer your questions and help you pick the best storm protection for your need. We have been installing custom hurricane shutters in SWFL since 1986. And we would love to help you as well!