Looking to buy custom impact windows in Southwest Florida? You will notice that you have plenty of options. One of those options is whether or not you want a window grid in your new impact windows. And if you do you will need to pick a grid style. But what exactly are window grids? What is their purpose? What are the different grid styles available? And whats the answer to the big question: grids vs no grids? We answer these questions and more in this quick guide on grids.
What are window grids?
In a nutshell window grids are strips that visually divide your impact replacement windows into multiple sections. These strips can be vertical and/or horizontal depending on the grid pattern selected.
You may hear window grids referred to as muntins, dividers or inserts depending on the material they are made from and the terminology used.
Depending on the manufacturer or purpose they may be made from aluminum, vinyl PVC, wood, or metal.
What is the purpose of window grids?
In older windows the grid was used to support the window so it served a structural purpose. But this is not the case with newer windows. Today, for the most part, the grids are purely decorative in purpose. They are used as a design element to change the look of your windows. So you can use them to achieve a certain look or style depending on your preferences and/or the style of your home. You can even use them to change the look of your windows without replacing them.
Types of window grids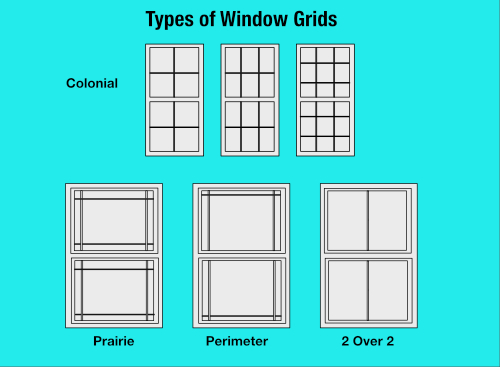 Colonial grids
As seen in the diagram above Colonial style grids split up the larger glass pane into multiple squares/rectangles, known as lites. Lites used to be separate pieces of glass, but nowadays the grids just create the illusion of separate panes.
Colonial style grids are commonly seen on older, historic homes. As such, they work well with traditional style homes, such as colonial and Cape Cod style homes.
Prairie grids
You can see in the diagram above that Prairie style grids have thin, vertical strips along each side and both the top/bottom of each glass panel. This design creates tiny corner squares and a large, exposed center lite.
This type of grid is commonly used on traditional style homes, such as prairie style or farm style homes.
Perimeter grids
Perimeter window grids are very similar to the prairie style in both looks and homes they are used on. However, as can be seen from the diagram above they have two less horizontal strips. The strips go along the perimeter of the entire window vs. the perimeter of each glass pane (sash).
2 over 2 (cross)
The 2 over 2 style uses only vertical strips. Specifically, it has one vertical strip on the top and one vertical strip on the bottom. creates two lites on the top, two lites on the bottom, and 2 lights on both the left and right side. It somewhat looks like a cross.
While we highlighted 2 over 2 grids there are many variations of these. These include 2 over 1, 3 over 1, 3 over 3, etc.
Do I need window grids on my impact windows?
No. Window grids are not required, at least not with custom windows. They are used solely to achieve a specific design for your windows. This design can help to complement the overall style of your home.
But not all homes and not all windows benefit from window grids. And not everyone likes the look of them.
Below are some things to consider in this decision.
Things to consider
Here are some things to consider when determining grids vs no grids:
Style of your home: Window grids work great on traditional homes. On the other hand, modern style homes may not be a great fit for grids
Window type: Certain window types are less of a fit for grids. For example, picture windows or large architectural windows offer unobstructed views. Adding a grid to windows like this may detract from the view and defeat the purpose of why that window type was selected.
Other windows in your home: Are you building a new home or replacing all the windows of your home? If so, you have the ability to pick whether you want grids or not and which grids you want. However, if you have existing windows in your home it is usually best to match the grids of those. Or if your home's other windows don't have grids, opt not to include grids in your new windows. Keeping the windows consistent throughout your home will create a clean, consistent appearance.
Still not sure? Get help from a impact window Pro
If you need help selecting a window grid style for your SWFL home then we can help.