If you live in Southwest Florida you understand that hurricanes and severe weather are a real problem. You also understand how important it is to protect your family and home from hurricanes. So having some form of hurricane protection for your home is a reality. Impact windows are one option to protect your home and family. At the same time they are definitely an investment. So you have to ask yourself "are impact windows worth the money?"
Read on to learn more about what impact windows are and if they are worth the money in Southwest Florida.
Intro to impact resistant windows
What are impact windows?
Impact windows have many names. Some folks call them impact resistant windows, impact resistant glass, laminated glass windows, and more.
But what are they?
Impact glass windows look the same as regular glass windows. But they built from strong, impact resistant materials.
The glass part of the window is not typical glass. It is "laminated glass". What is that? It is a sandwich made up of two panes of glass with a strong interlayer between them. The glass panes and interlayer are laminated together in a special manufacturing process.
The result is glass that is impact resistant.
What exactly does that mean? Below is an example.
How they compare to regular glass windows
Let's say there is a hurricane and the strong wind blows a tree limb into your window.
A normal window would break and your home would be completely exposed. This could result in water intrusion into your home. It could also result in wind getting in and pressurizing your home. Both can cause significant damage.
The situation is a bit different with impact glass. An impact window may fracture, but it will not explode or break through like normal glass. The glass panel will remain in tact and in place. This is possible because of the special interlayer between the two sheets of glass. It holds everything together. It also keeps objects and water from entering your home.
Impact windows have a couple key benefits. First, they offer 24/7 protection without needing to install anything before a storm. Second, they look like normal windows so they don't change the look of your home.
And replacing your windows with impact windows in Southwest Florida is straight forward. The process is the same as any other replacement windows.
You can also get custom impact windows to meet your specific design needs. This means there is an endless selection of impact windows in every size and style to fit your home.
There are also several options of impact glass. These include:
Several window styles, including single-hung, double-hung, picture, horizontal roller, awning, casement, arch, etc.
Insulated impact glass windows – these adds a third pane of glass to increase the window's insulating performance
Low-E impact glass windows – a clear film that helps to reflect heat and UV from entering your home
Impact resistant aluminum and vinyl window frames
You can also get impact doors, such as impact sliding glass doors, which have all the same benefits.
Do you need impact windows?
As we mentioned in the intro of this article hurricanes are a real threat in Southwest Florida. And yes our region may never see another Hurricane Ian in our lifetime. But it is still true that the risk of hurricanes is real.
Hurricane season in Southwest Florida happens each year without fail. This means the probability of severe weather is higher than most other areas.
So the need to prepare and protect your home and family is real.
Hurricanes bring the risk of high winds and flying debris. And this can cause lots of damage. Any glass, such as windows and doors, on your home has the potential to get damaged during a severe storm. Broken windows allow wind and water to enter your home.
Storm protection products help protect you. Products such as impact windows (and hurricane shutters) help prevent damage to your glass openings.
If you need help deciding between windows and shutters you can read our guide on:
In turn, it is our recommendation to have adequate hurricane protection on your home. This will ensure the protection of your home and family even during a severe storm.
On a side note, it is just as critical that your storm protection is installed correctly on your home. We recommend using a licensed hurricane shutter and/or window installation company with good reviews and a proven track-record of satisfied customers.
Are impact windows worth the money?
So it is evident that impact windows have a lot of value and benefits. This is especially true in Southwest Florida due to frequent severe weather.
Protecting your home is important. And protecting your family is priceless.
But the question remains, are impact windows worth the money?
After all, they are an investment. And all investments should weigh the benefits and returns agains the cost. In other words, you need to decide whether they are worth it.
There are many reasons why hurricane resistant windows are worth the cost.
Protection and peace of mind
We have mentioned the first reason several times. It's the frequency and severity of hurricanes in Southwest Florida. This reality alone makes storm protection, such as impact windows worth their cost.
Impact windows, and other storm protection products, can protect you during severe storms.
Impact windows should meet the most current FL building codes. And because of this they can withstand up to category 5 hurricanes. This fact means that they provide safety and peace of mind, even during the toughest of storms. And this alone may make them worth it.
Saving on insurance costs via wind mitigation discounts
Second, many insurance companies require storm protection, such as impact windows in Florida.
And having certain storm protection on your home may help you save on your insurance premium cost.
Why?
Florida Statute 627.0629 had the intention of insurance carriers providing savings to Florida consumers who "install or implement windstorm damage mitigation techniques, alterations, or solutions to their properties to prevent windstorm losses." Included in this are upgrades that enhance the property's "opening protection, and window, door, and skylight strength" among other things. As a result, carriers provide wind mitigation discounts if you have certain storm protection that prevent windstorm losses.
How much money does impact windows save on insurance?
The specific amount depends on your specific situation. Some of the factors that the insurance company will take into account are the construction of your home, and the specific wind mitigation products you install. It can be as much as 10% or more. Once you make improvements you will need to get a wind mitigation inspection to document the improvements. Then you would submit the inspection report to your carrier.
If you are unsure what a wind mitigation inspection is then you can read our guide on Wind Mitigation Inspection: Necessary for Your FL Home?
Increased home value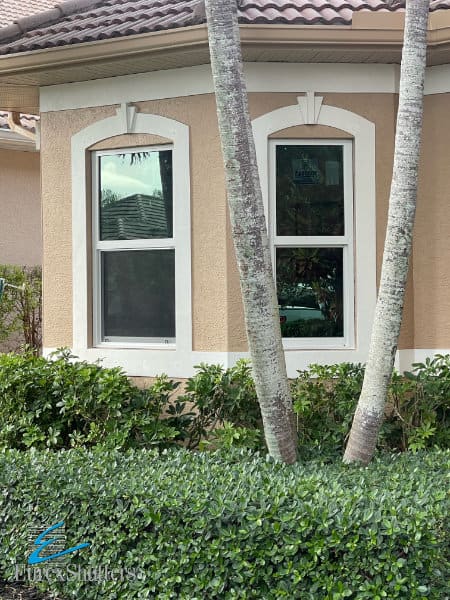 Another reason why impact windows are worth the money is their return on investment. You can think of them as an upgrade for your home. Think of them as being similar to quartz countertops or marble tiles. They help to increase the value of your home just like other upgrades.
They are a premium storm protection product. And they are something that most Southwest Florida homebuyers look for and or prefer.
To find out more about how impact windows can increase your home's value read our article Do Hurricane Impact Windows Add Value To Your Home in SWFL?
Protection without changing the look of your home
You may be thinking "storm shutters provide storm protection and cost less."
And you would be 100% correct.
But here is the thing. If you want to protect your home without changing its look then impact windows are worth their weight in gold.
Hurricane shutters do protect your home and family. But they do also change the look of your home. Some styles, such as Bahama Shutters are beautiful. Many folks prefer them as they like their appearance. But they will still change the look of your home.
So if you don't want to change the way your home looks or do not like the way shutters look impact windows are a worthy solution.
Protection without the inconvenience
Here is one more reason why impact windows may be worth the extra money vs shutters. They are the ultimate in convenience.
You need to install storm panels before a storm, which is a process.
Permanent storm shutters don't need to be installed, but they still need to be deployed. This is of course much easier than storm panels. But it still requires you to take action.
If you are not at the property you will need to find someone else to do it. This adds hassle and cost.
If you are at the property you will need to do it. This requires effort and time.
Impact windows offer 24/7 protection without the need to install anything. In fact, you do not need to even do anything. They are always ready no matter if you are home or not.
And while this may not be a big deal for some it is a big deal for others. So it is something that might make impact windows worth it to you.
Conclusion
Living in beautiful Southwest Florida means dealing with hurricanes, tropical storms and other severe weather. Hurricanes happen on a regular basis. Installing hurricane protection on your home is required to protect your home and your family from these storms. And while impact windows are an investment it can be argued they are worth the money. They provide a lot of value, such as storm protection and peace of mind, insurance discounts, and more. In turn, impact windows may very well be worth the cost to you.