The Florida sun can be brutal. And in the summer the extreme heat makes it tough to keep your Florida home cool. While a good air conditioning unit can do its job, but it will be working extra hard if your home's insulation isn't up to par. A major culprit of heat entering your home is your windows. Older windows do little in terms of insulating your home from the Florida heat (or the cold). So one of the most effective ways to improve your home's energy efficiency is by improving the insulation value of your windows. Luckily, nowadays you can buy energy efficient replacement windows that do a great job of keeping your home cooler in the summer and warmer in the winter. They will save you money on utility bills. And if you opt for energy efficient impact windows they will also keep your home and family safe from nasty Florida hurricanes. In this article we'll discuss some options for your energy efficient replacement windows.
What are energy efficient windows?
Energy efficient windows are, simply stated, windows that improve the energy efficiency of your home.
One of the biggest culprits of poor insulation (heat and cold transfer_ in your home is poorly insulated glass windows. Standard glass windows do a very poor job at insulating your home. This is because glass is not a good insulator.
Windows with poor insulation allow heat to transfer through them easily. This means a large amount of heat will come into your home from the sun in the summer. And a large amount of heat (produced by your heating system) will leave your home through your windows in the cold months.
Here's why replacement windows are important for your FL home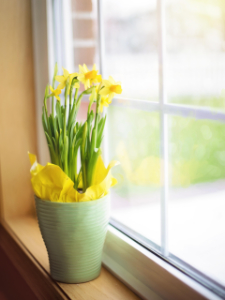 Energy efficient replacement windows are important because they are better at insulating your Florida home. This means less heat from the sun will get in during the summer. And less heat from your heating system will escape in the winter.
At it's core, energy efficient windows are important because they improve your home's energy efficiency. And a more energy efficient home saves you a lot of money on your utility bills.
Also, energy efficient replacement windows help to keep your home (and your family) more comfortable, no matter what the season.
Energy Efficient Replacement Impact Windows: Options
You will notice there are several options to pick from for your replacement windows. From frame material to number of glass panes to coatings and more. Below we break down some of the best replacement window options for improving the energy efficiency of your home in FL. Since hurricanes and severe weather are ever-present in Florida we focus specifically on energy efficient replacement impact windows.
Low E Impact Windows
Low E Impact windows significantly help improve your home's energy efficiency. These windows use a special glass that has a clear, low emissivity coating.
Emissivity is a fancy word to describe the amount of heat that transfers through a material, such as a pane of glass.
It helps to better insulate your home. The coating substantially reduces the amount of heat that enters your home in the summer and the amount of heat that leaves your home in the winter. Low E glass is able to do this by reflecting away certain wavelengths of light (thermal/heat energy) that would otherwise pass through your glass windows. In other words, it blocks much more of the sun's heat from entering into your home. At the same time it allows natural light to pass through the window.
The image below shows how this special coating does this.
You can get Low E glass in standard (non-impact) windows, standard impact windows (laminated glass windows), and insulated impact windows. We discuss insulated impact windows in more detail below.
Learn more about low-E windows: Low E Windows: A Guide For FL Homeowners
Insulated Impact Windows
Insulated glass units (IGUs) have an impact resistant, laminated glass layer plus an additional glass pane. In between the two sections of glass is a completely sealed air gap. The extra glass pane helps with improving the window's insulation. But it's really the air gap between the glass layers that seriously improves the insulation of the overall window unit.
As you can see in the image below the laminated glass and additional pane of glass have a space in between them. This space improves the overall insulation of the window unit by acting as insulation and reducing the transfer of heat.
In addition, there are some options that help increase the window's efficiency even more.
Argon (or Krypton) filled insulated impact windows
You can opt to fill the space between the panes of glass with argon for even better insulation. Argon is a non-toxic and natural gas. According to Energy.gov the gas "minimizes heat transfer between the interior and exterior of the window."
Argon is able to insulate much better than air because it is 6 times denser than air. In fact, according to the International Association of Certified Home Inspectors argon's thermal conductivity is roughly 67% of air (meaning it transfers heat much less than air). Argon is a good choice for insulated impact windows with a standard air gap.
Krypton is more expensive, but it is also a better insulator. Krypton is even denser than argon. It is typically used if the insulated glass units have thin air gaps.
Low E insulated impact windows with argon (or krypton) gas
This is the best energy efficient replacement window your money can buy. The argon (or krypton) filled, impact resistant, insulated impact glass windows are the best of the best when it comes to insulation and energy efficiency.
Choose the best energy efficient impact replacement windows for your family
Protect your home and improve your energy efficiency in Florida
Have questions or want more information? Contact us if you need impact resistant, energy efficient replacement impact windows in Fort Myers, Cape Coral, Lehigh Acres, Naples, Marco Island, Sarasota/Venice or anywhere in Southwest Florida. Our family-owned business would love to help your family!