You have probably heard that Low E Windows can help you save money on your home's energy bills in sunny Florida. And buying impact windows in Fort Myers with this type of glass can protect your home from hurricanes as well as make it more energy efficient. But what exactly are Low E Windows? Do they actually help you save money? And are they worth it? We will answer these and other questions in this homeowner's guide to this type of energy efficient impact windows.
You may also like: Pros and Cons of Vinyl Windows in Fort Myers FL
Overview of Low E Windows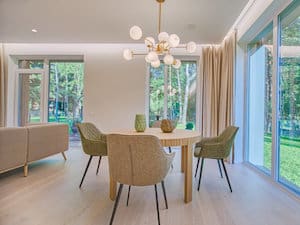 First, it is helpful to provide an overview of what low E glass windows are.
Low E windows are windows where the glass has a clear, completely unnoticeable, low emissivity coating (low e coating) applied to them. This low emissivity coating emits low levels of radiant, (heat) energy. The coating is able to do this by blocking certain wavelengths of light from passing through the pane while still allowing the passage of visible light. It does this by reflecting UV light away from the window.
This type of windows are also referred to as low e glass, low emissivity windows, and other similar names. Regardless of what name they use, they are all the same.
Uses & options
Low e glass are available as both replacement and new construction windows.
And you have options when it comes to your impact window frames as well. Choose vinyl or aluminum frame windows.
What the low e coating does
At a high level the coating actively blocks thermal energy (heat) from entering your home through your windows. It does this by reflecting the UV rats (heat energy) away from the windows vs letting it enter through the windows. At the same time, the coating does allow a good deal of natural light to enter the home through your windows. In a nut shell, the low e coating blocks UV rays (heat or thermal energy) from entering your home while still allowing visible light in.
Benefit of the low emissivity coating
Windows made with low emissivity glass helps keep the inside of your home cooler in the summer and warmer in the winter. This saves you money on your energy bills. Your AC works less to cool your home in the summer. And your heater to works less in the winter to keep your home warm.
In a nutshell, they save you money because they are more energy efficient.
Comparison: Low E Windows vs other energy efficient window types
There are other energy efficient window systems. So it is helpful to understand how windows with low E coating compare to them. Below we compare them to two other popular energy efficient windows systems used in Florida.
Low e glass vs tinted glass
Tinted glass is a dark, blackish colored film that is applied to your windows. The tint film blocks out heat by absorbing it vs separating light and reflecting UV rays. On the other hand, windows with a low-e coating reflect, vs absorb, heat energy. Low E Windows also allow a larger amount of sunlight through the window.
Tinted glass is dark. Generally the darker the film the better the heat blocking performance. This will reduce the visible appearance through the glass and also reduce natural sunlight inside your home.
Low emissivity coatings are completely clear. They also separate light so they do allow natural sunlight inside your home. So you will be able to improve your energy efficiency without sacrificing as much visibility through the windows vs tinted windows.
Low-E windows vs insulated glass windows
Insulated glass windows, also known as insulated glass units (IGUs), are another energy efficient window option. Insulated glass window units have an additional layer of glass with a space in between them. The space can be left filled with air or filled with argon gas for added insulation. If you really want to boost the energy efficiency of your insulated glass you can add on a low e coating, creating a very high energy efficient window unit.
But it is hard to compare these two as it is a bit like comparing apples and oranges. Insulated glass describes the number of panes of glass in the overall window. Whereas, the other describes a coating applied to the glass pane.
You can include low e glass on either type of impact windows:
Standard impact glass
Insulated impact glass (double pane or two panes of glass with a gap, with one pane being laminated glass)
Insulated (double pane) impact glass windows are more energy efficient than standard impact glass windows. And adding low-e glass to either option helps either one become more energy efficient.
Benefits of low-E glass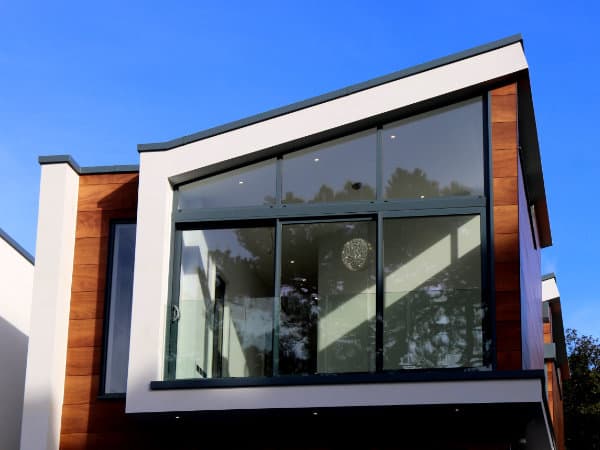 You are probably asking yourself what the benefits of this type of window are? Below we list some of the main benefits and provide some detail about each.
Improves your home's energy efficiency and comfort of your home – Low-E glass reduces the amount of heat that is transferred from the sun through your window. This keeps your home cooler and reduces the workload of your AC. In turn, you save money on your energy bills in hot weather. On the flip side, low-E prevents warm air from leaving your home in the winter. This keeps your home warmer and reduces the workload of your heater system. In turn you also save money on your energy bills in the cold weather.
Blocks UV rays from entering your home – low-E glass blocks out harmful UV rays from entering through the glass. Some windows with this coating can block up to 100% of UV rays. This prevents harmful UV rays from reaching your family. It also prevents UV sun damage to your furniture, curtains, photos, etc.
Doesn't reduce visibility or natural sunlight in our home – the inside of your home won't be dark like tinted windows, and your visibility through the windows won't be affected. It is a clear, completely unnoticeable coating that allows natural sunlight to shine through.
Reduced glare from the sun and other lights – can't stand that pesky sun glare getting in your eyes or on your tv screen? Well, Low-E glass helps reduce sun glare inside your home.
Disadvantages of low-E glass
Cost – low-E windows do have a lot of benefits, but they also have a higher cost vs standard glass windows. You will have a higher up front cost to gain energy efficiency, comfort and other benefits over time.
Conclusion: Low E Glass
Low E windows are windows that have a clear, low emissivity coating applied to the glass. This coating blocks out heat/UV from the sun while allowing natural sunlight to pass through. They are available for replacement and new construction applications. They are also available on vinyl and aluminum windows. Low E windows have many benefits. These include increased energy efficiency, better insulation, reduced sun glare, and reduction of harmful UV rays.
If you would like to get a free estimate on low e impact windows for your Southwest Florida home then we would love to help. Eurex Shutters has been installing impact windows throughout SW Florida for 35+ years.