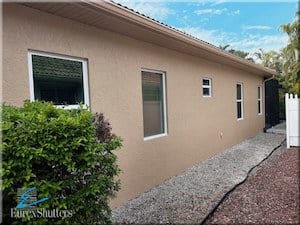 More and more homes in Southwest Florida are being built and retrofit with impact resistant windows. Over the years impact windows have advanced. That advancement has included the types of impact windows and available options for those windows. Today you really can get any type of window as an impact window. So in this guide we dive into some of the many types of impact windows available.
Make sure to also check out our guide on Glass Types For Impact Windows so you can build the perfect window for your needs.
Table of contents (what we talk about in this article):
Types of Impact Windows
All of the window types below are available as impact resistant windows that are able to withstand up to a category 5 hurricane. Depending on the manufacturer and type some are also approved for HVHZ use.
Single Hung Windows
Single-hung windows are a traditional type of window. They have a single sash that opens, which is where the name "single-hung" comes from. The lower sash opens and closes (moves up and down) while the upper sash is fixed in place.
This style of impact window is common due to the fact that it is an economical option.
Why use single hung-windows? Well, first of all they are economical vs other types of windows. Second, they generally have better thermal performance vs double hung and other types of windows. This is because the top sash is permanently fixed, which reduces air leaks in the window. Last, they have less movement, which means there are less parts and components that could break.
Find out more about single hung impact windows.
Double Hung Windows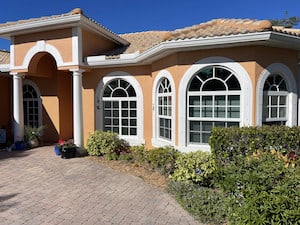 Double hung impact windows look the same as single hung windows. But the biggest difference vs single-hung windows is that both the bottom and top sashes of a double hung window open and close. In other words, both the top and bottom sash slide up and down as well as tilt outward. This feature is useful as it makes it easier to clean the windows.
Double hung windows are a commonly sold type of impact window because of its functionality and common use.
Having two sashes that open allows you to get ventilation from both. As mentioned above, it also makes it easier to clean your impact windows.
Learn more about double hung impact windows.
Casement Windows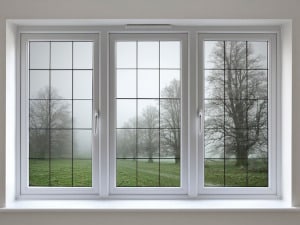 Casement impact windows are not as common as single and double hung windows. However, they are still used in many homes because of their benefits and great looks. Unlike single and double hung windows whose sash(es) slide up and down casement impact windows open inward or outward. The windows are attached to the frame with hinges and swing in or out depending on the design of the window.
The lack of a horizontal bar through the windows creates a larger glass opening, which is excellent for letting light in to your home and providing a less obstructed view outside.
Casement windows are available as impact windows. And they are also available for use in HVHZ applications.
Discover impact casement windows.
Impact Picture Windows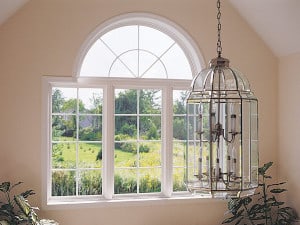 You may also hear impact picture windows referred to as "fixed windows" or "architectural windows". They consist of impact resistant frames and large, fixed panes of impact glass. This type of impact window does not open. So while they do not offer ventilation they are spectacular for architectural design as well as amazing views. They are commonly used as design statement pieces for the exterior of a home. They are also used to offer large, unobstructed views to the home or building's inhabitants.
Picture windows are available as Florida Product Approved, impact windows.
Discover if impact picture windows are right for you with our guide titled Picture Windows in Florida.
Sliding (Horizontal Roller) Windows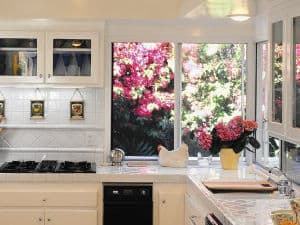 Sliding impact windows are also called horizontal roller impact windows. This type of window has tracks that allow them to slide horizontally vs up and down like a single or double hung window. Their movement is similar to that of a sliding glass door.
They are ideal for locations where the window is not easily accessible, such as behind kitchen counters. Regardless of where you place them they are a great window for ease of use as well as for letting light and fresh air into your space.
Horizontal roller windows are available as impact windows. They are also available for use in HVHZ applications.
Learn more about impact horizontal roller windows.
Awning Impact Windows
Awning impact windows have hinges at the top of the window frame and open outward. This provides ventilation and helps rain water run off the window away from the home due to the angle that the window opens (outward and away from the home). This of course helps prevent water intrusion if the window is left open during a rain storm.
This style of window is a popular choice for retrofit projects, especially for those who live in a coastal or HVHZ designated area. They offer extreme storm protection, curb appeal, energy efficiency and air/water barrier performance.
Awning windows are available as impact windows. They are also available for use in HVHZ applications, which makes them a great fit for coastal homes in HVHZ designated areas.
Interested? Read more about impact awning windows.
Arch (Half Circle) Windows
Impact arch windows are referred to by several names, including arched windows, radius windows, half circle windows, half round windows, etc. These stylish windows are typically used as an architectural design element to add flare above a window, such as a picture window, or a door. They are generally fixed and used for decorative purposes or to add additional natural light into a home.
These windows are usually custom made to fit the specific application. And they may be used individually, or combined together to form a larger shape.
Arched windows are available as impact windows.
You can see some more example of arched (half circle) windows below.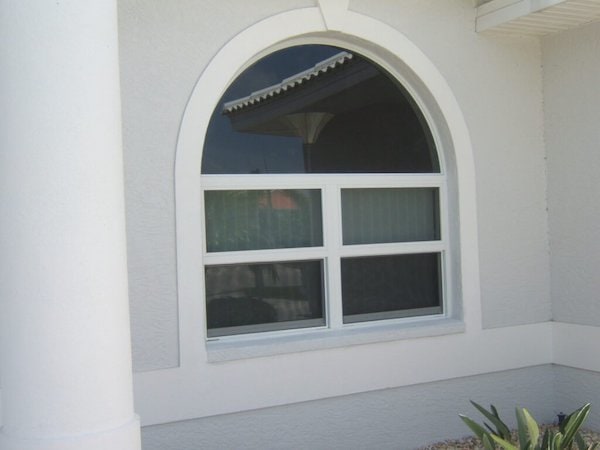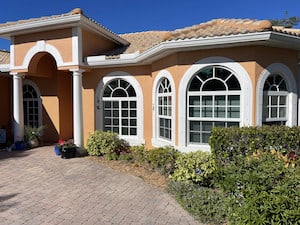 INTERESTED IN ONE OR MORE TYPES OF IMPACT WINDOWS FOR YOUR FL HOME?
Our company Eurex Shutters, has been installing high quality, impact windows and doors since 1986. We proudly install quality impact windows at fair prices in Fort Myers/Fort Myers Beach, Cape Coral, Naples/Marco Island, Sarasota/Venice, Tampa/Clearwater, and throughout the rest of Southwest Florida.
Contact us to get started.
GIVE US A CALL AT (239) 369-8600 OR SEND US A MESSAGE FOR YOUR FREE IN-HOME ESTIMATE.