Buying replacement windows for your Fort Myers FL home? Picking a window frame material is an important decision when choosing replacement windows. The quality of the frame will, to a large degree, determine the quality of the window. Vinyl windows are a popular choice for replacement windows, especially impact windows in Fort Myers. They are affordable, durable and easy to maintain. As such, they are commonly used. And although they have many benefits, they also have some things to consider. So are vinyl windows the right choice for you? In this article we discuss the pros and cons of Vinyl Windows. Our goal is to help you decide if they are the right choice for you.
Vinyl windows 101: what are vinyl windows?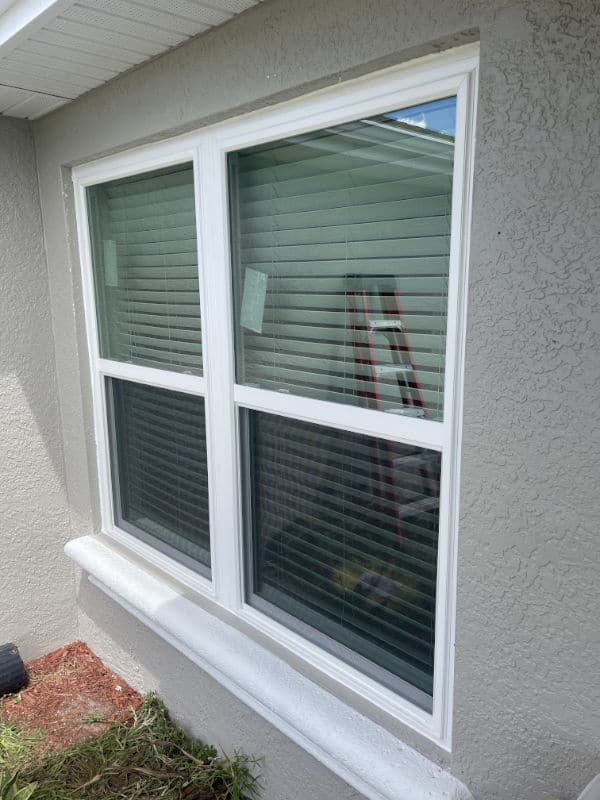 Vinyl windows are a type of window commonly used as replacement windows. But don't get confused, the windows are not made entirely out of PVC. The windows themselves are made from glass. They get their name because they are made with vinyl (PVC) frames (vs wood, aluminum, etc.). Or in other words, they are vinyl framed windows.
What is a window frame?
In simple terms, the frame is the part of a window that surrounds and holds the glass in place.
What is vinyl?
Vinyl is a type of polymer. The technical name for vinyl is Polyvinyl Chloride or PVC. PVC is widely used for many applications within building and construction (windows, siding, flooring, etc.), consumer products, vehicles, etc.
Vinyl are commonly used for many types of replacement windows, including impact windows and non-impact (standard) glass windows. So no matter where you live you will most likely come across vinyl windows when shopping for replacement windows.
Why is vinyl commonly used to make window frames?
Vinyl is used so frequently for a couple key reasons.
First, vinyl is affordable. This means windows can be produced affordably for manufacturers and sold to consumers at affordable prices.
Second, the material has great insulation properties by nature. This is a great attribute for energy efficient windows. And this is true regardless if its for the hot sun of Florida or the cold winters up north.
Lastly, vinyl is easy to craft and customize. This means it can be turned into nearly any shape and size window a person wants.
All of these attributes help explain why PVC is a good material to construct window frames.
Below we discuss the pros and cons of vinyl windows.
Vinyl Pros: Benefits of Vinyl Windows
Are vinyl windows worth it? You can decide for yourself by better understanding the pros and cons of vinyl windows.
Windows made out of vinyl (PVC) have many pros. These include:
Affordable & high value
When it comes to affordability vinyl windows are more affordable than other types of replacement window, such as fiberglass, wood and aluminum. But they aren't affordable because they are cheap in terms of strength or benefits. In fact, they offer a lot of value for an affordable price.
Energy efficient
Another benefit of vinyl, and one of the main reasons why it is used to produce windows, is that it is very energy efficient. For instance, most of the vinyl impact windows we install are ENERGY STAR rated. In turn, windows made with vinyl are great for insulation. The benefit is that they can help reduce your energy bills. You can boost the window's energy efficiency with low-e glass or opting for multi-pane windows.
Great for design options and customization
Vinyl windows are available in a wide variety of shapes, sizes and styles. They can be customized via the manufacturing process.
In addition, vinyl windows are also available in a wide range of colors. You can get colored vinyl windows as well as white vinyl windows.
Lastly, you can buy them with a wood finish look so they resemble the look of wood windows.
You really can create a custom window if you want. Or if possible you can pick from standard window options to cut some costs.
Suitable as impact windows
Vinyl is commonly used to make impact windows for homes in areas like Fort Myers. In fact, impact windows made with PVC vinyl frames are able to withstand category 5 hurricanes. Specific styles even meet stringent HVHZ requirements.
Not prone to attack by Wood Destroying Insects
In Florida termites and other Wood Destroying Insects (WDI) can cause issues. Vinyl windows eliminate the problems of WDI attacks as they are not wood.
Don't deform or warp over time
One problem with windows is that they deform over time. When this happens the windows break down and become hard to use. Unlike wood windows good quality vinyl windows won't crack, bend, warp, fade or peel over time.
Low maintenance
While you do have to clean them they are otherwise pretty low maintenance. There is no need to paint them as the color is in the PVC material itself. And because they don't rust, peel or warp, there is no regular maintenance or restoration needed.
Cons of Vinyl Windows (things to consider)
While vinyl windows do have many benefits they also have some things to consider. These include:
Appearance
High quality vinyl windows can be made with a wood grain look to make them resemble wood windows. However, they still are not actual wood. So if you have your heart set on a natural wood look window than these might not be a good fit.
Varying product quality and quality of appearance
Also, the appearance of vinyl windows will vary greatly. This fact is true from one manufacturer to another and from one product to another, even within the same manufacturer's line. While getting a good deal on windows is important it should be considered that buying "cheap" vinyl windows will result in getting "cheap" quality windows. And this poor quality product will result in both poor functionality and poor appearance.
Color Limitations
Vinyl windows can be highly customized from the factory if you have the budget. And even though they are available in a range of colors the available options for color of your windows are limited.
This creates somewhat of a design constraint. For instance, with wood windows, fiberglass windows, or even powder coating aluminum windows, you would be able to paint them any color to create the perfect window color for your design. But you can't paint vinyl windows.
This is a PRO for most homeowners (that you don't have to paint them). But it does create a drawback for some others. So take this into consideration if you ever did want to paint your windows to achieve an exterior (or interior) design, such as an accent color.
Are Vinyl Windows The Right Choice For Your Home?
Vinyl windows are commonly used as replacement windows and impact windows in Fort Myers FL. This makes sense due to their suitability as impact windows, their affordability and all of their other benefits. However, just because vinyl windows are popular in Southwest Florida that doesn't mean they are the best options for your family or home.
You should consider the pros and cons of vinyl windows to determine if they are right for you. It is also important to pick a good quality brand of window instead of just the lowest cost. As we mentioned above, buying cheap quality windows will provide you with a cheap quality window. This mean a lower life expectancy, lower durability, and lower quality appearance.
It is also important to select a trusted, high quality impact window installer. This will ensure you get high quality windows for a fair price and that your windows are installed properly.
You can call us at (239) 369-8600 or send us a message to schedule a free estimate.