If you live in an area where hurricanes are common then you know the importance of hurricane protection. It is critical to protect your family and home from the intense winds, flying debris, and other elements during a hurricane. There are many options when it comes to hurricane protection products. But one of the best just may be roll shutters. In this in-depth guide we cover what these shutters are and everything you need to know when considering them for home protection.
Table of Contents
What are Roll Shutters?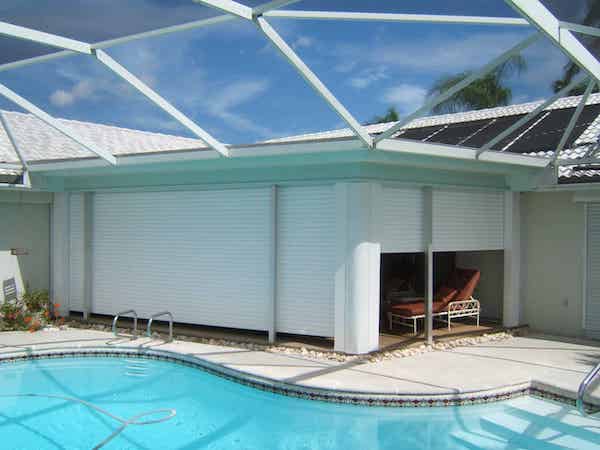 Roll shutters are known by many names. You may hear them referred to as roll-down shutters, rolling shutters, roller shutters, and more.
These protective shutters are permanently installed over your windows, doors, and other openings. They provide hurricane protection against intense winds, flying debris, and other elements during a hurricane. They also provide security and privacy.
Each shutter is made up of individual slats that roll up and down along tracks on the sides of the opening. As the shutters are opened the slats roll up and into a "housing box". This housing box is installed above the opening. You can see each of these components in the image below.
Roll shutters can be operated either manually or electronically. Automatic shutters are motor-driven, typically by an electric or solar powered motor. They are typically controlled with a switch or remote system. Our roll down hurricane shutters even have the option to be controlled by a mobile app.
Benefits of Roll Shutters For Florida Homeowners
We have been installing rolling shutters along with other hurricane shutters in Southwest Florida since 1986. From our experience and the feedback of our customers we feel that roll shutters are one of the best hurricane shutters your money can buy. One reason for this is the many benefits they offer.
Below we list some of the greatest benefits of these shutters for Florida homeowners (and business owners).
PRO: Hurricane protection. 
There is a reason why these shutters are commonly referred to as the ultimate in storm protection. Roll shutters create an impenetrable barrier between your home's vulnerable openings, such as glass windows, and the intense wind, flying debris, and elements during a hurricane. They are hurricane-rated and meet the current Florida Building Code. They are also available for use in high velocity hurricane zone (HVHZ) areas as well as for non-HVHZ use.
PRO: Security protection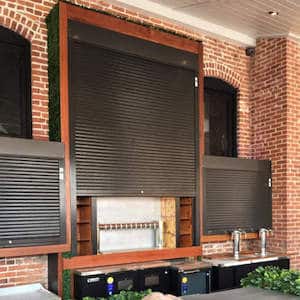 In addition to hurricane protection these shutters are highly effective as security shutters for commercial and residential properties. Once they are closed, they can be locked in place (or are automatically locked for electric operated versions). This creates a secure barrier on the exterior of your doors and windows.
They can be used for security on unattended homes and businesses.
Their use for security protection means they provide two important functions from one single product. Many of our customers remark that they use their roll shutters as much for security reasons as they do for hurricane protection. So when considering their dual purpose you can see that they offer a lot of value.
PRO: Fast and easy to use
You can deploy your roll down hurricane shutters without much effort in minutes, not hours. If you have automatic shutters you can protect your entire house in seconds. The speed in which you can protect your house with roll shutters is priceless. This is especially true when you compare roll up shutters with options like storm panels (even those with tracks and rails) or plywood, which take hours and quite a lot of effort. So you can ensure your home is fully protected fast. And if you need to evacuate you can ensure your house is protected before you leave, even if it is with short notice.
PRO: Clean design and styling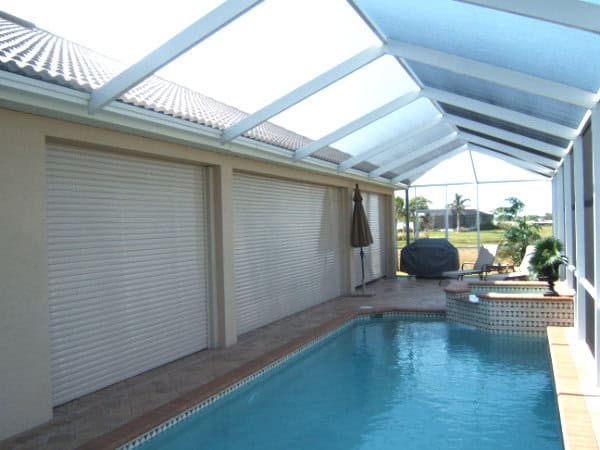 This type of shutter has a clean and sleek design. When open the appearance of the shutter is minimal. And when closed, the shutters have a clean, sleek look that is easy on the eyes.
So if you are looking for a highly effective hurricane shutter option that won't detract or change the appearance of your home these are a great option.
PRO: Lots of functions, benefits and features.
There is usually a relationship between price and benefits/features when it comes to products. These shutters are no exception. Their price tag is on the higher side. But they offer a ton of functionality and benefits outside of just storm protection for your home.
Some other functions/benefits of roll shutters include:
security
privacy
shade
noise reduction
insulation
Explore all the uses for roll down shutters in Florida.
Roll Shutter Product Options
One of the nice things about roll shutters is that you can customize them to meet your needs and preferences. Below are some of the many options you can pick from when creating your perfect roll shutters.
Material (slats)
The frames and housing boxes of the shutters are constructed of aluminum. But you do have some options when it comes to the slats of the shutters. The two main choices include:
Aluminum: aluminum is impact resistant, durable and lightweight. Aluminum roll shutters of course provide exceptional protection from intense winds and wind-borne debris. And you have the ability to pick from a variety of colors to complement your home's exterior. Our company, for instance offers the shutters in a range of standard colors that match most home designs. If you really want to be unique you can opt for a custom, power-coated color.
Polycarbonate: Another option is to go with clear, polycarbonate slats. Polycarbonate is a extremely high-strength, impact resistant material that is clear (transparent). The big benefit of this is that you get natural light into your home even when they are closed. This of course means no more pitch dark home when your shutters are deployed. In a nutshell, polycarbonate roll shutters offer light and visibility while protecting your doors and windows.
Manual or motorized roll shutters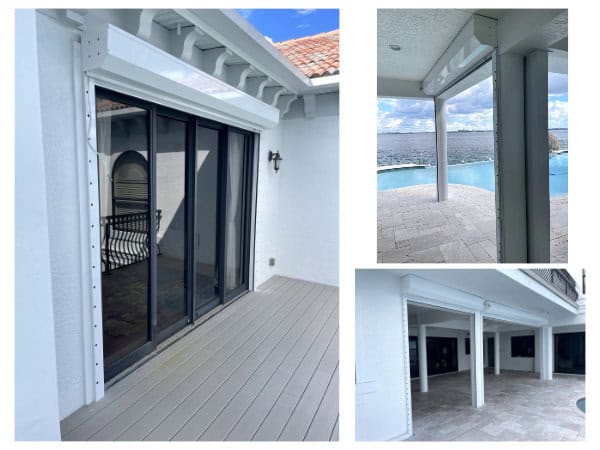 Another decision you will need to make is whether you want manual or automatic roll shutters.
Manual shutters have a lower cost, but they do require you to manually open and close each shutter. This would be done with a manual crank, strap, or similar manual method.
Automatic shutters are driven by electric or solar engines. These have a higher price tag, but they are much more convenient. They open and close using a switch, remote, or mobile app.
Roll shutter aesthetic options
Aesthetics may or may not be important to you. And roll shutters may not have the same "decorative" label as hurricane shutters, such as Bahama shutters. Regardless, roll shutters do offer aesthetic options. This gives you the ability to design your shutters to match or even improve your home's design.
Some of the aesthetic options include:
Colors: these shutters come in range of standard colors that match most home designs. If you really want to be unique you can opt for a custom, power-coated color. Designing custom shutters is one sure way to make your home unique.
Hidden installation: Another option that might be possible for your home is Hidden Roll Downs. This allows you to install your tracks and housing boxes in a way that conceals their appearance from the outside of your home.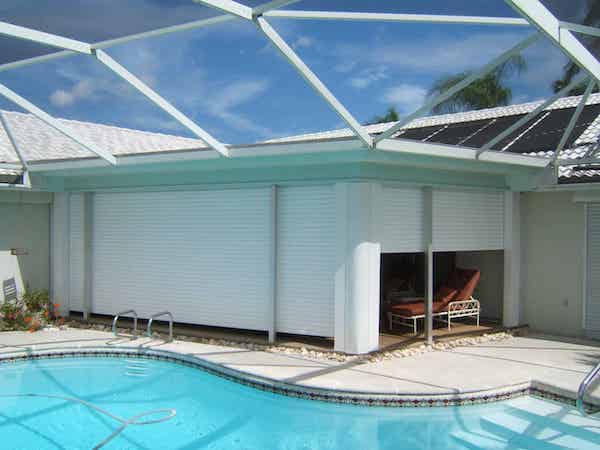 Roll Shutter Considerations
There are a few things you must consider when buying roll shutters for your home. We discuss a few of these important considerations in more detail below.
Ensure the correct impact rating
It is important to select roll shutters that are hurricane-rated in the state of Florida (or in the state you live). Additionally, it is important to ensure the shutters meet the specific requirements for your area. For instance:
At a minimum, choose shutters that meet or exceed the current Florida Building Code requirements.
In addition, you will need to be aware if your home is located in a high-velocity hurricane zone (HVHZ). If it is you will need to buy HVHZ approved shutters that meet those specific requirements. Ratings, such as HVHZ-approved or Missile Level D, indicate the shutter's ability to withstand high-speed projectiles and the strongest hurricane.
In addition, you may live in a specific area that requires Miami-Dade Approved products. If so, you will need to meet this requirement.
Professional Installation: Why it Pays to Hire a Professional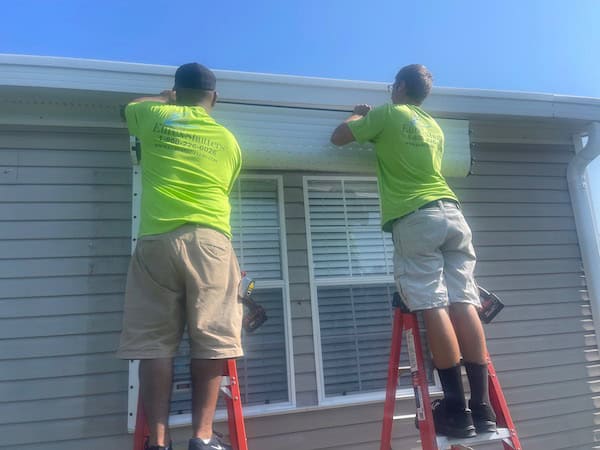 You may be tempted to try to install your shutters by yourself. However, there are many reasons why it is a good idea to pay for professions roller shutter installation. Here are some things to consider
Proper installation is just as important as the shutters themselves. A quality installation will ensure that your roll shutters work correctly for years to come. Qualified, professional installers will that your shutters are securely mounted and function correctly, providing optimal protection during hurricanes. Professionals will also be able to ensure accurate measurements when ordering your shutters. This will reduce fitment issues and headaches trying to exchange or return parts.
Also, in most municipalities, a license is required to obtain a permit to install hurricane shutters. This is done for your protection to ensure your shutters are installed correctly and function correctly. If you are a licensed contractor you may be able to install your shutters and obtain proper permits. However, if you are not, this may not be possible. So it is important to check on this before trying to install your shutters.
Regular Maintenance Ensures Long-Lasting Protection
Another thing that is important to know before installing roll shutters is that they do require maintenance to ensure long-lasting performance. This is true for anything with moving parts. It is similar for garage doors, appliances, even doors and windows (among other products).
There is nothing over the top when it comes to maintaining these shutters. It is about caring for and partaking in regular maintenance to ensure they function correctly and last for a very long time. Inspect your shutters periodically for any signs of damage or wear, and have them cleaned and lubricated to ensure they remain in proper working condition.
When it comes to maintaining them you can hire a company that offers hurricane shutter services or you can maintain them yourself.
CONCLUSION
Roll shutters are permanently installed, hurricane shutters that protect your home's windows, doors, and other openings. They are very effective for both hurricane and security protection and provide shade, privacy, noise reduction and more. They are also extremely easy to use regardless of if you choose the manual or electric version.
Our company has been installing rolling shutters in Southwest Florida since 1986. Give us a try if you want high quality shutters, impeccable installations and great service, all at fair prices.
Or call (239) 369-8600 for immediate service.