If you live in Florida, it is important to understand what wind zone you are in. It is especially important if you own or are buying a mobile home or manufactured home. But it is good info even if you have a site-built property (especially an older one). Keep reading because we will discuss what wind zones are and how to find your zone. We also provide information of where to find out your manufactured home's wind zone rating.
Table of contents (click to jump to a section of the article):
What Are Wind Zones in Florida?
Wind zones are a system put in place by the US Department of Housing and Urban Development (HUD) in 1976. They introduced the term Wind Zone II to replace the previous "hurricane resistant" terminology. And in 1994 HUD added Wind Zone III after the devastation of Hurricane Andrew. There is also a zone rating called Exposure D, which is for manufactured homes located within 1,500 feet of the coast line.
The zones determine the severity of wind loads that an area may potentially face (during a hurricane). Each manufactured home must be designed to withstand the wind loads of where it is located.
The intention of the wind zone map and corresponding design requirements is to ensure that mobile homes are built to withstand the wind load of where the home is located. This is especially important for mobile and manufactured homes as they are susceptible to damage during a bad hurricane.
With that being said, the wind speed any home may face depends on the wind speed of a specific hurricane. The potential wind speed of a given hurricane will depend on what category of hurricane it is. If you want to learn more about hurricane wind speeds you can reference our articles on hurricane categories.
What do the different wind zones mean?
Different wind zones have different design requirements as well as how the unit is anchored.
As an example, if you live in Wind Zone III your mobile / manufactured home must be designed to the requirements of Wind Zone III.
According to the Manufactured Housing Institute: "Each manufactured home must be designed according to the federal Manufactured Home Construction and Safety Standards at 24 CFR 3280, commonly called the HUD code." This code outlines that each manufactured home must be built specifically for one of the three wind zones. And a manufactured home must meet the wind zone requirements for which zone it will be located in.
If you are interested in learning more you can visit the HUD's page on manufactured home construction and safety standards.
How to Find Your Florida Wind Zone?
You can find the wind zones on a current Florida wind zone map.
When looking for your wind zone there are a few things to keep in mind:
Make sure to look at a current map as these zones can change over time
Note that the map provides an idea of the Florida wind zones and is accurate to the county level. You should note that municipalities have the ability to establish wind zone lines so it is best to check with your local government to confirm the wind zone for your specific address.
Below you can see a screen shot of the wind speed and wind-borne debris regions available on the Florida Department of Financial Services website. You can see the different wind speeds that each county in Florida fall in. And you can also see the wind-borne debris region shaded in grey.
You can view the full map on Florida Department of Financial Services website: Wind-borne debris map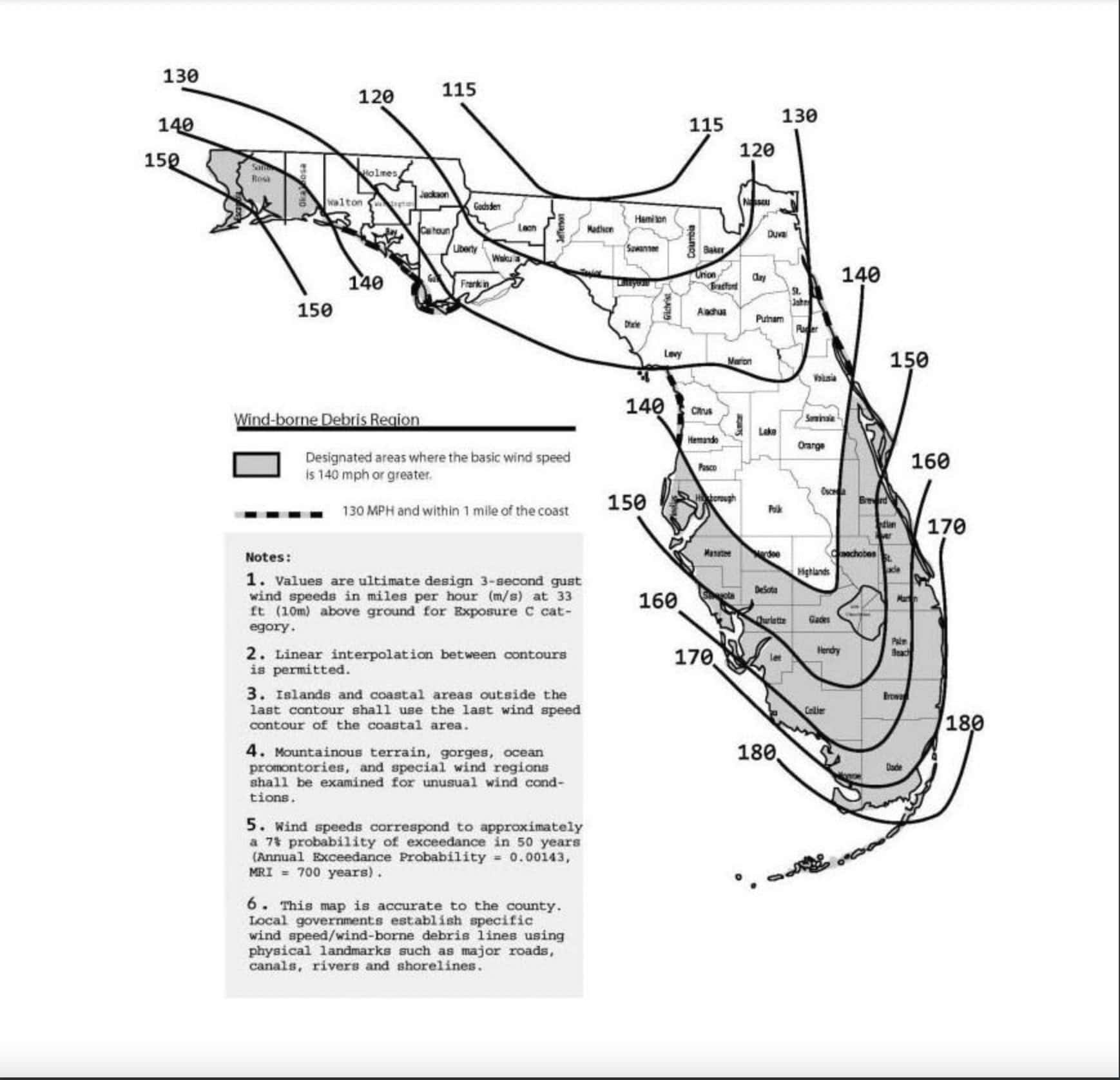 How do you determine a manufactured home's wind zone rating?
If you own a manufactured home it should be straight-forward. You should be able to get this info right from the property itself.
According to the HUD, every manufactured home that was built after July 13, 1994 and is located in an Exposure D zone, Wind Zone II, or III should have a two sources of information attached to the home itself. These include the HUD tag and the data plate.
The Manufactured Housing HUD Labels or "HUD Tag" is permanently attached to the outside of each manufactured home (built after July 13, 1994). It verifies that the home was inspected to ensure it was constructed to meet the requirements of the Federal Manufactured Home Construction and Safety Standards.
And second, is a manufacturer supplied data plate (click the link for an example), which is attached to the inside of your manufactured home. This data plate will disclose which wind zone the manufactured home was constructed for.
This information should be reviewed and understood whether you currently own or are buying a manufactured home.
You can better protect your manufactured or mobile home
In summary, manufactured and mobile homes must meet the design requirements of a specific wind zone. But like any type of property manufactured homes have vulnerable exterior openings that are susceptible to breaking during a hurricane. Once broken the property is at risk for more severe damage, such as the interior of the home becoming pressurized, water intrusion, and more. You can better protect your home by installing window and door protection, such as impact windows (if available) and/or hurricane shutters for your mobile home. There are a variety of hurricane shutters for mobile homes to meet every budget.
If you need help installing or repairing hurricane protection on your mobile home in the Gulf Coast of Florida we can help. Give the Eurex Shutters team a call at (239) 369-8600 or fill out our quick form below to request a free estimate.