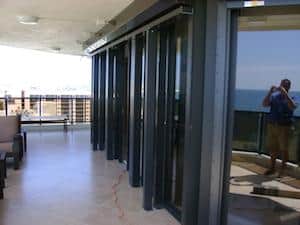 Living in Southwest Florida means you will have to deal with tropical storms, hurricanes and other crazy weather. It also means you really should have some form of hurricane protection for your home in order to protect your windows, doors, lanais and even your interior.
Hurricane shutters are a great way to protect your home. And because there are so many types of storm shutters there is a shutter option for every home and budget. However, most homeowners in Southwest Florida still have many questions about hurricane shutters. These questions are around the installation, operation and maintenance of hurricane shutters and throughout Southwest Florida. So in this article we provide 8 critical things you need to know about hurricane shutters.
Looking for hurricane shutter pricing? Check out our Guide on Hurricane Shutter Cost.
1. What hurricane shutters are
Hurricane shutters are impact resistant shutters. They are sometimes called storm shutters, impact shutters, etc. People also refer to them by their specific type, such as accordion shutters, roll down shutters, Bahama shutters, etc.
Storm shutters are engineered and built to be impact resistant and hurricane rated. All hurricane rated shutters are tested to withstand up to a category 5 hurricane. Their main function is to protect the vulnerable parts of your home or business from flying objects and other dangers. They protect your windows, doors, lanais and more.
There are several different styles of hurricane shutters. We discuss the different types in the next section.
2. There are many types of hurricane shutters
Many people think of corrugated aluminum storm panels when they think of hurricane shutters. This makes sense because there are so many homes in Southwest Florida and the surrounding areas that have these panels installed. But there are so many more types of hurricane shutters than just standard hurricane panels.
Types of hurricane shutters include:
See all of our hurricane shutter options.
3. The best type of hurricane shutters depends on your needs
Simply put, the best type of hurricane shutter will depend on you. Your preferences for style and features, as well as your budget will determine the best type of hurricane shutters to install.
Check out our recommendations for the best type of hurricane shutters for different situations and budgets.
4. How do hurricane shutters work?
Hurricane shutters protect the vulnerable spots of your home or business. You can use them as hurricane window protection, as well as for protection for your doors, lanais, and more. Because they are impact resistant they will block flying objects and debris from hitting and damaging your home's openings. This will prevent damage to glass, doors, screens, etc. It will also prevent water intrusion into your home.
5. When do you need to use hurricane shutters?
Always trust the experts when determining when to put up storm shutters.
The National Hurricane Center (NHC) is the go to source. The NHC recommends that you put hurricane shutters up when a hurricane or tropical watch is issued for your area. A watch is typically issued 48 hours before.
This is especially important if you have panels. Panels can take 2-3 days and some physical energy to install. Plan to give yourself adequate time. If you have never installed your hurricane panels before you can see our step-by-step instructions for installing panels.
6. Plywood is not an acceptable long-term solution for storm protection
Some folks use plywood to board up their windows and doors vs. installing proper hurricane shutters. Using plywood is really only acceptable if you have no other option and need some form of protection in a hurry. Plywood, however, should not be an acceptable long-term solution.
Your plywood has not been tested to withstand hurricane force winds and the impact of flying objects and debris. This is especially true if your plywood is old, soft, rotted, worn, or damaged.
Further, drilling holes into plywood for nails or bolts creates further cracks and damage. This weakens the plywood even more. Wood sheets may also loosen or even break away from the fasteners in high wind situations. This would obviously leave your glass and home vulnerable.
Storm shutters are designed and built to withstand up to a category 5 hurricane. You can choose aluminum hurricane shutters for a strong, lightweight option. You can also choose steel or clear hurricane shutters, which are made from an extremely tough plastic. Even the shutters' materials and fasteners are tested to ensure they are hurricane resistant.
In simple terms, this means hurricane shutters will withstand whatever a hurricane throws at them. You, your family and your property will stay safe and protected.
7. Shutters require regular cleaning and maintenance
Many people with storm shutters do not know that they require regular cleaning and maintenance. Hurricane shutters need to be cleaned, inspected, maintained and repaired on a regular basis. This will ensure they work properly.
It is recommended you operate your shutters every 3-6 months. This is regardless of if there is a storm of not. Look for issues with them, such as resistance, cracks, motors not working correctly, etc. Any and all problems should be addressed right away. If they aren't it might mean you cannot use them properly for a storm.
Cleaning your shutters is fairly easy. Use a mild soap and warm water. Clean your shutters in the open position with this mixture and a soft brush or even a cloth if they are not very dirty. Rinse them off and let them dry while still in the open position. This step prevents water or soap from getting trapped in the tracks and crevices.
8. A licensed professional should install your shutters on your home
A licensed professional should do the initial install of your impact shutters on your home in Southwest Florida. The installation of impact shutters requires a permit. Hurricane shutters need to be installed correctly to prevent damage to your home and other structures if they are not installed correctly and to code.
Using a professional to install your shutters is critical to ensure they are installed correctly. This reduces the chances of your shutters being ripped off, damaged or worse during a bad storm.
By ordering your shutters from a local manufacturer you will ensure your shutters are initially installed correctly. Buying them from a big box store means you may be left to either install them yourself or use a third-party contractor.
If you are looking for hurricane shutters in Southwest Florida then we would love to help. Eurex Shutters measures and custom builds all of its storm shutters locally at its facility in Lehigh Acres, FL. Our shutters meet and exceed the current Florida building code. They also carry a 20-year warranty. Call us at 239-369-8600 today or fill out the quick form below to schedule your in-home consultation and estimate.