Our aluminum hurricane shutters provide your family and home with strong hurricane protection and great looks. We offer many styles of aluminum shutters to our customers in the Gulf Coast (Southwest) of Florida. All of them have Florida Product Approval and meet the current Florida Building Code.
Quick Links
Florida Building Code Approved Aluminum Hurricane Panels and Shutters
All of the aluminum shutters below have Florida Product Approval (FL #) and meet the latest Florida Building Code.
Aluminum Storm Panels
Bertha 0.050″ Panels
With or without track system
Custom fit for your application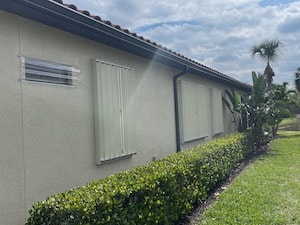 Accordion Shutters
Bertha HV Accordion – Blade 3 (HVHZ)
Bertha HV Accordion Shutter Combo (HVHZ)
Bertha HV Accordion – Blade 1 Only (HVHZ)
Custom fit for your application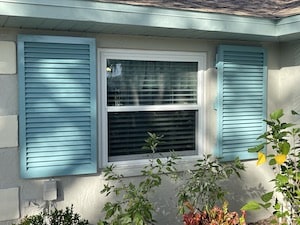 Colonial Shutters
Bertha HV Colonial Shutter
Made from Aluminum
Custom fit for your application
Custom powder-coated colors available
Benefits of Aluminum Hurricane Shutters
Aluminum storm shutters are a popular choice for hurricane shutters in Fort Myers and other parts of Gulf Coast Florida. Aluminum shutters provide many benefits to homeowners and business owners. These benefits include their strength, weight and durability. Their benefits are:
Aluminum hurricane shutters are strong – Eurex Shutters hurricane rated shutters made from high-quality aluminum meet and exceed the latest Florida Building Code and are strong enough to withstand up to a category 5 hurricane.
Aluminum shutters are lighter than metal – aluminum storm shutters are surprisingly lightweight given how strong they are. This makes lifting, handling and storing your aluminum shutters, especially storm panels easier than metal versions.
Aluminum is durable and is rust resistant – aluminum hurricane shutters are naturally rust proof. This reduces the need for protective coatings and helps your shutters last for many years.
Get Pricing Today
Give us a call at (239) 369-8600 or fill out the form below to request a Complimentary Estimate.