Looking for balcony shutters to protect your condo's glass? Of course. Your condo is your home. And you want to protect your condominium and your family during damaging hurricanes. This is especially true if you live in Fort Myers, FL or an area with a lot of hurricanes and severe weather. Adding exterior shutters to the exterior of your balcony and it's windows and doors are a great way to provide storm protection. But they can also provide other benefits, such as privacy, shade control and more. If you are unsure what type of hurricane shutter is right for your condo's balcony then this article will help. We share the most common shutter styles that are used on condo balconies in Florida and provide some of the benefits of each type.
Popular types of hurricane shutters for condo balcony
Some folks are looking for balcony shutters that will maximize the appearance of their condo's balcony. But if you live in an area like Florida you don't have as much design freedom. As opposed to some types of purely decorative shutters you will benefit from the installation of hurricane shutters for your condo's balcony.
As such, the exterior shutters we discuss below are all hurricane rated.
You may also be interested in our guide on Choosing Exterior Shutters For FL Homeowners
1. Accordion shutters (sliding shutters)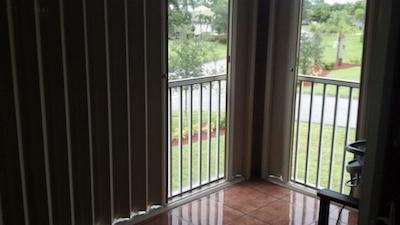 Accordion shutters are a type of hurricane shutters that are installed either on your condo's balcony or on the exterior of your balcony's glass doors and windows. They have vertical slats and slide open and closed easily from side to side like an accordion. When not in use the fins of the shutters tuck away cleanly to minimize their appearance on your condo.
Quick and easy protection for a reasonable cost
These are popular because they offer a lot of functionality for an reasonable price. You can quickly open and close them for not only storm protection, but also for privacy and shade control. Protecting your condominium's glass becomes quick and easy.
Learn more about accordion shutters.
2. Rolling shutters
Roll down hurricane shutters are another type of external storm shutter. They are also installed either on the balcony or on the exterior of your condo's glass doors and windows inside the balcony. These have horizontal slats and they roll up and down to open and close. You can open and close them manually with a hand crank or strap. Or you can opt for ones operated by an electric motor. Learn more about motorized vs non-motorized hurricane shutters.
Ultimate storm and security protection with a lot of features and convenience
These are considered the top of the line option because they provide a high level of both storm and security protection. They are many times used as security shutters. If you opt for the electric version they are also offer the highest level of convenience. Further, they are great for shade control, which helps reduce energy bills, and privacy.
Want to know how much each type of balcony shutter costs? Read our article on hurricane shutters cost.
Alternatives to hurricane shutters for condo balcony
Balcony shutters are one way to protect your Fort Myers condo's windows, doors and glass from hurricanes. However, there are other options. These include impact windows and impact sliding glass doors. Both of these options allow you to protect your condo and your family without changing the appearance of your condominium's exterior. This is because impact glass looks and functions like normal glass.
Need help deciding between balcony shutters and impact glass for your condo? Make sure you read our article on impact windows vs hurricane shutters.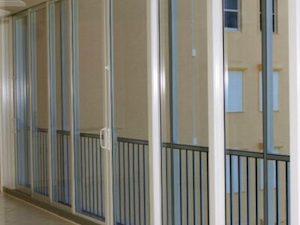 Conclusion: Protect Your Condo with Balcony Shutters
Balcony shutters can help you protect your Florida condo from severe weather. As a bonus some types also provide other benefits, such as shade, security and privacy. There are many styles of shutters to meet your style and budget. If shutters aren't right for your condo you can also consider impact windows and sliding glass doors.
If you need any help or would like a complimentary consultation give us a call at 239-369-8600 or fill out our quick contact form.

Photo Credits
Photo by Jess Loiterton from Pexels