Looking for aluminum storm shutters, polycarbonate clear hurricane shutters, hurricane fabric or impact windows in Fort Myers, Cape Coral, Naples/Marco Island, Punta Gorda/Port Charlotte, Venice FL, Sarasota FL or anywhere else in Southwest Florida? One of your biggest questions is most likely "how much will it cost." Eurex Shutters offers free estimates at your home. Getting an estimate is the best way to understand what your project will cost. In this article we describe how our free estimate process works so you know what to expect.
The process: how our estimate process works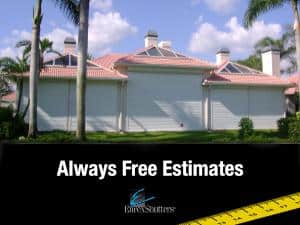 1. Schedule your free estimate
The first step is to contact us. You can do this by calling us at 239-369-8600 or toll free at 800-226-0026. You can also fill out a quick contact form if you prefer, and we will contact you back ASAP.
We will schedule a date and time that works for you for the estimate.
2. Determine the product you want to install
If you know what product you want to install than we can easily measure your home to provide an estimate. If you are unsure then we can help you decide which type of shutter (or glass) is right for you. You can either visit our showroom to see the products, or we can review the different options with you in your home.
Each product is installed differently. So there are different measuring practices for each type. In turn, it is important to know which product(s) you want to install so that you get the most accurate estimate.
3. We take measurements at your home and provide you with an estimate
It's estimate day! One of our sales members or owners will come out to your home or office on the scheduled date and time. They will take rough measurements to understand the square footage and other necessary details. Depending on the scope of your project they may measure your windows, doors, and other openings. Your free estimate is based on these measurements.
If you are happy with your estimate and choose us us then we have a field technician come out and take final measurements after a contract is signed. These measurements are used to custom make the products specifically for your project.
Our estimates are always free
You should not have to pay for an estimate. Our estimates are always free. They are free of cost and they are free of obligations.
Don't miss out on your free estimate!
So if you are looking for top-notch hurricane protection products in Fort Myers or elsewhere in Southwest Florida trust the storm protection pros at Eurex Shutters. We have been in SWFL for over 35 years and have 25,000+ satisfied customers. We would love to help you!