According to the FBI there were about 1.2 million burglaries in the United States in 2019. And according to the New York Times an estimated $68.9 billion of products were stolen from retailers alone in 2019 . No wonder protecting your business and property is a high priority. In order to keep your business safe from burglars, vandalism and theft you must select the right security protection. There are many security products available, from security shutters to security alarm systems to hiring a security staff. Choosing the right option is critical. It should match the level of security your business needs as well as your budget. Security shutters are one highly effective yet affordable option. We will discuss the benefits of security shutters for business so you can determine if they are a good fit for you.
What are commercial roller shutters?
Commercial security shutters are impact resistant, rolling shutters made from aluminum. You may hear them referred to as rolling shutters, security shutters, a security door, hurricane shutters, or other names.
They are typically installed on the exterior of your property's openings, such as a window, door, garage door, etc. And they work by rolling down and locking in place.
Aluminum security shutters block access to your building's vulnerable openings, such as windows, doors, and more. In other words, they block access to your building's entry points and intruders cannot get in.
In a nutshell, rolling shutters provide security, and a lot of it!
But they also provide many other benefits. We discuss these below.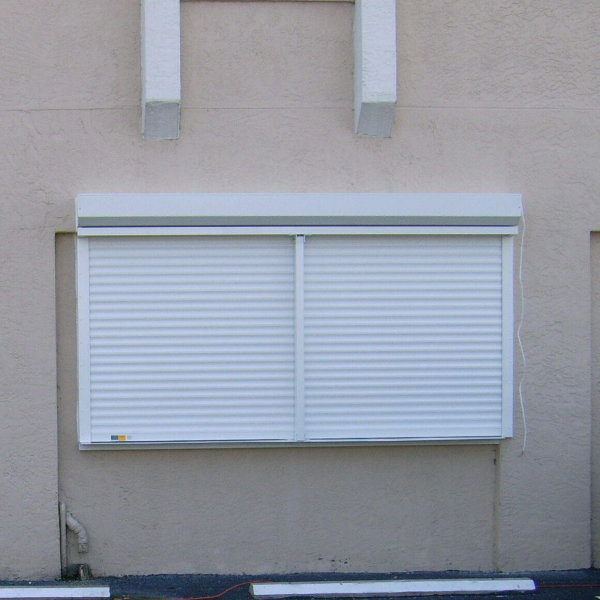 SECURITY SHUTTER BENEFITS FOR BUSINESSES
Below are some of the benefits of security rolling shutters for your business.
EXTREME SECURITY
If you want tough protection aluminum security shutters are one of the best security solutions. They are extremely effective at stopping an intruder from breaking in.
First of all they just look down right intimidating. This makes them extremely effective at deterring criminals from trying to break in at all.
Second, exterior roll down security shutters create a physical deterrent as well. They literally block access to your business's windows and doors. They are constructed from impact resistant materials, such as metal and high-quality aluminum. In most cases its nearly impossible to break through them. To put it another way they turn your commercial property into an impenetrable fortress. Thieves cannot even access your vulnerable windows and doors so they cannot get in.
HURRICANE PROTECTION
You will be happy to know that these security roller shutters are also designed to provide unbeatable storm protection. This is because they are also classified as a hurricane shutter. This is a huge benefit if your business is in an area prone to hurricanes and extreme weather.
A hurricane-rated roller shutter can withstand up to a category 5 hurricane's intense wind and flying debris.
So you will be protected against both burglars and mother nature.

VERSATILITY
Roll down security shutters can be used in a wide range of applications and spaces. For instance, they have commonly been used for retail, office, warehouse, industrial, restaurants, concession stands, guard booths, etc. You can install them to protect all your entry points, including your windows, doors, sliding glass doors, warehouse spaces, etc. Commercial shutters are able to be used nearly anywhere you need them.
Learn more about the multiple uses for roll down shutters.
AFFORDABILITY / VALUE
Some other security options might be cheaper, such as a low cost alarm system. But commercial security shutters are extremely effective and pack a lot of value for the money vs these cheaper options. Commercial shutters prevent intruders from getting in your business in the first place. Alarm systems, on the other hand tell you when intruders are already in the building (when it's too late). Exterior metal security shutters also prevent vandalism of your windows and doors.
Find out more about the cost of roll down security shutters.
EASY TO USE
Commercial security shutters come in manual and electric (automatic) options. Electric security shutters are easily operated with a switch inside the building. Manual security shutters are also easy to use and can be operated with a crank or strap (belt) mechanism.
Learn How to Operate Electric Roll Shutters.
And learn How to Operate Manual Belt Roll Shutters and How to Operate Manual Crank Roll Shutters.
PRIVACY AND SHADE CONTROL
Yes, security shutters for business keep intruders out and prevent vandalism. This is their main purpose. But they also provide other valuable benefits. These include privacy and shade/UV control.
Roll down security shutters have a lot of functionality because they can be adjusted in an endless number of ways. For example, our security shutters can be closed fully or partially. You can also adjust the opening of the slats. This allows you to fully control the amount of light and UV entering your space. They can be used just like regular window treatments during the day.
Another valuable benefit is privacy. Again you can open and close commercial security shutters partially. You can also adjust the slats. This control allows you to reduce visibility into your building from the outside. This of course is convenient for privacy purposes. It is also helpful in stopping intruders from scoping out the inside of your building.
CONCLUSION: SECURITY SHUTTERS FOR YOUR BUSINESS
There are many options to protect your business from thieves, intruders and vandalism. One option is installing security shutters for your business. Commercial security shutters provide a high level of security protection for a wide variety of applications. They also offer a lot of value for the price. Although roll up security shutters are mainly used for security protection they also offer privacy and shade functionality as well.
LOOKING FOR SECURITY SHUTTERS NEAR YOU?
Ready to get an estimate or install a rolling security shutter system on your commercial building? Eurex Shutters has been installing the highest quality roller shutter systems in Fort Myers, Cape Coral, Naples and throughout Southwest Florida for 35+ years. We also provide shutter repair, maintenance and parts.
We would be happy to answer any questions you have and help you choose the best solution for your needs.