Hurricane rated commercial roller shutters offer many uses and benefits that make them a great option for commercial buildings in Florida. These shutters are great at protecting your commercial building from both hurricanes and intruders. And they are suitable for use in a wide variety of settings, as we will discuss. So they could be a fit for you whether you have an office, a warehouse, a restaurant, or any other type of commercial building. In this article we discuss some of the many uses and benefits of commercial roll down shutters.
Benefits of Roller Shutters For Your Commercial Building
Rolling shutters are known for incredible hurricane and security protection. But here's some good news! They also provide your commercial building with other benefits and uses as well.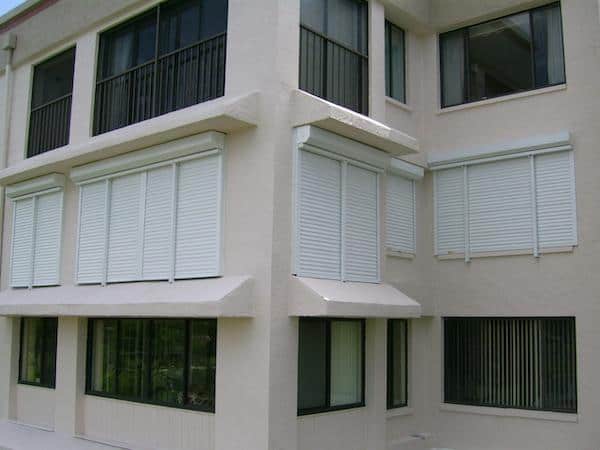 Here are some of the many benefits of using commercial rolling shutters:
Protection from Hurricanes and Severe Weather
Commercial shutters can protect your commercial property from mother nature's worst storms. And in Florida, your commercial building needs storm protection as much as your home.
Roll shutters can be installed over your building as hurricane window protection, as roller shutter doors, garage doors, and other openings. When closed, they protect your building's glass from breaking during a storm, which prevents more severe damage from happening. They can even be used to enclose and protect otherwise open or outdoor areas, such as open, outdoor storage areas, outdoor dining areas, concession stands, employee patios and more.
And we are not joking when we say these shutters offer strong hurricane protection. These shutters are made and tested to be hurricane rated. That means they can withstand the intense winds and flying debris that happen with up to a category 5 hurricane.
Security
Commercial rolling shutters are impact resistant and create an impermeable barrier outside your building's entry points (doors, windows, etc.). So they are a great fit for protecting your commercial building against burglars, intruders, and vandals. They can make it nearly impossible for intruders to break in when they are closed and locked. Because of their "intimidation factor" they can also help to deter criminals from even trying to break in.
In a nutshell, they keep unwanted people out and provide you with added security for your commercial property.
Privacy
Outside of the protection benefits, commercial rolling shutters have a few other added benefits.
The first is privacy. For example, they can be used to provide privacy for your commercial property. And this can be useful for both protecting your property and making it more comfortable. First, they help to keep your belongings out of sight from potential thieves or vandals. Second, they can be used similar to interior blinds. How? You can adjust the slats of the shutters open and closed. This helps to block visibility into your office or building while still allowing air flow and letting light in.
Energy Efficiency & Comfort
Another big benefit of Commercial rolling shutters is that they help make your property more energy efficient and comfortable. How? Well, when they are closed they help to keep the heat in during the winter and the cool air in during the summer. HVAC costs are a big contributor to the overall expenses of having a commercial property. So commercial rolling shutters can save you money on your energy bills. It can also make your commercial building more comfortable for your employees, which increases productivity.
So if you are looking for a way to protect your property from the elements, improve its security, and increase its energy efficiency, then commercial rolling shutters may be a good option for you.
Suitable for a Wide Range of Commercial Buildings
Commercial roller shutters can be used in a variety of commercial buildings. Some of the many buildings are briefly discussed below.
Rolling Shutters for Restaurants & Concessions
Commercial rolling shutters are a great fit to protect restaurant windows and other openings from hurricanes and severe weather.
They can also be used for security protection to lock down your restaurant when not in use and keep out intruders and vandals.
In addition to windows and doors, they can be used to secure outdoor dining areas, gazebos, patios, concession stands, bars, and more.
Roll Down Shutters for Offices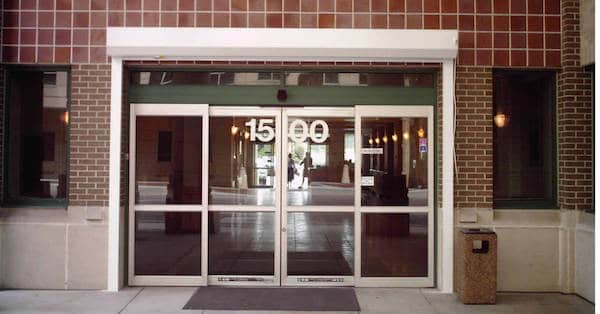 Commercial rolling shutters can be used to protect office windows, doors, and garage doors from hurricanes. They can also provide privacy, security protection and energy efficiency to your space and your workers.
Use of Roll Shutters for Warehouses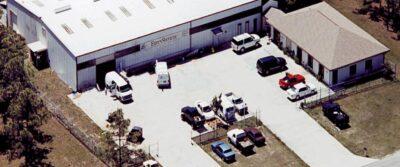 Commercial rolling shutters can be used to provide warehouses with hurricane protection, security protection from intruders, privacy, and reducing HVAC costs.
Roll Up Shutters for Industrial Buildings
Commercial rolling shutters have similar benefits to their use in warehouses. They are useful for hurricane protection, security protection, privacy and secrecy, and reducing HVAC costs. Because of their ability to withstand impacts and intense winds they can also be used creatively to protect outdoor critical components in some cases.
Rolling Shutters for Schools
Schools suffer a lot of damage during hurricanes, especially when those schools are older. They have many windows and doors, which make them vulnerable to broken glass and even the building becoming pressurized. In turn, permanent hurricane shutters are a great way to protect schools and prevent severe damage during a hurricane.
They are also helpful for keeping out intruders.
Lastly, these shutters can help school buildings be more energy efficient and reduce their HVAC costs.
Hospitals
Hospitals can utilize commercial rolling shutters to increase their hurricane protection, security protection of critical entry points, and building efficiency. Making hospitals more protected against hurricane and more secure are of great importance. And making the buildings more efficient, and thereby reducing their HVAC costs, result in large cost savings.
Commercial Roller Shutters for Retail Stores/Storefronts
Rolling security shutters have long been used in retail buildings to deter burglars and reduce losses. Utilizing commercial rolling shutters that are hurricane rated help to further protect retail properties against severe hurricanes. And their use will also help your store reduce its HVAC costs.
Conclusion: Commercial Roller Shutters
Hurricane rated commercial rolling shutters offer many uses and benefits, such as storm protection, security, privacy, and energy efficiency. This makes them a great option for a wide range of commercial buildings, including restaurants, offices, warehouses, industrial, retail, and others.
If you are considering installing commercial rolling shutters, be sure to do your research and choose a reputable company. You should also make sure that the shutters are installed properly to ensure that they will provide the best possible protection and functionality for your commercial building.
Looking for commercial shutters near you?
Ready to get an estimate or install commercial roll down shutters on your commercial building? Eurex Shutters has been installing the highest quality roller shutters in Fort Myers, Cape Coral, Naples and throughout Southwest Florida for 35+ years.
Please fill out the form below for a free estimate. We would be happy to answer any questions you have and help you choose the best shutters for your needs.