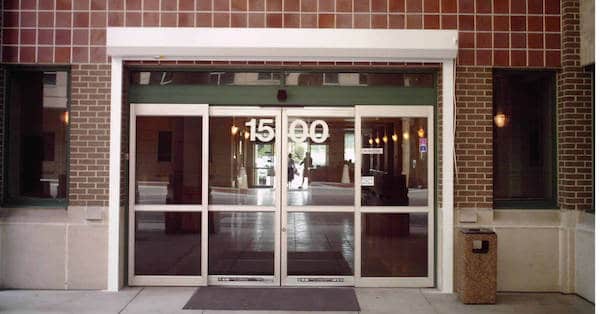 Commercial shutters provide both security protection and storm protection in one solution.
Commercial roller shutter systems protect your business against security threats, burglary, vandalism, and hurricane damage.
Just roll them down and lock them up. You are protected. It is as easy as that!
Our rolling shutter systems are made from both impact resistant aluminum or clear polycarbonate. They are custom made specifically for your application. And they come in a variety of styles to fit many commercial settings.
Don't Settle For An Alarm System
An alarm may alert you of threats after they have broken in your building. commercial shutters prevent and deter threats from happening in the first place. They offer a lot more benefits than just an alarm system can.
Pick the Best Commercial Shutters For Your Business
Eurex Shutters PTX™ commercial rolling shutter systems serve multiple functions. Specifically they act as both:
Commercial security shutters – Commercial roller shutter systems are extremely effective at protecting your business against theft, intruders, vandalism, and other threats. They are suitable for securing a wide range of commercial settings and commercial properties. Security roller shutter systems form a shield over your window openings, entry doors, interior doors, secure areas, and other spaces. Once closed they lock in place, preventing entry and also blocking visibility.
Commercial hurricane shutters – As a business owner in Florida you have to protect your business property against security threats and hurricane damage. Commercial roll down hurricane shutters allow you to accomplish both. These strong, impact resistant shutters are also hurricane rated. They can withstand the winds and flying debris up to a category 5 hurricane. If you are less concerned about security protection you can also choose accordion shutters, Bahama shutters, and more.
You can pick from different shutter materials, which include:
Aluminum shutters: Aluminum shutters are lightweight and yet impact resistant and durable. This make them a good choice for businesses that need to protect their windows from burglars as well as high winds and flying debris. They are also relatively inexpensive, making them a good option for businesses on a budget.
Clear polycarbonate shutters: Clear shutters are a good choice if you need sunlight in your commercial building when they are closed.
Why Commercial Rolling Shutters Are Worth the Investment
Commercial shutters offer many benefits that make them worth the investment, including:
Deter and Prevent Crime: Commercial security shutter systems can deter crime by making it more difficult for burglars to break into your business. They can also help to protect businesses from vandalism and graffiti.
Reduce Storm Damage: Security shutters also protect business operations from severe weather, such as hurricanes. They are impact resistant so they can withstand the intense winds and flying debris of up to a category 5 hurricane. They can also help to reduce flooding and water damage in some cases. All this can help to prevent costly damage to your property and equipment.
Provide Privacy From Prying Eyes: A roller shutter system can help add privacy and keep prying eyes out. Whether you want privacy for your employees or your inventory these will provide it.
Increase Your Energy Efficiency: Rolling security shutters can also help to improve the energy efficiency of your commercial property. They do this by adding a layer of insulation and blocking out the sun's heat and glare. They help to keep your business cooler in the summer and warmer in the winter. All this can lead to lower energy bills and a more comfortable working environment for your employees.
They Look Great: Commercial security shutters have a sleek design and can add curb appeal to your commercial properties. In addition, they help protect properties from the elements and keep them looking their best.
Peace of mind: You will have complete peace of mind knowing that your business is protected by Eurex Shutters commercial shutters. So you can stop worrying and focus on running your business.
Can Be Used in a Wide Range of Commercial Applications
They can be used in a wide range of commercial properties, including:
Restaurants and concessions operations
Offices and office buildings
Warehouses
Industrial
Schools
Hospitals
Retail stores – including counter shutters and storefront security shutters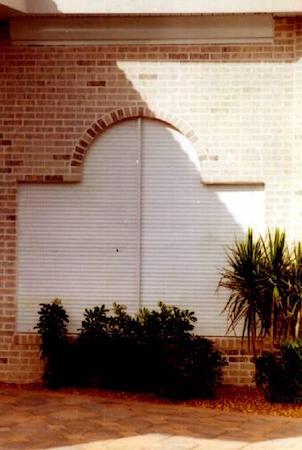 Find out more about Commercial Roller Shutters Uses.
Stop Taking Chances with Your Business – Install Commercial Shutters Today!
Want to improve the security of your commercial property? Need to protect your business from severe weather damage? Then commercial rolling shutters are the perfect solution for you. They will deter and prevent thieves, burglars and vandals from getting in. And they will help protect your property against even the worst hurricanes.
Eurex Shutters has been installing custom commercial shutter systems in Southwest Florida for 35+ years. We offer a wide variety of products to choose from, and we will customize them for your specific installation. Our commercial rolling shutters are made from the highest-quality materials and are built to last. We also offer repair and maintenance services for all shutter brands. Contact us today to learn more and to get a free estimate. Call (239) 369-8600 or fill out the form below to get started.
Protect your business from intruders and hurricanes.