Do you have manual roll shutters operated by a crank on your home or business in Southwest Florida? If so you should be familiar with how to operate your manual crank roll down shutters. Below is a guide to help those who have never operated crank roll shutters before. First we'll discuss some precautions. Then we'll overview how to use them. Lastly, we provide some basic trouble shooting help.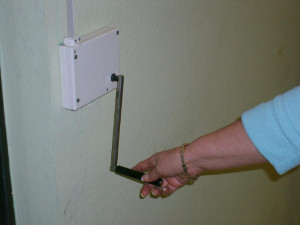 Precautions when using manual roll shutters
Safety should always be a priority to prevent anyone or anything from getting hurt or damaged. So below are some general precautions you should take before operating roll shutters. These precautions should be taken regardless of if your rolling shutters are manual or electric. These include:
Ensure there is nothing in the way of the roller shutters. In other words, make sure that all objects, pets, and persons are clear of the roll shutter(s) when in use to avoid possible injury and damage.
Do a visual safety check before operating the roll shutters.
When using the switch it is recommended you gently push it to reduce the risk of damage to the switch.
Steps to operate your crank roll shutters
Follow the safety precautions above before you operate your shutters
Once your checks are completed securely place the crank handle onto the wall system if it is not present.
Gently turn crank handle to either raise or lower the roll shutters. Do not force or over-turn the crank. This may result in damage to the gearbox in the housing or to the panel.
Troubleshooting common issues with your manual roll down shutters
Shutter is up and will not come down: Make sure you are turning the handle in the correct direction. If yes, then check to make sure that the panel was not forced into the housing box. If so, turn the handle towards the down position (one or two turns) and then carefully pull the bottom slat down.
Shutter is down and will not come up: Make sure you are turning the handle in the correct direction. If yes, then your shutter may be stuck or damaged. We recommend calling for a hurricane shutter repair service in this situation.
Other tips to help maintain your belt operated roll shutters over time
Roll shutters need to be used regularly to prevent them from getting stuck. Operating them regularly also reduces the formation of nests from flying insects, such as wasps and mud daubers.
Operating your shutters regularly may be an issue if you are if you are away for lengthy periods of time. In this case we recommend arranging for someone to operate your roll shutters regularly for you. This could be a friend, a family member or a house watch service.
It is also good practice to do regular shutter maintenance on your manual roll shutters to ensure that they are working properly when you need them.
If you still have issues or need repair services please contact us for help. Our company has been installing, maintaining and repairing hurricane shutters since 1986.