Do you have manual roll shutters operated with a belt (strap) on your home or business in Southwest Florida? If so you should be familiar with how to operate your manual belt roll down shutters. Below is a guide to help those who need guidance on operating belt operated manual roll shutters. First we'll discuss some precautions. Then we'll overview how to use your manual belt operated shutters. Lastly, we provide some basic trouble shooting help.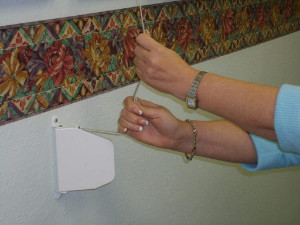 Precautions when using roll shutters
Make sure you are taking the proper safety precautions to prevent any injuries or damage. Below are some general precautions you should take before you operate your roll shutters. These precautions include:
Make sure the coast is clear. Look to make sure there is nothing in the path of the shutters. Look for any objects, pets, and persons. You want to make sure everything is clear of the roll shutter(s) when in use to avoid possible injury and damage.
It is always good to do a visual safety check prior to operating your roll shutters.
Make sure you do not open your roll shutters more than they need to or go too far. Both can cause the shutters to get stuck and/or damaged.
Do not operate your shutters during severe weather, high winds or storms. Your roll shutters should be in the down position hours before a hurricane approaches.
Keep children and unauthorized persons away from your shutters and your shutter parts. For safety reasons they should only be handled by a competent, responsible adult.
Steps: how to operate your manual belt roll shutters
To open your roll shutters:

Put your hand around the belt near the belt roller (at the top) and pull the belt downward. The belt will automatically retract into the belt box below.
When the shutter reaches the top you may feel a little resistance. At this point you should stop.
Warning: Do not force or pull the strap any further. Excessive pulling can pull the roll shutter into the housing box.

To lower the shutters:

Put your hand around the belt near the belt box. Pull the belt out of the belt box and move your hand towards the belt roller (on top).
When your shutter is almost in the down position, pull belt out of the belt box and let the belt "snap" into the belt roller. You will hear a clicking noise, which indicates that the shutter is completely down.
Warning: Do not pull more belt out of the box than needed.
Troubleshooting common issues with your manual strap roll down shutters
Shutter is up and will not come down: Make sure you are pulling the belt in the correct direction. If yes, then check to make sure that the panel was not forced into the housing box. If it is, pull the belt in the down direction and then carefully pull the bottom slat down.
Shutter is down and will not come up: Make sure you are pulling the belt in the correct direction. If yes, then your shutter may be stuck or damaged. We recommend calling for a hurricane shutter repair service in this situation.
Other tips to help maintain your manual belt roll shutters over time
You should use your roll shutters regularly. This is required to prevent them from getting stuck. You can also help reduce the formation of nests from flying insects, such as wasps and mud daubers when you operate them on a regular basis.
If you are away for lengthy periods of time we recommend arranging for someone to operate your roll shutters regularly for you. Enlist the help of a friend, a family member or a service such as a house watch service.
Do not clean your shutters with any harsh chemicals or cleaning substances. These have the potential to cause damage. Instead use a soap and water solution.
Doing regular shutter maintenance on your manual roll shutters helps ensure that they are working properly when you need them.
If you still have issues or need repair services please contact us for help. Our company has been installing, maintaining and repairing hurricane shutters since 1986.