Need to protect your home and family from hurricanes? Don't settle for low-quality, unattractive options from your local big box store. Protect your home in Southwest Florida with beautiful, high-quality custom hurricane shutters from Eurex Shutters.
You will get custom storm shutters that are designed and manufactured to meet your home's specific measurements and your specific preferences.
Eurex Shutters offers the highest quality and best value hurricane shutters in SWFL. So rest assured. We have been protecting and satisfying Southwest Florida for 35+ years.
Styles of Custom Hurricane Shutters
Custom Roll Down Shutters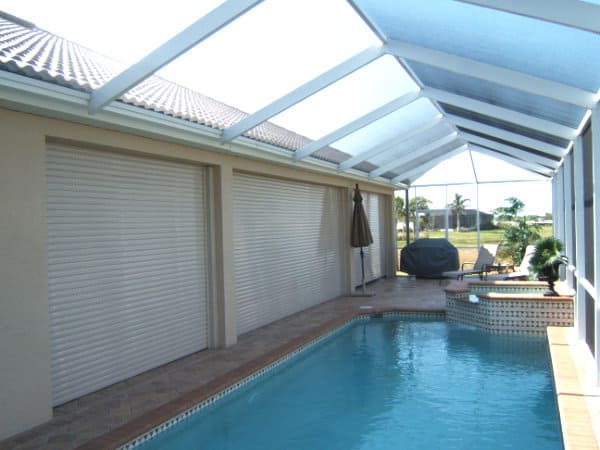 Custom Roll Down Storm Shutters offer excellent storm protection and convenience. They open by rolling up and down along heavy duty aluminum tracks. When not in use they are kept out of sight in a clean housing box above your windows and doors. They are comprised of horizontal slats. If you appreciate clean, sleek design then these are perfect for you. And if you are looking for the ultimate in convenience you can opt for custom, motorized rolling shutters.
Accordion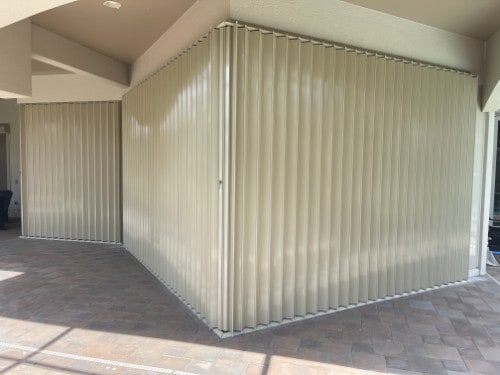 If you are looking for a convenient, mid-priced option than you might consider custom accordion shutters. Accordions open and close by sliding side to side along stationary tracks. Their movement resembles that of an accordion, which is why they are called accordion shutters. When not in use the fins of the shutters are stored away cleanly on the side of the opening.
Bahama & Colonial Shutters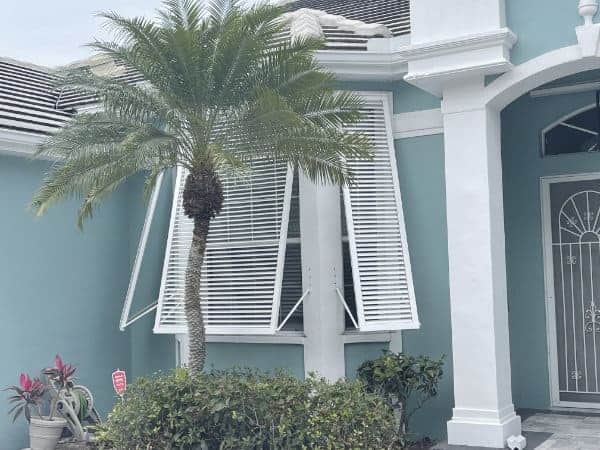 Are you looking to add both storm protection and curb appeal to your home? If so then custom Bahama Shutters and Colonial shutters may be the right fit for you.
Bahama shutters are a great option for homeowners with a tropical style home (or if you are looking to achieve that style). These shutters are the perfect way to protect your home and add a punch of curb appeal. And they also provide other benefits, such as shade and UV control.
Colonial shutters are a great storm protection option for homeowners with a traditional home design. Specifically, they work well with colonial or southern style homes. These resemble board and batten style shutters. But unlike purely decorative versions they close over your windows and lock in place with a bar. Colonial style shutters are a great way to add some Southern charm and curb appeal. But they will also keep your family and home protected.
Clamshell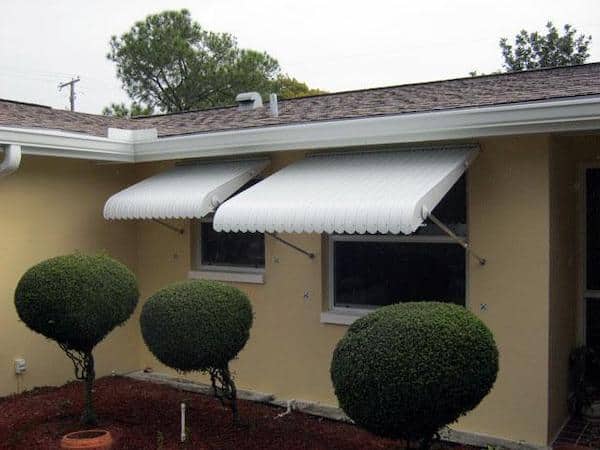 Custom Clamshell Shutters are an economical and convenient way to protect your home and family. They resemble traditional window awnings, but they are made from impact resistant aluminum. When a storm approaches they close down over each window. You should know that while they do offer some protection they are non-hurricane rated.
Storm Panels
Custom storm panels are corrugated panels that cover your windows and/or doors. You can buy standard size storm panels at the big box store. But custom versions are made specifically to the measurements of your home. Our storm panel systems include a rail system, which makes it easier to install them.
Cost of custom hurricane shutters
The cost of custom hurricane shutters will vary by the style of shutter you choose. Some styles are more complex and offer more features and benefits. But rest assured that there really is a hurricane shutter for every budget.
Learn more about storm shutters cost.