What is a wind mitigation inspection, and do you need one for your property in Florida? If you are buying a home in Florida or are updating your insurance policy you may need or benefit from a wind mitigation inspection. In this article we'll discuss in detail what a wind mitigation inspection is, why you may get one, and what it is used for.
FAQ about Windstorm Inspections
What is a wind mitigation inspection?
A wind mitigation inspection is a type of property inspection performed on structures in coastal areas that are vulnerable to hurricanes, such as Florida.

The point of the inspection is to determine if a structure contains construction features that help reduce damage to the property during a hurricane.

The results are recorded on a standard wind mitigation inspection form, called a OIR-B1-1802 Uniform Mitigation Form. In the state of Florida this standard form is created and updated by the Florida Office of Insurance Regulation.

After the inspection the findings are typically given to the homeowner and sent to the insurance carrier. Results of the inspection help to determine coverage eligibility and rates. Depending on the findings homeowners may qualify for discounts on their premium.

They may also be referred to as a wind mit inspection (for short), windstorm inspection, windstorm mitigation inspection, etc.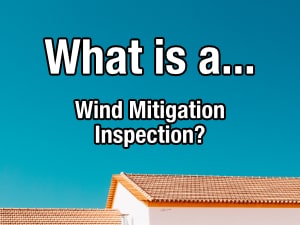 What does a Wind Mitigation Inspection cost?
The cost will vary depending on what company is doing it for you. It will also vary depending on the size of your property.

We did some research and below are some of the prices that come up in the Fort Myers FL area:

"Between $70 and $100, according to Floridabestquote.com
$125 for a home under 5000 square feet under roof, according to Coastal Home Inspections
$125 – $225 dependent on the property size, according to Lee Inspection Services


Who can perform a wind mitigation inspection?
According to the FLOIR, the following individuals are allowed to perform this inspection:
Licensed home inspector
Building inspector
Architect
Engineer
Licensed general contractor



What do inspectors look for during a windstorm inspection?
The OIR-B1-1802 Uniform Mitigation Form shows the property areas that the inspector checks. This form contains 7 sections. These 7 sections include:
Building codes – does the structure comply with the Florida Building Codes (FBC) or South Florida Building Codes (SFBC)
Roof covering – records the permit or installation date, roof covering type, and code compliance status
Roof deck attachment – records the type of roof deck attachment
Roof to wall attachment – records the method of roof to wall connection, including toe nails, clips, single wraps, double wraps, structural, etc.
Roof geometry – records the roof shape, including hip roof, flat roof, other
Secondary water resistance – records the type of secondary water resistance present
Opening protection – records the protection installed against wind borne debris on the openings of the property, including impact glass and hurricane shutters, along with other types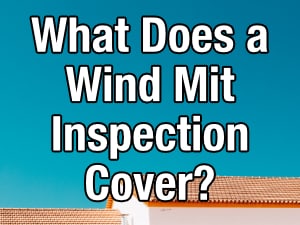 When may you need a windstorm inspection in Florida?
You would typically get one when you purchase a home and/or are trying to get wind storm coverage. Unless you have a valid inspection the carrier will most likely require one. You may also want to do a new inspection to try to get discounts on your Florida homeowner insurance policy. For example, you may qualify for discounts if you had hurricane shutters or impact windows installed on your home. The same may be true for a new roof and other construction features that help with wind mitigation.


Does Eurex Shutters perform windstorm inspections?
No. But our company does manufacture and install custom hurricane shutters, impact windows and doors, and hurricane screens. So many of our customers have questions about this inspection as it relates to discounts on insurance.
Conclusion: Wind Mitigation Inspections in Florida
Windstorm inspections determine if a structure has construction features that have been found to help reduce damage to a property during a hurricane. You may have one performed such an inspection at numerous times. These include buying a new home, obtaining or renewing a homeowner's insurance policy, or after adding hurricane shutters or impact glass to your home. They can cost anywhere from $75 to $225 depending on the inspector and your property.
Our company does not perform such inspections, but we do manufacture and install custom hurricane shutters, impact windows and doors, and hurricane screens. These storm protection products can help protect your home, family, and potentially qualify you for homeowner's insurance discounts. If you need hurricane protection products for your home we can help. Fill out our quick form below for a free consultation and estimate for your Southwest FL home.